Wonder Theatre (formerly Woodlawn Theatre)
The Woodlawn Theatre is San Antonio's historic local live performance theatre, located in the heart of the Deco District at 1920 Fredericksburg Road. Designed by John Eberson, the Woodlawn Theatre was opened in 1946 as an elegant venue for Hollywood films. In 1960, John Wayne hosted the world premiere of his film The Alamo at the Woodlawn.
In 2012, a new theatre group, Woodlawn Theatre Inc, was formed as a non-profit organization devoted to creating opportunities for its surrounding community by providing quality, entertaining, educational, and affordable programming for all ages. Their mission is to assist in sustaining the tradition of theatre while contributing to the lives of local artists, and to enrich the community by encouraging young adults to participate in the arts.
Key aspects of their outreach include: an active board of community leaders devoted to renovating the Woodlawn Theatre, providing educational scholarships, and reacquainting the community with the theatre; a year-round Children's Theatre Program (Academy for the Performing Arts) to educate and train the "stars" of tomorrow, today; and a year-round Main Stage Program to entertain the San Antonio region with quality, entertaining, educational, relevant, and affordable programming for all ages. Woodlawn Theatre's footprint expanded into an adjoining space which became a black box theatre, and in 2014, that space became the home of the Classic Theatre of San Antonio.
In 2013, Woodlawn Theatre was designated as a City of San Antonio Historic Landmark.
---
Contact Information
Box Office Hours:
Phone and on-site box office hours are Tuesday through Friday 10 a.m. to 5 p.m. and Saturdays from 11 a.m. to 2 p.m.
Mondays and Sundays the phone and on-site box office are CLOSED.
During the run of a show, the on-site box office opens 1 hour before each show, while the phone box office remains closed.
Contact information:
E-mail info@woodlawntheatre.org
Box Office:
Call 210-267-8388 or visit the on-site box office
Located at the heart of the Deco District!
1920 Fredericksburg Rd. San Antonio, TX 78201
Where to Park?
Free parking is located behind Vogue College of Cosmetology on W Lynwood Ave. (highlighted in yellow on the map below). This area is specifically designated for our patrons and is patrolled by a uniformed security guard during the run of our productions.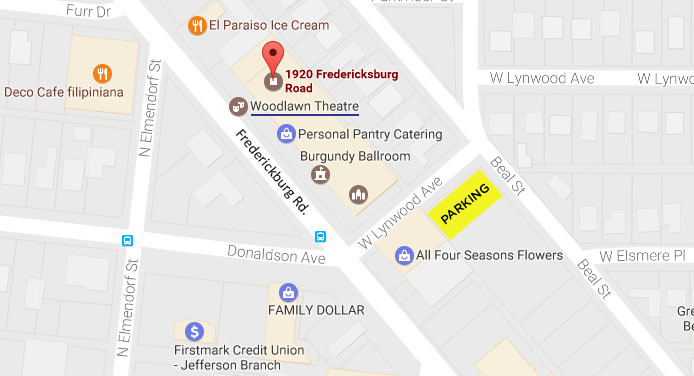 ---
The Woodlawn Theatre
1920 Fredericksburg Rd
San Antonio, TX, 78201