Review: Sister Act by Woodlawn Theatre
by Kurt Gardner
There are some pretty funny nuns in Sister Act, the hit musical based on the 1992 Whoopi Goldberg film of the same name. Set in 1978 Philadelphia, the show takes full musical advantage of the soul and disco sounds of the era – and the Woodlawn Theatre's current production is a delight.
Deloris Van Cartier is a diva who sings in a nightclub owned by her gangster boyfriend Curtis. When she inadvertently witnesses him shooting a snitch, she runs to the cops. At the station, she recognizes the desk sergeant, Eddie, as an old boyfriend from high school. Still harboring a major crush on Deloris, Eddie decides to put her into protective custody until Curtis can be brought to trial. He takes her to the one place where Curtis won't be able to find her: a cash-strapped convent called The Holy Order of the Little Sisters of Our Mother of Perpetual Faith.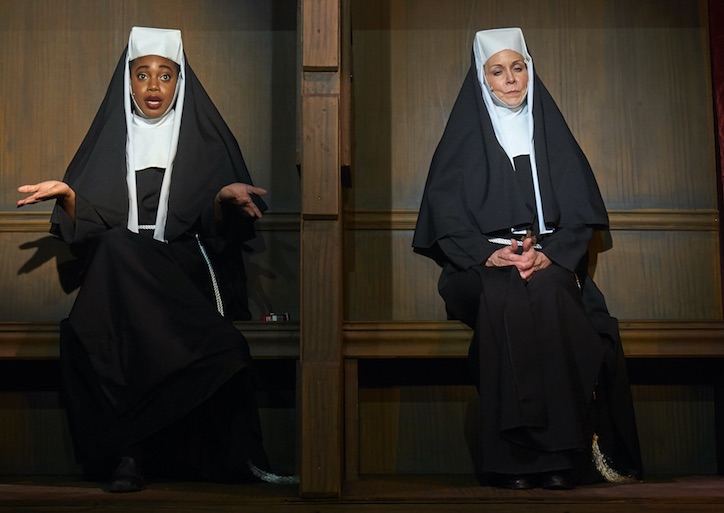 The convent's Mother Superior is at first appalled by the arrival of the streetwise singer, but then decides she might benefit from involvement, so she puts her to work leading the horrible-sounding choir. Much to Mother Superior's chagrin, Deloris teaches the nuns to perform rock and soul-filled hymns and to move their bodies in provocative ways. Of course, Mother Superior wants to put an immediate stop to it, but the Monsignor refuses to let her. Evidently the Sunday services are going over so well that the parishioners are contributing generously and the church's financial worries are almost over.
Under the direction of Christopher Rodriguez, the show is extremely well-mounted. From Benjamin Grabill's elaborate set to Benjamin Farrar's sound design and Chris Muenchow's colorful lighting, everything works beautifully. Darrin Newhardt's orchestra sounds much bigger than eight musicians, and even manages to squeeze in some '70s disco riffs. Rose Kennedy's costumes are perfect, with the nuns' pajama ensembles in particular a comic highlight.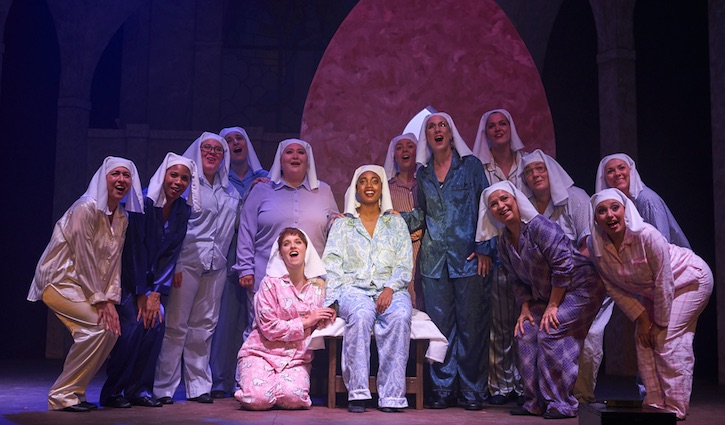 The cast is uniformly excellent. As Deloris, Rebekah Williams provides the right combination of sass and sweetness. Sherry Gibbs Houston is also fine as the put-upon Mother Superior. Courtney Davis is an appropriately menacing Curtis, and Byrd Bonner is a riot as the flighty Monsignor. Among the nuns, Krystal Newcomer brings her reliable brightness to the overeager Sister Mary Patrick, and Anna Gangai has a field day as the blunt-speaking Sister Mary Lazarus.
The voices are terrific, too, and it's great to hear the old-school soul being performed once again. The songs are pretty darn funny, too. Among the highlights are Mother Superior's lament "I Haven't Got a Prayer" and "Lady in the Long Black Dress," a nun-seducing (!) number performed by Curtis's henchmen (Walter Sanders III, David Fenrich and Ivan Ortega).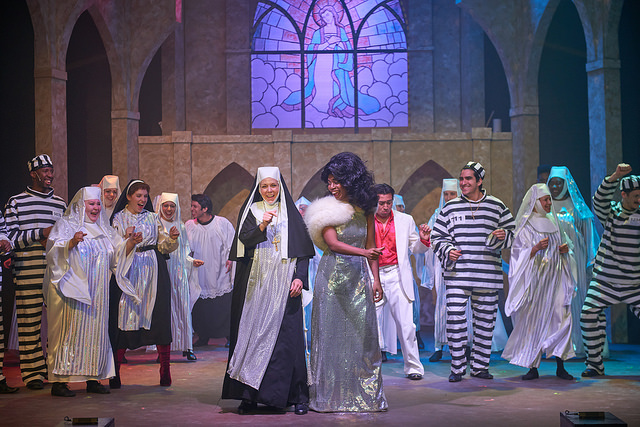 Sister Act plays Fridays and Saturdays at 7:30 p.m. and Sundays at 3:00 p.m. through May 7 at the Woodlawn Theatre, 1920 Fredericksburg Road. On Sunday, April 16, the 3:00 p.m. matinee performance will be replaced with a special Easter evening performance at 7:00 p.m. Tickets can be obtained online or by calling (210) 267-8388.
Kurt Gardner's theatre reviews appear also at www.BlogCritics.org.
---
Sister Act
by Steinkellners, Douglas Carter Bean, Slater and Menken
Wonder Theatre (formerly Woodlawn Theatre)
Fridays-Sundays,
April 07 - May 07, 2017
Sponsored by the San Antonio Current, Sister Act plays April 7 through May 7 every Friday and Saturday at 7:30 p.m. and Sunday at 3 p.m. On Sunday April 16, the 3 p.m. matinee performance will be replaced with a special Easter evening performance at 7 p.m.
During this time, patrons are able to join in the spirit of San Antonio's Fiesta celebration, with Woodlawn Theatre's exclusive 2017 Fiesta medal. Medals can be purchased at the theatre for only $10.
Tickets are on sale now at
www.woodlawntheatre.org
, or by calling the box office at 210-267-8388. Prices are $18 for students and children, $24 for seniors and military, and $29 for adults. All tickets are subject to a $3 service fee. Groups of 10 people or more receive a 20% discount.
Free parking is available and located behind Vogue College of Cosmetology on W Lynwood Ave. This area is specifically designated for patrons and is patrolled by a uniformed security guard during the run of each show.