Woodlawn Theatre's 3rd Annual Art Deco Gala, San Antonio, September 24, 2016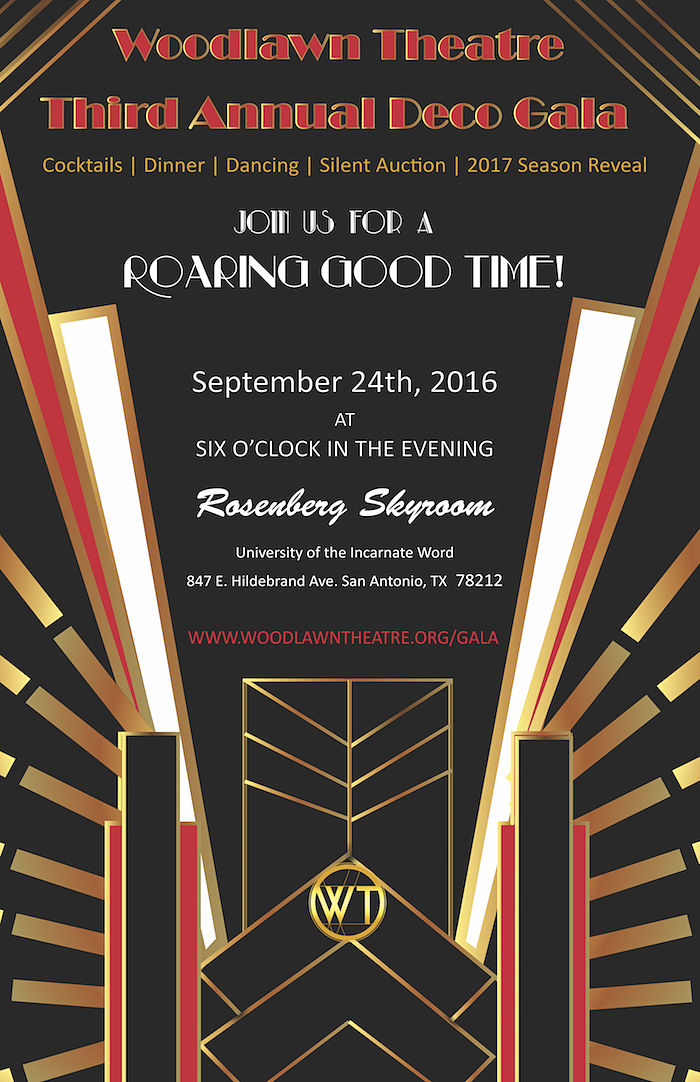 The Deco District's historic Woodlawn Theatre will be hosting its annual Deco Gala at the Rosenberg Skyroom, on Saturday, September 24, 2016 at 6 p.m.
This spectacular evening will be filled with dining, dancing, entertainment, and an edge of your seat season reveal. With the support of Give Back Auctions, over 100 items will be auctioned off and attractive sweepstake opportunities will be available. All proceeds will help the Woodlawn Theatre continue to add vitality to San Antonio and vestment to its youth through live performing arts productions and programs.
The Rosenberg Skyroom is located inside the University of the Incarnate Word at 847 East Hildebrand Avenue, San Antonio, TX 78212. The venue offers a breathtaking view of the skyline overlooking the Alamo City, creating the perfect atmosphere to relive the "Roaring 20's" during a memorable deco themed night.
Tickets are available until Monday, September 12th and can be purchased by visiting www.woodlawntheatre.org/tickets or by calling the box office at 210-267-8388. Individual tickets are priced at $100, 10-top tables are $1,000 and entitles hosts to a VIP red carpet champagne reception with a $500 value gift bag.
Exciting new sponsorship packages are also available; $1,500 Front Row Level, $2,500 Back Stage Level, and $5,000 Directors Cut Level. Sponsorship forms can be found at www.woodlawntheatre.org/gala-sponsorhip-tables and should be sent to krystal@woodlawntheatre.org upon completion.
The Woodlawn Theatre is San Antonio's historic theatre located at 1920 Fredericksburg Road in the heart of the Deco District. Since forming as a nonprofit in 2012, the Woodlawn Theatre has continued to grow and challenge itself to provide high quality local arts opportunities and affordable, excellent entertainment and education, for all ages.