San Antonio's Whole Foods Markets Will Donate 5% of February 10 Purchases to Woodlawn Theatre (Pop-Up Performances Promised)
Shop Whole Foods Market® on February 10 to Support Woodlawn Theatre
On February 10, Whole Foods Market is hosting a Community Giving Day for Woodlawn Theatre where five percent of that entire day's net sales at both San Antonio Whole Foods Market locations will be donated to Woodlawn Theatre.
"We're thrilled to partner with Woodlawn Theatre and to help them continue the amazing work they're doing for the arts in San Antonio," says Jennifer Molina, marketing team leader for Whole Foods Market. "We can't wait for Team Members, shoppers, and members of the community to get to know and support this incredible organization with us at Whole Foods Market."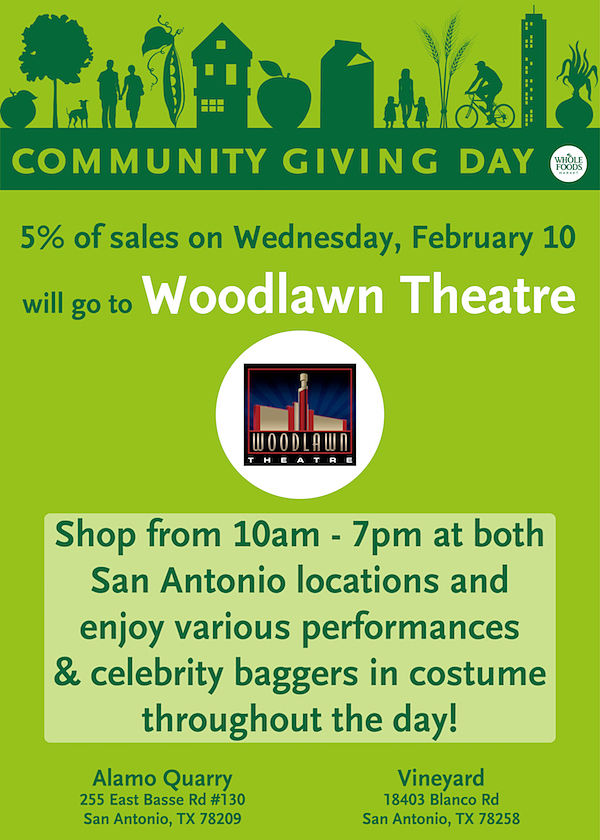 The Woodlawn Theatre will have celebrity baggers in costume at check-out registers throughout the day. Four pop-up performances, free and open to the public, will take place at 2 p.m. and 6 p.m. at both Whole Foods Market locations. Performances will feature the cast of ROCK OF AGES belting out their favorite 80s songs and inviting shoppers, Woodlawn Theatre fans and Whole Foods Market Team Members to sing- Karaoke style. Additionally, youth and adult performers will bring Broadway to Whole Food Market by performing popular songs from some of Broadway's most beloved musicals.
Woodlawn Theatre staff also will set up information tables at both locations from 10 a.m. to 7 p.m. to greet shoppers and distribute information about 2016 theatre and academy programs.
The entire community can support Woodlawn Theatre on February 10 by shopping at the Whole Foods Market Alamo Quarry on 255 E. Basse Rd. #130 or the Whole Foods Market Vineyard on 18403 Blanco Rd. Store hours are 8 a.m. to 10 p.m. for both locations. The Vineyard location's coffee bar opens at 7 a.m. and Bar Blanco opens at noon.
---
Rock of Ages
by jukebox musical of the 70s and 80s, book by Chris D'Arienzo
Wonder Theatre (formerly Woodlawn Theatre)
Fridays-Sundays,
February 05 - March 06, 2016
February 5, 2016 - March 6, 2016
The Woodlawn Theatre, 1920 Fredericksburg rd. San Antonio, Texas. 78201
Fridays & Saturdays at 7:30 PM, Sundays at 3:00 PM
Ticket cost: $17 Child/Student,$23 Senior/ Military, $26 Adult
Phone 210-267-8388