Review: How to Succeed in Business Without Really Trying by Woodlawn Theatre
by Kurt Gardner
Sort of a comic Mad Men with musical numbers, Frank Loesser and Abe Burrows' Tony award-winning How to Succeed in Business Without Really Trying arrives at the Woodlawn Theatre in a typically enthusiastic production.
The plot centers around one J. Pierrepont Finch, a window-washer with ambitions to climb the corporate ladder. Using the book "How to Succeed In Business" as his guide, he infiltrates the corporate offices of World Wide Wickets and ingratiates himself with the staff, most importantly with the company's president, J.B. Biggley.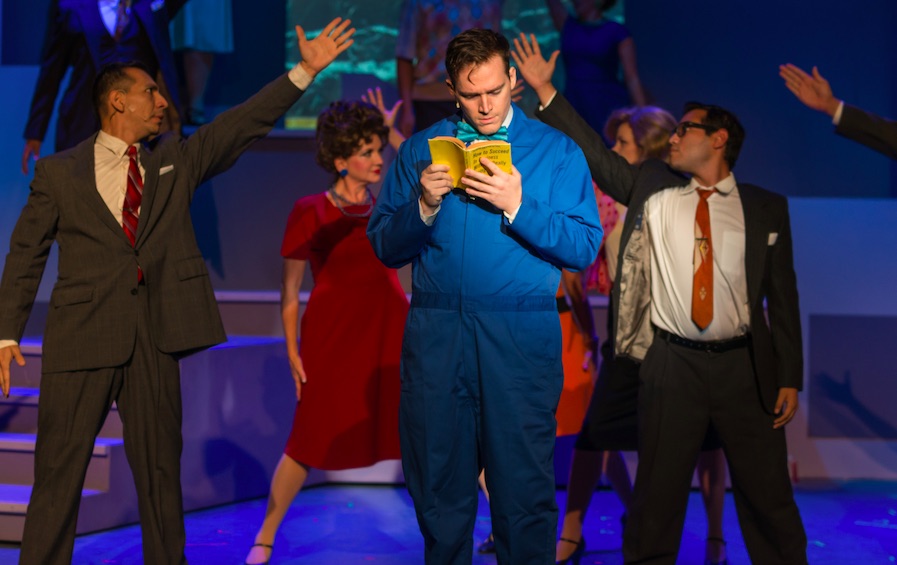 Though Finch has no apparent experience, he is hired by the firm and soon finds his star ascending, thanks to some well-timed chicanery and other coincidences. He also finds an office romance in the person of secretary Rosemary Pilkington, but she is frequently shoved aside as his ambition is first and foremost on his mind. The bane of his existence, however, is Bud Frump, Biggley's lazy and duplicitous nephew.
This 1961 time capsule benefits from some sharp musical numbers and a storyline that is still relatable today. The musical numbers are lots of fun, from the hilarious college fight song Grand Old Ivy to the tender ballad I Believe in You. Office topics such as caffeine addiction (Coffee Break) and sexual harassment (A Secretary is Not a Toy) are also explored. If there's one fault to be had with the show, it's rather long for such light material. The first act alone is a mere 20 minutes shorter than the entire 1967 film adaptation, which cut five songs to shorten the running time.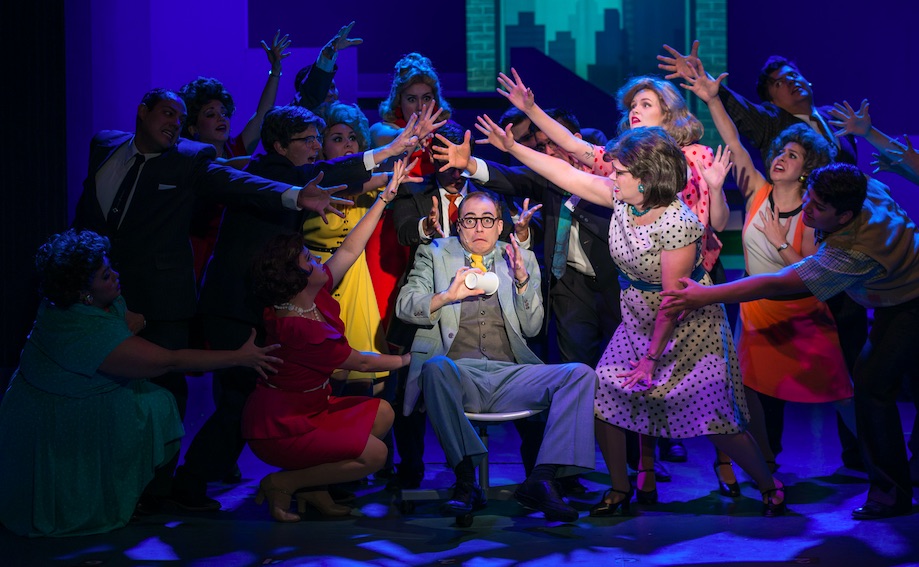 Nevertheless, it bubbles with life and is performed by a fine cast. Brian Hodges is devilishly charming as the scheming Finch, and he is well-matched by Kate Ragan as the lovesick Rosemary. Morgan Clyde earns laughs as the wisecracking Smitty, and Mark McCarver is an appropriately hammy Frump. Crystal Vera is hilarious as the slinky but not-too-bright Hedy, and Ronald Watson is an amusingly pompous J.B. Biggley.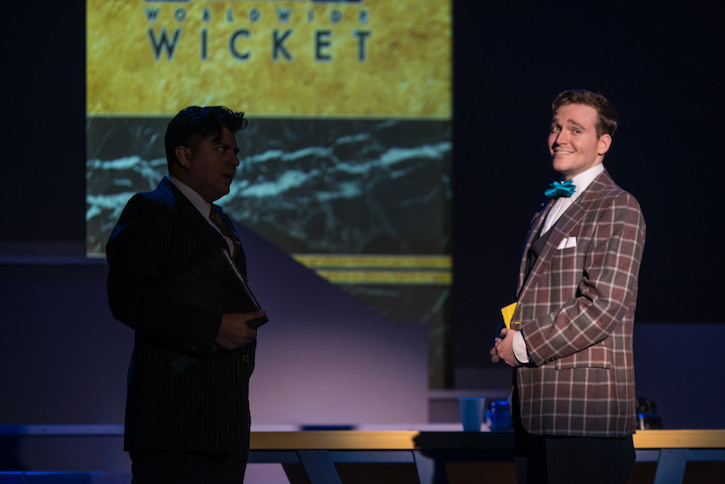 The Woodlawn's ensemble is excellent, well-directed, and choreographed by Christopher Rodriguez and accompanied by Josh Pepper's pleasant seven-piece orchestra. The scenic design by Benjamin Grabill is up to its usual high standards, and Rose Kennedy's retro costuming is fun, particularly during the Paris Original number when all the secretaries show up at a party in the same ridiculous-looking dress. Sound designer Benjamin Farrar and lighting designer Matt Smith provide their usual professional efforts, and Denise Ebarra's prop designs bring the candy-colored '60s vibe.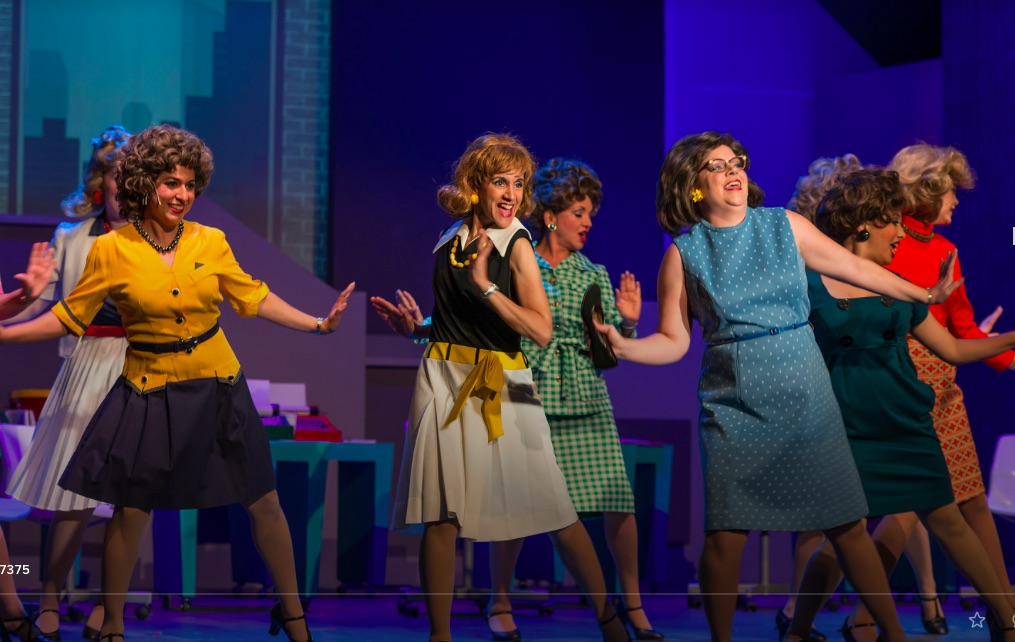 How to Succeed in Business Without Really Trying plays Fridays and Saturdays at 7:30 p.m. and Sundays at 3:00 p.m. through Sept. 17 at the Woodlawn Theatre, 1920 Fredericksburg Road. Tickets can be obtained online or by calling (210) 267-8388.
---
How to Succeed in Business Without Really Trying
by Loesser, Burrows, Weinstock and Gilbert
Wonder Theatre (formerly Woodlawn Theatre)
Fridays-Sundays,
August 25 - September 17, 2017
August 25 - September 17 , 2017
To purchase tickets, Visit www.woodlawntheatre.org/tickets or call the box office at 210-267-8388.
Box office hours Tues-Fri 10 AM-5 PM. Sat 11 AM- 2 PM
Showtimes: Friday & Saturday at 7:30 PM, Sunday at 3:00 PM
Ticket prices:
$29 for Adults, $24 for Senior/Military, $18 Children Students. Plus $3.00 Ticketing Fee.
1920 Fredericksburg Rd. San Antonio, TX 78201
Groups of 10 people or more receive a 20% discount.
Free parking is available and located behind Vogue College of Cosmetology on W Lynwood Ave. This area is specifically designated for patrons and is patrolled by a uniformed security guard during the run of each show.