Review #1 of 2: The Duchess of Malfi by Hidden Room Theatre
by Michael Meigs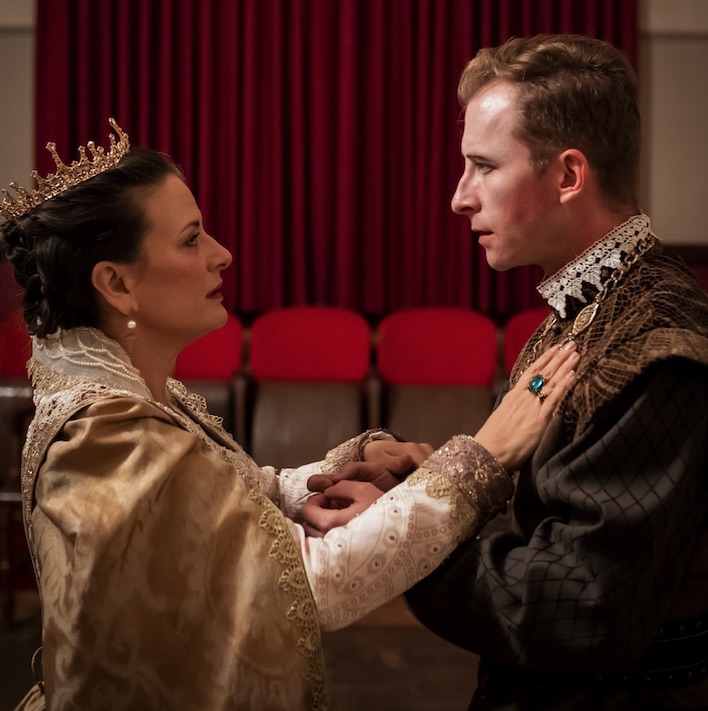 The Hidden Room is a tight little Early Modern Drama gang grouped under the sheltering, nourishing genius of Beth Burns, and they've periodically been transporting a narrow, sophisticated slice of the city's theatre-going public back 400 years or so for what seems like forever. If that sounds like a convoluted timeline, consider this: CTXLT catalogs show 22 productions since April, 2010 by these gifted zealots. Most were of dusty dramas that only the most dogged of English lit students ever opened; Burns, the self-styled "matriarch," and her acolytes gave life, fire, blood and passion to those texts. Her first venture in Austin was a magical As You Like It, back in 2009, done under the aegis of Shrewd Produtions, and some of today's dedicated theatrical time voyagers were in that cast.
In other words, Hidden Room and Beth Burns have the credentials and the experience; they study the craft's ancient texts and recreate performance styles you're unlikely to find elsewhere. A glance at the cast list tells you that these are performers of scope and brilliance who, for one reason or another, have stuck wth us here in Austin instead of being swept off elsewhere. Not that they're provincial; Hidden Room has fine contacts in London and at the Shakespeare Center in Staunton, Virginia. And with The Duchess of Malfi, playing weekends until October 20 in downtown Austin, you have the chance to experience it before the production goes to the Globe Theatre in London in June, 2020.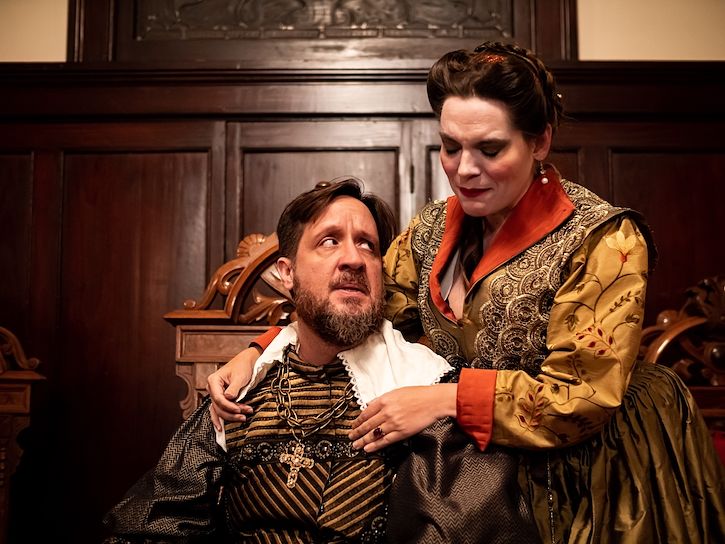 But enough of general encomia. The Duchess of Malfi, ca. 1612, by John Webster, is a thundering revenge drama, intricately plotted, that comes down to contrasting the duplicity and malevolence of two highborn brothers with the growing misgivings of the obedient murderer for hire they employ. Augustly imposing Robert Matney is the thoroughly dissolute cardinal (shacked up with the delicious Amber Quick as Julia, though, sadly, he eventually tires of her wiles); and frentic, peripatetic Ryan Crowder is Ferdinand, Duke of Calabria, twin brother of the titular duchess.
The widowed duchess falls hard for gallant Antonio, steward of her estate and later her husband by secret marriage. Liz Beckham and Brock England play that desperate pair, as sincere and devoted as the duchess's brothers are evil.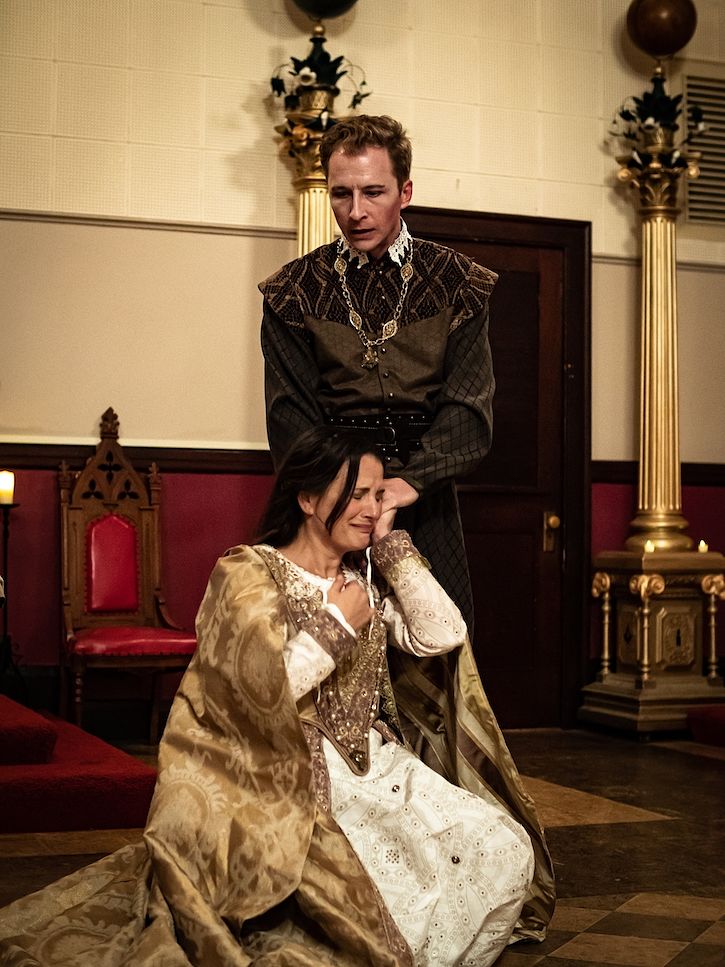 Judd Farris executes (in more senses than one) the plum role of Bosola, who stalks through this plot, getting his hands bloodier than many a Shakespearean villain while his conscience torments him more with each murder. That's the core of the piece, but subplots, foils, and reversals bring in others for lots of entertainment: Jill Swanson, Nathan Jerkins, Rommel Sulit, Todd Kassens, Valoneecia Tolbert, Ronan Melomo, Kennah Benefeld, and, as the solemn, surviving son of the slaughtered duchess, Sadie Schaeffer.
If you follow Shakespearean and early modern drama in this town, you're going to recognize many of those names, and know that there's something special in store. Dressed up in Jenny McNee's rich period costumes, these performers are going to to knock you back, chew the scenery when appropriate, and keep you rapt.
Kate Meehan, chair of the B. Iden Payne theatre awards committee, inter alia, tutored and reinforced historical principles of formal theatrical gesture with the cast to further authenticate the performance style. One meek complaint: audience members hadn't been given even a hint of what to watch for in that regard, and the subtle but striking motions and attitudes were cryptic to us. Not quite like watching a discussion entirely in American Sign Language, for they accompanied Webster's elaborate, striking spoken texts, but a nagging frustration nevertheless. (Take a glance at the photo of the assembled cast shown on the CTXLT front page.)[Ed. note: see chart, below!]
As in earlier produtions, the Hidden Room is again using its eponymous playing space. Since the York Temple on West 7th Street is scheduled for alteration -- I wot not, perhaps destruction and replacement -- the third-floor hall needs not remain hidden any more. It's a challenging but intriguing space, a long rectangle with platforms and thrones on either end, with chairs for attendees ranged three-deep along the long sides of that rectangle. Lighting is, well, primitive, at least in terms of theatre tech, but it has the authenticity of performance in a space that evokes the Windsor Castle conditions where Shakespeare's company and others entertained the queen and court.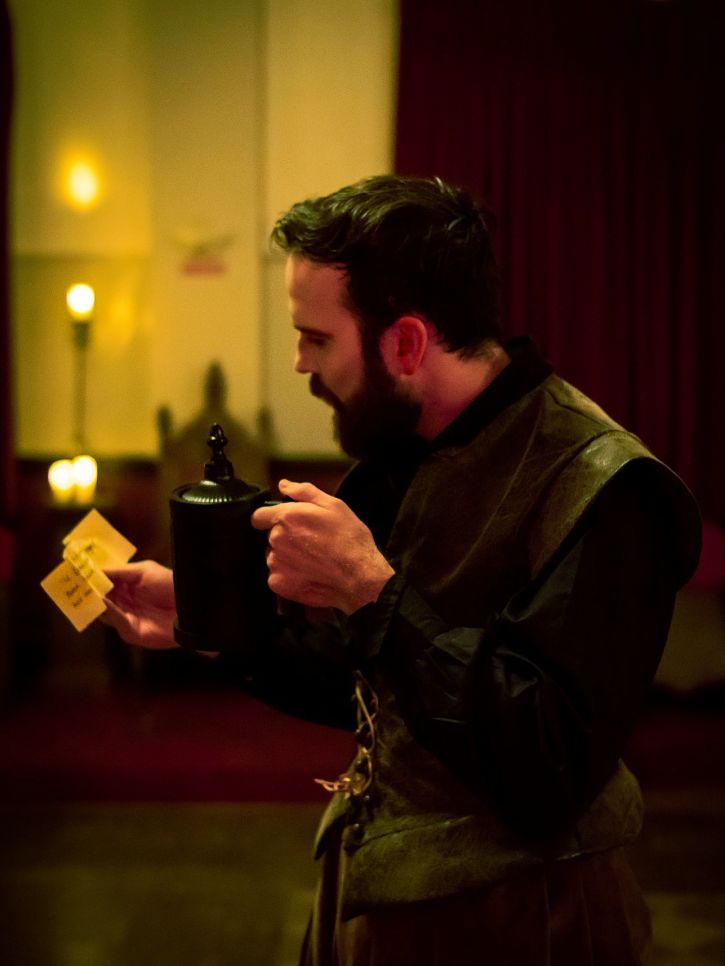 Judd Farris, recognized by the Austin Critics Table last May for his fantastical, electrifying Richard III with the Hidden Room, based on John Wilkes Booth's playbook, is a standout among standouts. As Bosola the murderer he looms grim and acts swiftly, and his diction, articulation and projection are superb, vital qualities when playing in an the awkward conditions of the hidden room. He generates sympathy for his plight; as the penniless former soldier, he comes across as a decent man forced to sell his soul piece by piece on the installment plan. Liz Beckham, surprisingly petite despite the enormity of her presence, struggles hard to preserve her illegitimate children and herself. Matney, who played Falstaff in the company's 2017 Henry V, is Orsonian (as in Welles), and Ryan Crowder goes mad with wild élan but at times with a hysteria that distorts speech.
A welcome amenity is the musical ensemble led by Howard Burkett that provides interludes and accents of period music. And for the occasional reminder of gentle anachronism, stage manager Rachel Steed, clad in tights, a yellow jerkin, and hat, will step out from the actors' recesses from time to time to adjust the dimmers next to the door. Theatre lighting? They don't need no stinkin' theatre lighting! They're the Hidden Room!
EXTRAS
Click to view the program sheets for The Duchess of Malfi
Andrew J. Friedenthal interviews director and dramaturg of The Duchess of Malfi, Austin360.com, October 3, 2019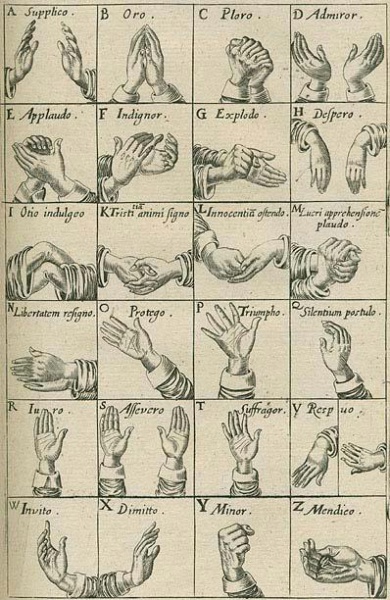 ---
The Duchess of Malfi
by John Webster
Hidden Room Theatre
Fridays-Sundays,
September 27 - October 20, 2019
FOUR WEEKENDS ONLY, Sept 27-October 20th, 2019
All Friday and Saturday shows at 8 PM , all Sunday performances at 5 PM.
Running time 140 minutes.
Early bird pricing for first two weekends!

Special DISCOUNT PREVIEW PERFORMANCE Friday Sept 27th, 8 PM

Special Industry Night Performance Thursday October 10th, 8 PM

York Rite Masonic Hall (we've got it for a while longer, hurray!)
311 W 7th Street, Austin TX. 78733
Tickets $20, $17 students, VIP $35 (reserved places and $5 concession ticket)