Aug. 19 - Sep. 03, 2016
Mondays, Thursdays-Saturdays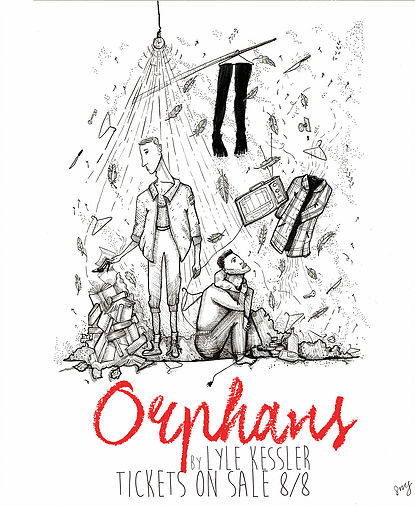 Two brothers live alone in a North Philadelphia row house. Treat steals for a living while Phillip stays at home, eating tuna fish sandwhiches. One night Treat brings home an older man to get him drunk and rob him. Turns out this man, Harold, is very rich and on the lam from a hitman. Harold establishes the orphans' house as a base of operations and, in a strange, hilarious, and moving way, begins to care for Treat and Phillip.
From Frank Benge at austin.broadwayworld.com:
Street Corner Arts has announced Michael Stuart, Aaron Johnson and Christopher Alvarenga will star in their upcoming production of ORPHANS by Lyle Kessler.
The production is directed by native Austinite Sarah Kimberly Becker. Earlier this Spring, Street Corner selected Johnson and Becker to helm their pioneer production of the Company's Sidewalk Series. The program, in its inaugural year, mentors promising Austin theatre-makers in producing and fully realizing a production.

Michael Stuart is returning to ORPHANS after directing the play in Austin nearly 25 years ago (starring Travis Dean, Damian Gillan and Ken Bradley). Stuart, playing Harold, is eager and excited to be back in the room with these dynamic and scary brothers in this hilarious and equally tragic drama about father-and-son sensibilities.

Set in Philadelphia in 1983, ORPHANS follows brothers Treat and Phillip, a peevish knife-carrying thief and the other a frightened and seemingly feral child unable to leave his decaying childhood home. When Harold drunkenly stumbles into the brothers' lives, their delicately balanced world turns upside down; nothing will ever be the same.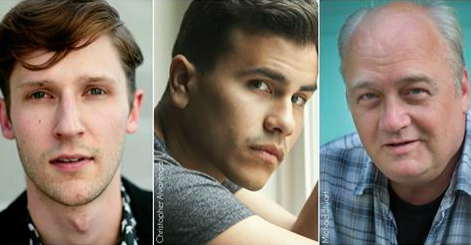 ---
Orphans
by Lyle Kessler
Street Corner Arts
Mondays, Thursdays-Saturdays,
August 19 - September 03, 2016
Tickets $15 plus service charges, available at the Street Corner Arts website.
Seating is extremely limited at the Back Pack venue.
ASL captioned performance August 26; industry performance on Monday, August 29, 2016.