Review: Orphans by Street Corner Arts
by Michael Meigs
Aaron Johnson, co-producer and cast member, told Alex Garza during a CTX Live Theatre interview that he's been carrying around Lyle Kessler's 1983 drama Orphans since his freshman year in college. Street Corner Arts' new Sidewalk Series of semi-sponsored work has given him the opportunity to put it on stage. Or, rather, into one side of the Back Pack improv troupe's well hidden rehearsal space in east Austin.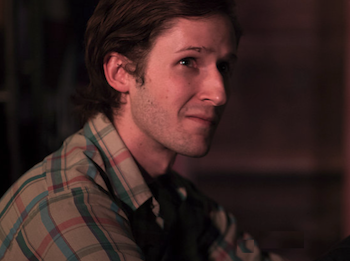 To find it, you need to know where you're going; the address of 2400 E. Cesar Chavez, suite 206, will serve only to get you within about a hundred feet of the locale. The secret is that their lair is behind the rehearsal space of the well-signposted Sky Candy Aerial Arts. Walk up confidently as if you expected to hit a Sky Candy trapeze, enter and continue to the end of that long corridor: past the last door on the left there's a makeshift ticket counter, a makeshift hospitality space and a makeshift audience space with folding chairs.
Orphans has a laudable performance history, for after its Los Angeles debut Gary Sinese directed it at the Steppenwolf in Chicago, and the same cast subsequently did a six-month run off Broadway. A short-lived 2013 Broadway production featured Alec Baldwin. Its appeal to the 24-year-old producer in Austin is evident, for it's an urban fairytale of two young men transforming and maturing under the unexpected guidance of sage older gentleman who happens to be a con man. . . and, in effect, a guiding guardian angel for these two lost boys.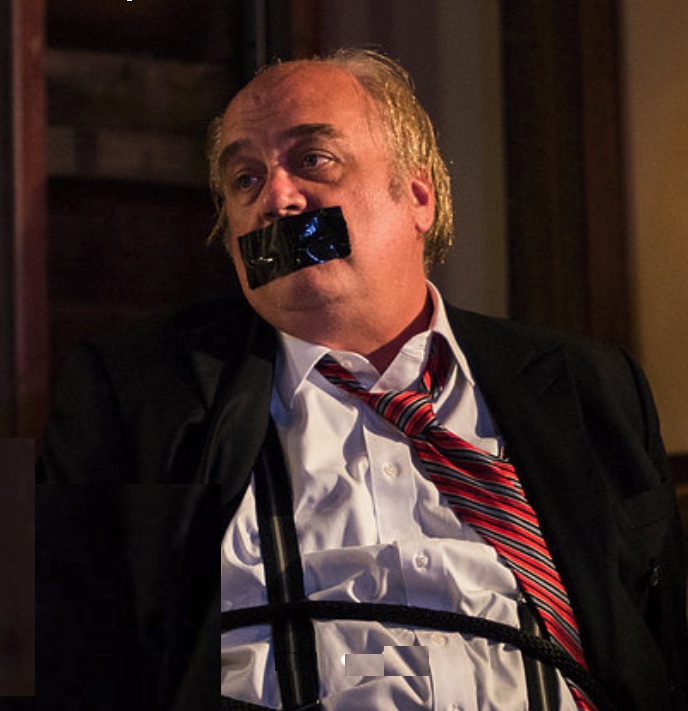 The redoubtable and much appreciated Michael Stuart occupies that role. He radiates bonhomie. There's far more of a twinkle than a threat to his Harold, even when he's obliged to pull a pistol or to fend off a knife attack. The program tells us that Stuart directed this piece some twenty years ago with Travis Dean in the role. It's not hard to guess the distribution of the other roles: Kenneth Wayne Bradley surely must have been the short-tempered knife-wielding Treat and Damian Gillen, the cheery clown and perennial Scrooge for The Company Theatre in San Antonio, must have been the agonizingly uncertain and nervous Philip.

Philip's the first person we see onstage. Jumpy and distracted, he roams the shabby little apartment clutching a woman's bright red high heel shoe. He has books that he hides under the cushions of the worn couch at stage right. He peers through an imaginary window at the forefront of the playing area, tracking passers-by. When he perceives his brother returning, he scrambles to hide. Treat, compact, short and cocky, enters, calling out for Philip. Though they're in their late teens or early twenties, they scramble about the apartment in a game of tag that Treat wins on a feint and a lie.
Christopher Alvarenga as Treat recounts his day, and we learn that he has been out in the parks doing stickups. Robbing people. And stabbing them if they resist.
We've landed in a Peter Pan/Neverland scenario of amoral children. These two were abandoned first by a father (or two fathers -- that would explain the physical differences between tall, gawky Philip and his taut short smouldering brother Treat). And their mother disappeared, long enough ago that younger brother Philip, the inhibited neurotic, remembers only the touch of her hands. Big brother Treat, the sociopathic neurotic, has sheltered him and provided for him, never allowing him out of their refuge, not even to go to school.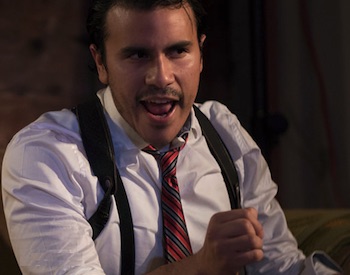 In the following scene Treat thinks their fortune is made when he brings home a drunken sentimental businessman he encountered at 2 a.m. in a downtown bar. Tidy in suit and tie, Harold looks like a loser, an orphan himself -- a 'Dead End Kid' as he puts it -- but his briefcase is packed with negotiable certificates. Once Harold finally slumps over in sleep, Treat ties him to a chair and boasts to the alarmed but fascinated Philip that they'll make a fortune in ransom.
The plot is a bit like O. Henry's Ransom of Red Chief, played in reverse. Harold doesn't turn out to be a ferocious pain in the ass, as in the short story; he proves to be calm, reasonable and affectionate. He is a criminal and on the lam from some violent people in Chicago, but he's secure enough to offer these Lost Boys employment, new clothes, good living and prospects. He even tempts Treat with the prospect of as many good-looking dames as he wants, whenever he wants (a promise that's curiously forgotten through the rest of the play). But Treat has to learn to control that temper of his. . . .
The characters in Kessler's tale are eccentric and beguiiling enough to entice you into a suspension of disbelief. Stuart as the fatherly Harold at first seems entirely too good to be true, but he delivers the emotional goods to this desperately needy pair. Philip becomes emboldened to exert a modest amount of independence from his brother; Treat struggles with his violent temper under Harold's tutelage. The final scene of the second act brings emotional devastation and climax. Though we're initially led to think that this play is about inhibited Philip, it becomes evident that the real catharsis is reserved for Alvarenga as Treat. And Alvarenga delivers with a burning authenticity throughout this parable.
EXTRA
Click to view the Street Corner Arts Sidewalk Series program for Orphans
---
Orphans
by Lyle Kessler
Street Corner Arts
Mondays, Thursdays-Saturdays,
August 19 - September 03, 2016
Tickets $15 plus service charges, available at the Street Corner Arts website.
Seating is extremely limited at the Back Pack venue.
ASL captioned performance August 26; industry performance on Monday, August 29, 2016.