Review: Houdini Speaks to the Living by Hidden Room Theatre
by Michael Meigs
Matriarch of the Hidden Room Theatre Beth Burns already had access to a venue appropriate for this conversation on the shadowy mysteries of the afterlife. The third-floor meeting hall of the York Rite Masonic Temple downtown on 7th Street has been an ample but problematic space for other innovative costumed works. Its long rectangular space, generally deficient lighting, platforms with throne-like wooden chairs at either extreme of the room and awkward entrances and exits have challenged her ingenuity in blocking. Solemn portaits of long-dead senior Masons look down upon the proceedings.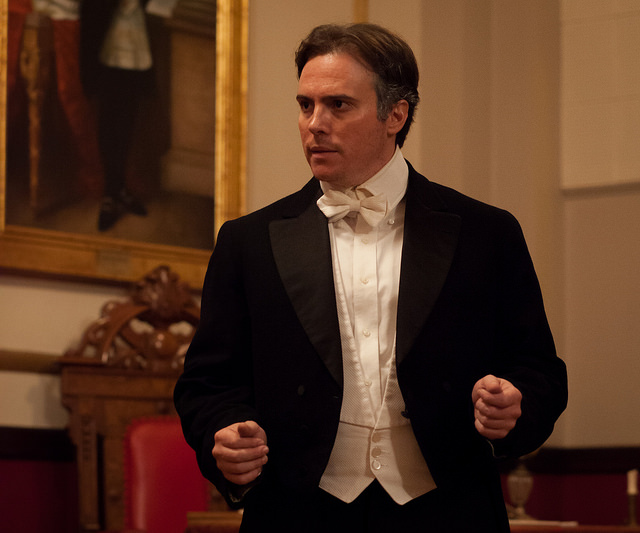 But for a debate on spiritualism between assertive skeptic Harry Houdini and the pained, hopeful, credulous Arthur Conan Doyle the setting functions like a dream. An uneasy dream beset with psychic conflict and courteous confrontation, yes, but the room is period-appropriate and in its shadowy formality it's a host indulgent to either point of view.
A brainy scholar but by no means a pedant, Burns immersed herself in the collections of the Harry Ransom Center at the University of Texas, with the assistance and encouragement of curator Dr. Eric Colleary. An extensive collection of Houdini's papers is archived there; so are the papers of Conan Doyle. In connection with Burns' project the HRC has mounted an exhibition of Houdiniana in its ground-floor pubic space, showed a Houdini-related film and even offered a cooking and tasting class based on Houdini's favorite dishes. When you attend the Hidden Room event at the Masonic temple you may even have the opportunity to sample Houdini's favorite dessert, a delicate bread pudding with berry coulis prepared by Colleary himself.
Burns traced the deep interest of both men in the debated topic of communication with the afterlife. They corresponded; they may have met. Burns takes their opposing views and by opposing, does not resolve them; she casts light on the deeper emotions and the struggle between rational interpretation and the desire for belief.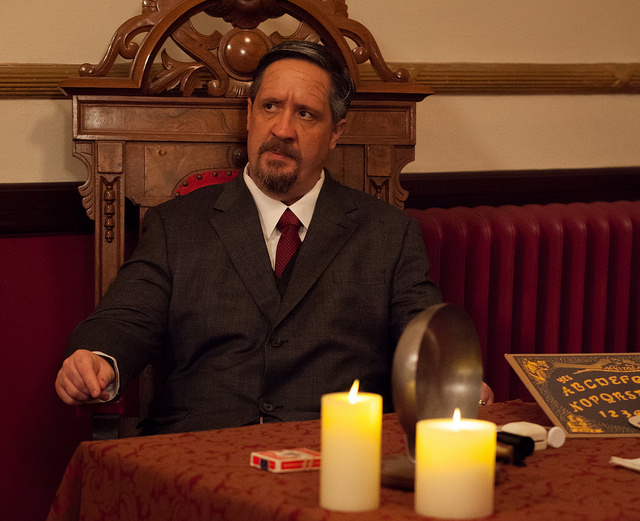 A theatre work dealing with a single theme and a focused conversation, however extensive, may risk lulling the audience into the monotony of a stubbornly inconclusive dialogue. Not so here: director Burns has chosen actors who vividly embody those opponents and the striving of their searches for truth.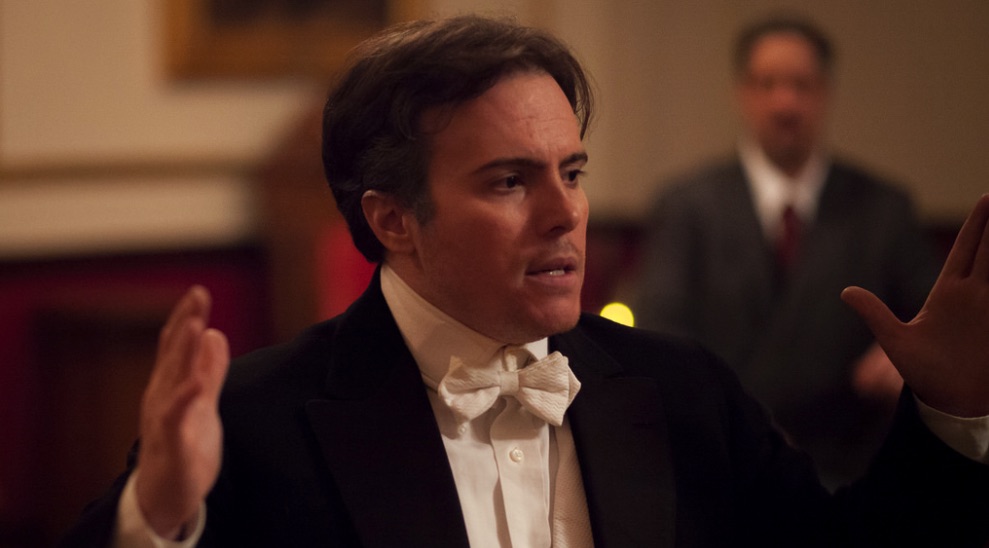 Stage magician Patrick Terry, visiting Austin for this event, has the commanding presence and dapper white-tied elegance one easily associates with the fabled master of escapes. He's dismissive of spiritualism but not scornful. He insists instead on demonstrating to the silent, intrigued audience with a series of elegant illusions that the inexplicable can be presented entirely without assistance from the Great Beyond. Terry levitates a table, summons phantom sounds from a suspended champagne glass and apparently destroys, then restores a sheet of newspaper. He speaks with great courtesy but absolute clarity to us and to his interlocutor.
And what an adversary in debate -- Robert Matney rises to the occasion from his seat in the midst of the audience along one side of that long hall. This familiar and ardently appreciated Austin actor addresses Houdini and the rest of us with a tentative, thoughtful and almost apologetic presentation, all in a gentle Scots burr. In a simple dark suit and vest Matney describes his visits to mediums of the day in search of some communication, however tentative, with his dead son. Just as earnestly as Terry's Houdini, Matney describes his encounters with the ephemera of the departed, and he willingly participates in the staging of Houdini's illusions. He is not persuaded; he cannot be persuaded as long as there is a flicker of hope.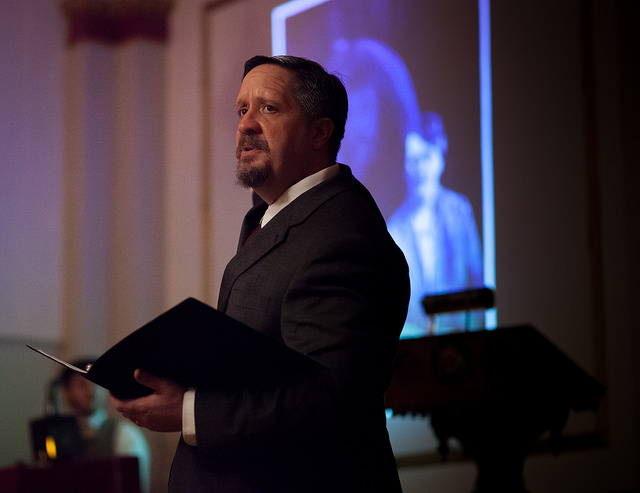 'Spilrit' photos with mysterious images are projected on the wall, using the anachronistic technology of digital projection. Conan Doyle's glass-plate mystery images of hovering ancestors are countered by Houdini's crafted images of hovering ectoplasm. In the uncertain illumination of the room and the uncertainties of truth and belief, Conan Doyle is provoked to an emphatic and moving description of a fleeting encounter, a gentle brush on the cheek from his mourned son.
The evening is short -- scarcely an hour -- but it leaves one both with a sense of the depth of belief of those opposing camps and with an intriguing set of puzzles. How did Houdini/Terry manage to magic up those illusions? We discovered afterward that the two of us were tending to embrace one or the other of the points of view. Rationalist that I am, I was mapping out in my head possible explanations; my theatre companion was more of the Conan Doyle persuasion, reluctant to question and ready to absorb the emotional truth of what had been presented.
Beth Burns adroitly probes our belief systems while setting the themes fully in the intellectual terms of more than a century past. Terry, Matney and Burns provide a masterful and eye-opening brief evening of entertainment and reflection.
EXTRAS
Click to view the program of Houdini Speaks to the Living (in vanishingly small font)
Wayne Alan Brenner's feature Cooking Like Houdini, Austin Chronicle
---
Houdini Speaks to the Living
by Beth Burns and Patrick Terry
Hidden Room Theatre
Wednesdays-Mondays,
October 21 - October 31, 2016
October 21, 22, 23, 26, 27, 28, 29, 30, 2016 – all shows at 8 pm

– – – plus a free Special Halloween Presentation, Monday October 31st, 7 pm at the Harry Ransom Center – – –

Running time: 45 mins.