Review: Flu Season by Oh Dragon Theatre Company
by Michael Meigs
Oh Dragon Theatre Company's choice of the Grayduck Gallery just off south First Street as the venue to stage Will Eno's The Flu Season is appropriate. The white walls, open space, and angled positioning of the seats for the audience create a stark setting for a stark play. In his odd little fable of anomie, set in a mental clinic, Will Eno tells a story that could squeeze our hearts if only he didn't keep relentlessly undercutting our reactions.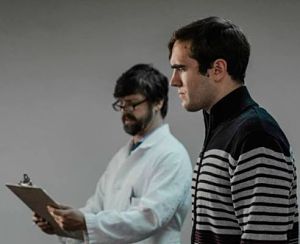 This institution is a holding space with the mission of assisting fragile souls to put their pieces back together. Newly admitted 'Man' (Nicholaus Weindel) is interviewed by the Doctor (Ky Cleveland) and newly admitted 'Woman' is brought on board by the Nurse (Victoria Jackson). Each caretaker is garrulous and self-absorbed; each admittee seems stunned. We learn a lot about the staff members, almost all of it irrelevant to the central question suggested by the structure: why are these two here at all?
Rounding out the cast are the Prologue (Kendra Pérez) and the Epilogue (Ben Howell) -- although neither exercises the announced function. They comment throughout the play. Pérez has a reassuringly pert demeanor that's balanced by Howell's arch, cynical responses. Playwright Eno uses 'Epilogue' in a deliberately 'meta' approach. Epilogue's voice seems to be that of the playwright, drawing attention to the conventions of the drama and insistently questioning the value of his own creation.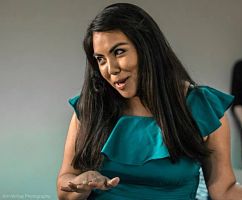 In a 2009 review of an earlier production of this script by Austin Community College, I acknowledged that I found it 'aggravating,' Southern dialect for 'deliberately provocative,' but I admired the language and the images Eno used in this deliberately mundane setting.
Both in its title and in the cycle of its action, The Flu Season suggests the eternal predictability of human existence. Strangers meet, bond, become intimate, quarrel, separate, die; seen from the outside, those intensely personal stories are reduced to clinical histories. We watch two couples here. The young wounded grasp feebly for feeling and their placid elders bumble about and bond in routine and mediocrity. In fact, there's a third couple: Prologue and Epilogue stand at conventional literary remove from the story, disputing one another's declarations without directly addressing one another, like a couple long married with never a meeting of the minds.
In this reverberant setting of bare walls, actors must articulate with utmost clarity, and the Oh Dragon cast is uneven in this. Pérez is best, with the advantage of playing a cockeyed optimist, and her counterpart Howell is very nearly as good. Liz Tabish portrays Woman with a waif-like vulnerability, but her voice is often dampened and difficult to hear, as if playing to a camera rather than to a live audience. Victoria Jackson's UK accent is not an obstacle in itself, but the audience would benefit from a more precise separation of her words and sentences.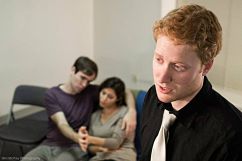 The gradual, inevitable attraction of Man and Woman is aptly played by Weindel and Tabish, and the shouting and violent emotion of their breakdown is gripping. We're amused by the collegiality of the appropriately mumbly doctor Cleveland and Jackson the Nurse, figures who are bemused and ordinary.
The Flu Season, Eno's first work, premiered in 2004. There is an amusing bit played in the institution's television room that lasts just a few seconds. We hear the voice of a news announcer who faulters and then has obviously lost her grip -- very much like the basic premise of his 2008 Tragedy: A Tragedy, presented just a few months ago at the Hyde Park Theatre.
Eno's outlook didn't change: life happens, we ponder it and try to pin it down with language, but meanings slip away into superficialities. His comedies are tragedies, but his tragedies are adrift, without heroes. Eno reflects to us a sense of the emptiness of living without intimacy or lasting values, and he invites us to decipher the ironies.
The Flu Season is no easy undertaking. Director Carl Gonzalez and the cast create Eno's world, and they do it well. They maintain the pace and the tension throughout, and they leave us with no easy answers -- exactly as the playwright instructed them to do.
---
Flu Season
by Will Eno
Oh Dragon Theatre Company
November 07 - November 16, 2013