Review: Bull by Street Corner Arts
by Michael Meigs
Mike Bartlett's single-syllable title for this piece doesn't give much away. The playwright's a Brit, so perhaps Bull isn't intended to suggest the American message of unbelievable mendacity. The verb "to bully" is more to the point, for one of this work-team trio has every reason to complain of bullying, and does so.
For me the most vivid association is with the animal. Not for the power or muscle or determination of the bull; instead, because it's destined to become a victim. These 70 minutes are as stark and almost as deadly a drama as a bullfight in the merciless Spanish sun.
Or perhaps now that we've twice experienced Bartlett's confrontational zero-sum dramas with single-syllable titles -- the other being the B. Iden Payne-award-sweeping Cock from Theatre en Bloc in 2015 -- we can acknowledge the playwright's sardonic attitude to his cock and bull stories.
Street Corner Arts makes the Hyde Park Theatre stage virtually featureles. It's a black void with a man and a woman on uncomfortable chairs. Cheap tables with a litter of office materials stand left and right. Thomas and Isobel are waiting.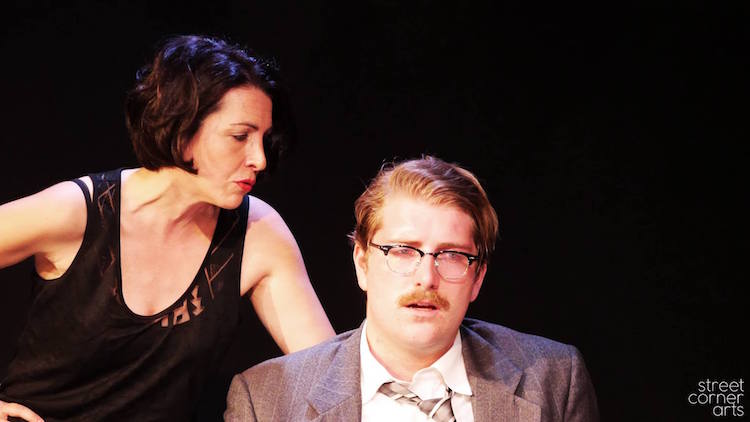 The random chat clues us soon enough that Thomas is agitated. Isobel is calm and a shade impatient with him, particularly as his mood darkens and he lashes out at her dismissive big-sister attitude. They'll eventually be joined by Tony, cool and confident, who lets them know that 'he' is running twenty minutes late. There's no secret about the purpose of the impending meeting. The company has been running losses and is going to cut a third of its staff.
Early chuckles and outright laughs mark our initial amusement as Isobel and Tony rag Thomas. A touch of mockery slips smoothly into harassment -- smiling and smiling and being villains -- and the metaphorical barbs and goads are nearly as hurtful, harmful and humiliating as the lances and banderillas ceremonially planted to prepare the animal for execution.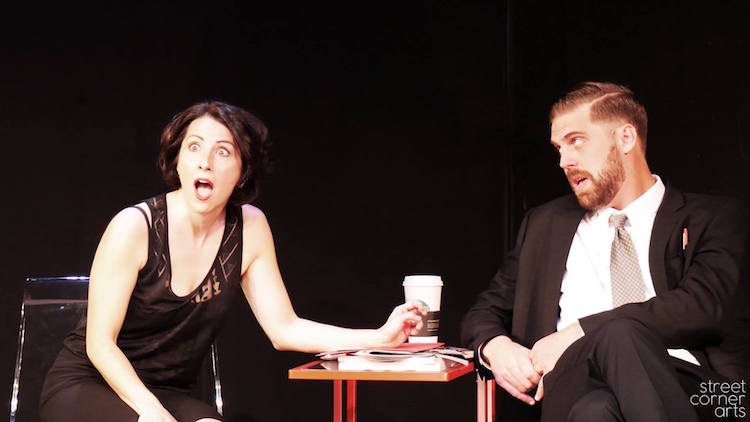 This is a grim spectacle, but it's done with elegance and art. Anders Nerheim as the agitated Thomas clamps down his character's alarm and confusion as the character exerts astonishing self control in the face of provocation and betrayal. Suzanne Balling as Isobel is vibrant with self confidence, a trim office fighter, and Devon Finn gives the utterly unprincipled Tony a disinterested Olympian air. His body English belies his formulaic courtesy and false friendship.
Rommel Sulit is the matador. Somewhat shabby and crass, Carter their boss offers them a false bonhomie and swills whiskey from a pocket flask before delivering the kill as guided by his picadores. Carter's a puzzle, perhaps a clue. While his employees speak variants of standard 'U' English, Carter's speech is muddled UK-speak, non-Oxbridge and non-regional. Just as we don't know what this corporation sells, we don't understand anything about its structure or ownership.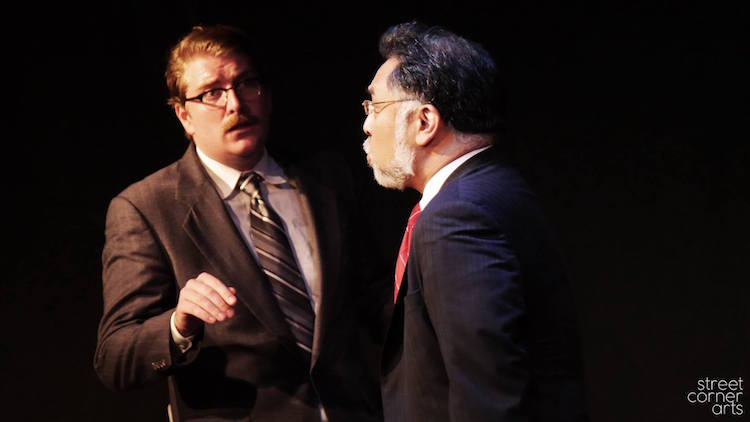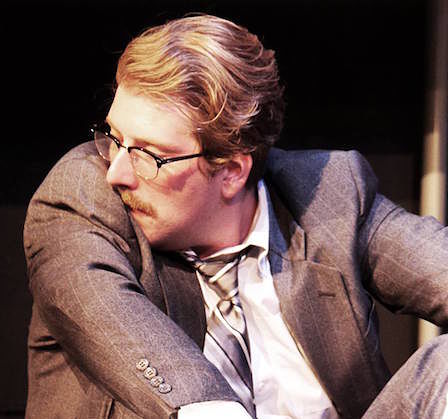 In an English or UK setting, Bartlett's piece would carry a clear message of indictment of the still very much alive British class system: private education and first-class university alumni arrogate over and defeat comprehensive school graduate. Talent and hard work count, but less than a sleek façade and connections. Even when the company's owned and run by déclassé businessmen, the privileged know how to manipulate them, cover their own and preserve their own places.
In the current political agitation of the United States, the message becomes one of insiders vs. outsiders, protected achievers vs. earnest strivers. The outcome is just as reprehensible, and it's somehow even more personal.
Director Benjamin Summers and the cast know exactly what they're doing, and their production of Bartlett's piece is forceful and vivid. Bull may leave a sour taste in your mouth, particularly reinforced by that last unendurably long fade in the final scene, but it's exactly the taste that Bartlett wants you to have.
EXTRA
Click to view the program for Street Corner Arts' production of Bull by Mike Bartlett
---
Bull
by Mike Bartlett
Street Corner Arts
Thursdays-Saturdays,
April 08 - April 23, 2016
April 8, 2016 – April 23, 2016
Opening Performance Friday April 8 with Opening Party
Saturday April 9, SCA "Family Night" with post-party for cast/crew/SCA alums
Industry Night Monday, April 18 at 8 pm
All other shows Thursday, Friday & Saturday nights at 8 pm
Runtime ~ 70 minutes with no intermission
ALL PERFORMANCES AT HYDE PARK THEATRE, 511 West 43rd Street
TICKETS $20 General Admission, $15 Educators & Students
Visit www.streetcornerarts.org or go to
https://secure.buyplaytix.com/streetcornerarts/reserve/bull.html
or call (512) 298-9776
Group Tickets available upon request