Review: The Rover by Hidden Room Theatre
by David Glen Robinson
Aphra Behn's The Rover is a Restoration action-adventure tale of libertinism, romantic intrigue, riches lost and won, kingdoms contested, and a whole lot of sexual violence. The piquant theme of sexual violence gives us romantic couplings, marriage, mistaken identities, jealousy and revenge, revelry, prostitution, flirtation, frank depictions of attempted rape, love every which way, wild dancing, and swordfight after swordfight. The tropes of mistaken identity, masquerades, and mannish boys (often in disguise) are those developed to even greater extent in classical opera, just getting off the ground at the time of the English Restoration.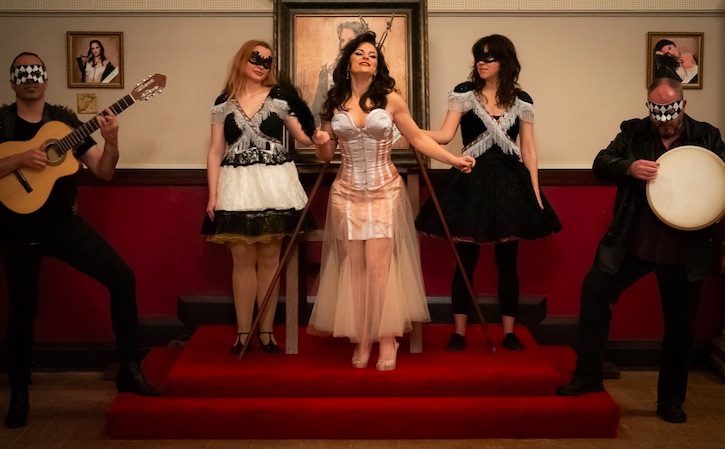 The Hidden Room produces this play in the spectacular style, as we have come to expect of this company. As always, The Hidden Room's offerings suggest cogent commentary on serious issues of our time. Artistic Director Beth Burns reminded us in her curtain speech that Aphra Behn, the only known female playwright of the Restoration, was a proto-feminist. In The Rover's contemporary Restoration setting the outcry for women's freedom was disguised and muted, but we clearly hear it today. Noblewomen were controlled, manipulated, and destined for comfortable but loveless marriages that ensured lineality and political alliances. Their brothers backed up the social and political status quo with bloody violence.Younger sisters and cousins, unnecessary to male goals, were marginalized, and some found peculiar pathways to freedom as nuns, prostitutes, courtesans (the upscale version of prostitutes), artists, and actresses. The Rover depicts most of these pathways in one memorable fictional Carnival season in Naples, when Cavaliers, noblemen, rovers, brigands, and female types of various categories of virtue and vice descended upon the city for revelry and piety. The Rover and Hidden Room's production of it give us one rollicking, adults-only ride.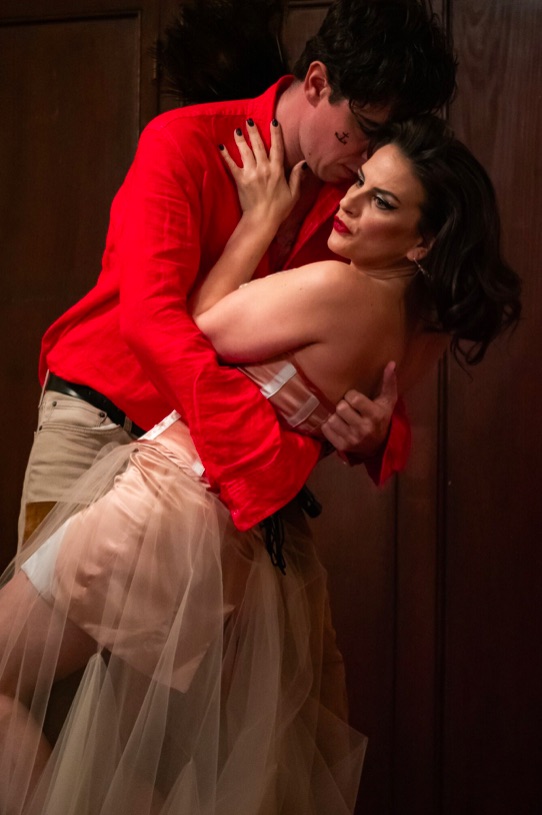 With deep research and authentic practice Beth Burns's Hidden Room brings together many strands of theatrical art of the subject period in each of its productions. The Rover is no exception. The first spectacular images of the play are the brilliant costumes and stylings of the characters. The complete suite of garments is only partially period, however. An immensely creative 1980s sensibility infuses the production, with 80s Goth, neo-Punk, and school-girl plaid motifs to go with the 80s alternative soundtrack and production numbers. This art mash-up is highly original, in fact unique. Weaponry is all of the period, from swords and lady-pistols to wine bottles.So are the fantastic masks, with features of Carnival everywhere; many are evocative of Kubrick's movie Eyes Wide Shut. The Krewe of Kostume is led by designer Aaron Flynn, assisted by Star Maddox, stitchers Kelli Bland and Josue Hart, and costume mistresses Samantha Smith and Ashley Kay Snyder. Amelia Turner did an admirable job of styling make-up to coordinate with costumes throughout the cast. The look and multiple costumes created for actress Katy Taylor (Valeria) are especially noteworthy. This is not to ignore the styling and rich gowns on Amber Quick (Florinda), Liz Beckham (Angelica Bianca) and Andrea Smith (Moretta).
The imagery of every design dimension is layered on the talented actors who are the core of the production. Many of Austin's best young, still-rising stage stars appear in the large cast of The Rover. They all stand out and work hard as a generous, sharing ensemble to bring the show in at about three hours. Leads Joseph Garlock (Willmore the Rover), Amber Quick (Florinda), Liz Beckham (Angelica Bianca), Brock England (Belville), and Valoneecia Tolbert (Hellena) are truly exceptional. Certainly in a realistic sense there were no purely supporting characters, as all had stories to tell in interaction with the rest, as was typical of plot-heavy Elizabethan and Restoration plays. Dance and movement created by choreographer Kelly Hasandras was part of the glue of these diverse character stories. Hasandraas also led the Rover Dance and Chorus Ensemble. Her love of dance was apparent in her every movement.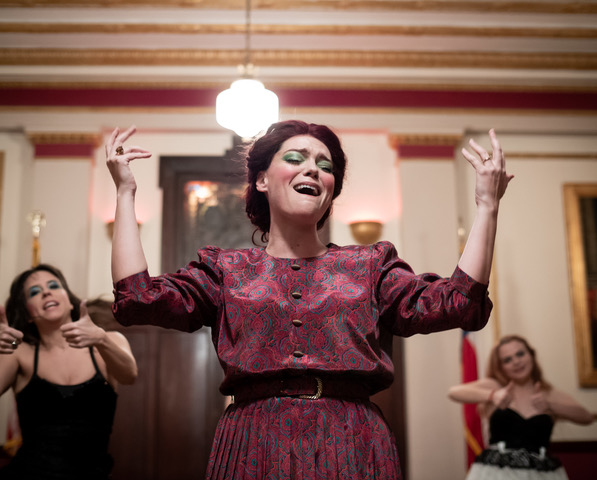 In such a long and content-rich play, some of the labor is arduous. At points in the second and third acts the characters cycle repetitively between joy and despair, with little between. This monotonous emotional rhythm tires both audience and actors, but was probably much to the liking of Restoration audiences. Another issue is inherent in presentation in the round: while the actors are adept at presenting lines in all directions, sotto voce deliveries and asides are generally lost to audience segments behind the actor. The lesson here is to cue the audience to pay more careful attention to play dialogues despite the distraction of bright lights and the swirl of costumes.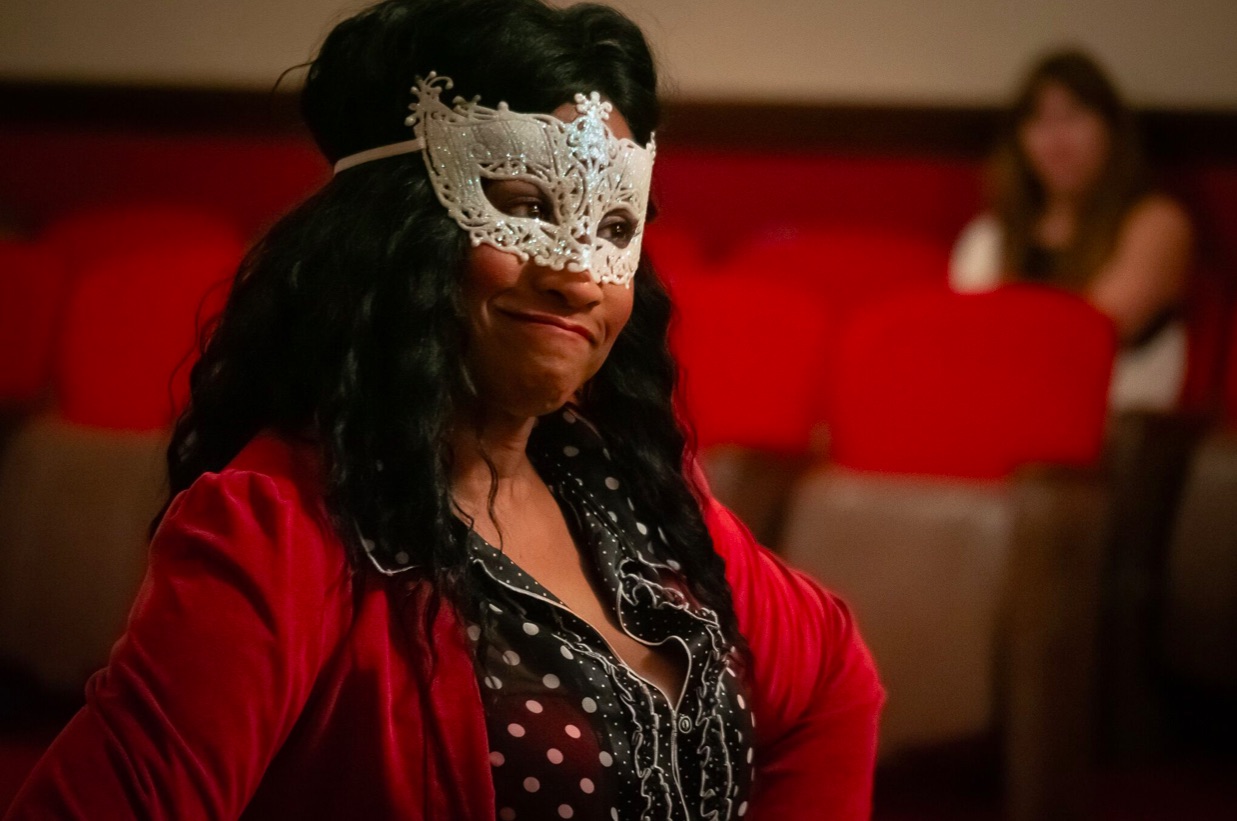 The state of theatre arts and all the fine arts in Austin is shifting and virtually unknown outside unfortunately small circles. Venue losses or declines, fluctuating audience numbers, and uncertain economic support signal that very little is certain in Austin's contemporary situation. Those who persist boldly in the midst of this ongoing chaotic state deserve strong support. One tiny beam of light from the city offers encouragement. Hidden Room and Director Beth Burns were just designated Creative Ambassador for Theatre for 2019. This is just one additional source of inspiration for the devotees of the mysterious, beneficent, and artful ways of the Hidden Room.
The Rover is recommended to all theatre-loving adults. It runs from February 15 to March 3, 2019 at the York Rite Hall, downtown Austin.
---
The Rover
by Alpha Behn
Hidden Room Theatre
Fridays-Sundays,
February 15 - March 03, 2019
THREE WEEKENDS ONLY, Feb 15-March 3rd., 2019
All shows at 8 PM, except Sunday performances at 5 PM.
Running time 140 minutes.

Special discounted PREVIEW PERFORMANCE Friday Feb 15th, 8 PM
PRESS PARTY NIGHT with catered refreshments and talkback Sunday Feb 17th, 5 PM
Special INDUSTRY NIGHT Wednesday Feb 27th, 8 PM
Special NEW WAVE PARTY Thursday Feb 28th, 8 PM

York Rite Masonic Hall (for most likely our last hurrah in this historic building before it undergoes major renovation)
311 W 7th Street
Austin TX 78733
www.hiddenroomtheatre.com

'Adsheartlikins, we're so sure.