Apr. 03 - Apr. 18, 2015
Wednesdays-Saturdays

Amy Herzog's compelling story about the deep recesses of memory and the continuity of human frailty from childhood through adulthood. Jamie's life in Brooklyn seems just fine: a beautiful girlfriend, a budding journalism career,and parents who live just far enough away. But when a possible childhood trauma comes to light, lives are thrown into a tailspin. Unsettling and deeply compassionate, THE GREAT GOD PAN tells the intimate tale of what is lost and won when a hidden truth is unloosed into the world.
This also marks Street Corner Arts' first show produced with generous grants from the City of Austin Cultural Arts Division and The Creative Fund.
Starring: Devin Finn, David Higgins, Addie Alexander, Joe Penrod, Molly Fonseca, Katie Kohler, Chris Humphrey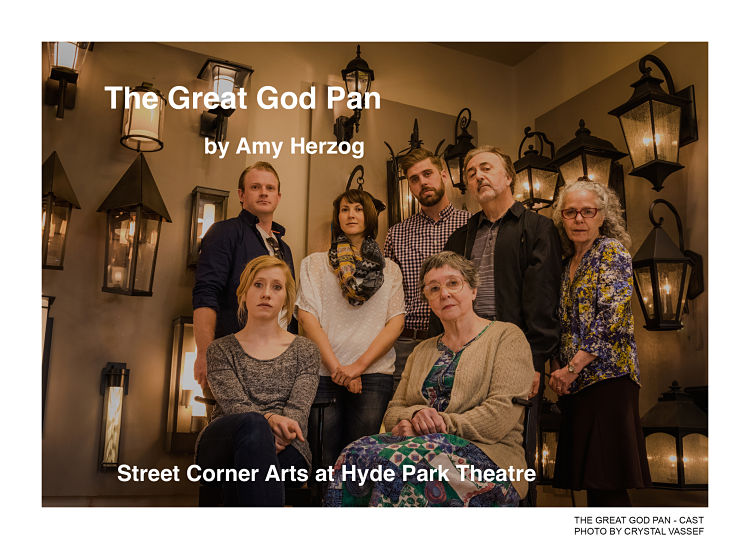 Directed by Andrea Skola Summers.
---
The Great God Pan
by Amy Herzog
Street Corner Arts
Wednesdays-Saturdays,
April 03 - April 18, 2015
April 3 thru 18, 2015, Thursdays - Saturdays; Industry Night: Wed, April 15
Wednesday industry night performance, April 8
All shows at 8 pm
Special Post-Show Panel on April 9: Dede Sparks (UT Dept.of Social Work), Julie Spiers (Lifeworks), and representatives from Austin's neuroscience community will discuss the impact of trauma on memory development.
$20 general tickets / $5 discounts available for educators and students with ID; Contact us for group ticket sales
Tickets: https://secure.buyplaytix.com/streetcornerarts/reserve/the_great_god_pan.html
OR 512-298-9776