Review: The Great God Pan by Amy Herzog, Street Corner Arts
by Michael Meigs
The Hyde Park Theatre's a fine and private place, an intimate space to show the quirks and dreams of our contemporary imaginings. Amy Herzog's The Great God Pan, now in production there until April 18, takes that intimacy even further, into the recesses of the psychology and emotional lives of friends and a family that could have been our own.
The set-up is stark and simple. Jamie is a 30-something writer who's just gotten a job with a much admired magazine; for the past six years he's been living with Paige, a former dancer who now has a practice as a licensed psychologist. One day a boyhood acquaintance of Jamie's, Frank, turns up covered in tatoos with a bizarre request. He wants to know if his father ever molested Jamie when they were young children. When they were four or five years old.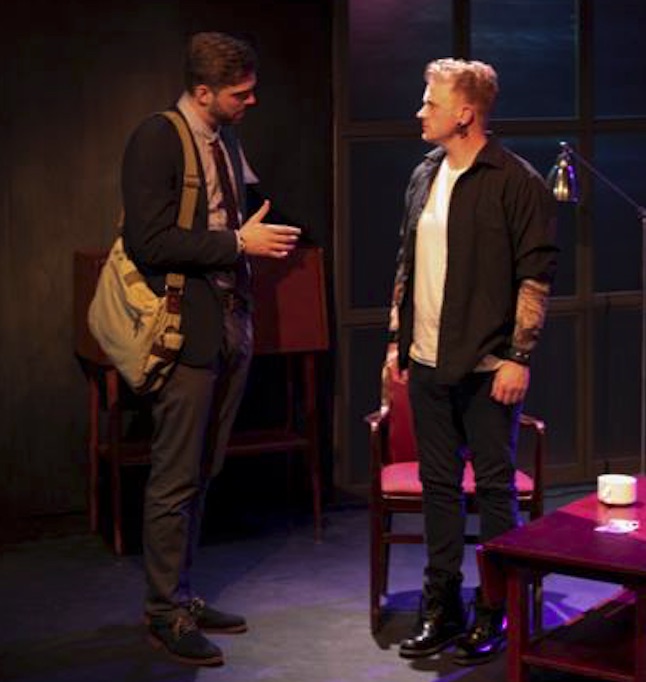 Jamie's baffled by that, especially when he hears that his friend is looking for evidence to bring charges against the father. Jamie rejects the thought outright.
But it won't go away. It spurs him to begin investigating his own past. He starts by dropping in unexpectedly on his parents, whom he seldom visits. He discusses it with his partner Paige. Obliterated memory becomes obsession, and over the course of this production we watch Jamie excavating, uncovering himself and working to understand the effects of what people are pretending never happened.
That's the plot, but both playwright and actors in this piece give us far more. Herzog has built full, nuanced and very human characters. The theme of this work is not abuse but instead human frailty frailty and psychic accommodation. That theme ermerges gradually, almost surrpetitiously, as we encounter other characters.
Herzog's drama is in part an accusing portrait of the failures of well-intended social services and psychological assistance, in part a gallery of characters in varying stages of acceptance of self-responsibility.
Jamie's torment is vivid to us because we discover it as he does and we come to perceive how it explains much of his behavior. Dialogue, actions, posture, even appearance carry the subtle message that each of the others we meet is bearing up under burdens. His parents in an outlying suburb; Frank the boyhood friend; his partner Paige; his former babysitter/caretaker Polly, now in an old folks' home. They've achieved their balance differently. The paths are many: denial and wishful thinking; sublimation and dependency; addiction; therapy, whether successful or incomplete; even resignation and submission.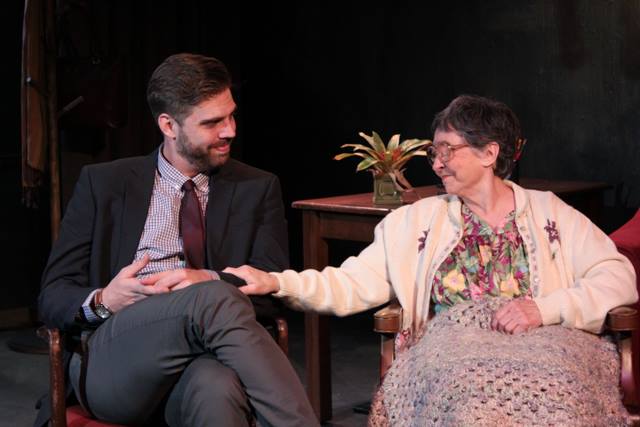 As the protagonist Jamie, Devin Finn confronts his huge surprise and the stresses it awakens with intense concentration and a grasp for control. His strength rarely gives way. That restraint makes Jamie admirable even as we begin to see that his deep-seated fear of intimacy and commitment really makes him something of an asshole. Molly Fonseca as his partner Paige is equally resilient, both in her professional practice as an precariously serene counselor and in struggles with Jamie concerning commitment and her desire to have a child.
Bruno-Pierre Houle's set, deftly lit by Shelby Gebhart, provides a contemporary environment of notable elegance and worrisome emptiness entirely appropriate for this exploration. No dramatic set changes are required to shift the action -- the casual relocation of a chair, the sharp click of a light switch on the wall, a step away from one playing area into another; any of these is sufficient. Director Andrea Skola Summers assures a smooth continuity and obtains a verisimilitude from this cast that makes us ache in sympathy.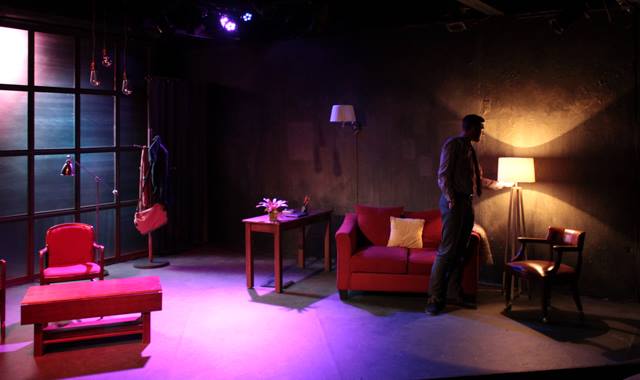 There are lots of shrinks and their shrunken patients here. Addie Alexander as Jamie's mother is a social worker nearing retirement, close-lipped about the past. Joe Penrod brings an abashed vulnerability to his portrayal of Jamie's father Doug, particularly moving when he travels to the City to tell Jamie a story that's a confession and appeal for understanding. Those who initially appear most vulnerable are in fact the strongest: David Higgins as the boyhood friend Frank, recovering from addiction, and Katie Kohler as Paige's fragile patient, the bulimic Joelle, establish themselves with intense concentration and economy of gesture.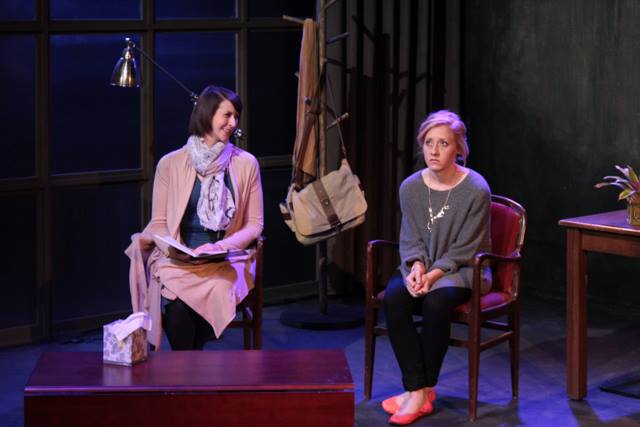 Chris Humphrey as the infirm caretaker Polly calmly provides Jamie both with a view both of his own past and with an example of a future without close attachments.
The Great God Pan absorbs you in the silent everyday dilemmas of seeking a healthy, fulfilled life. These characters have failures that could be offered as second-best solutions and successes that look like disasters.
It's rare that wrapping a story in a poem from a standard anthology adds anything to a contemporary work, other than perhaps an author's sniffy self-congratulation. Herzog's title is taken directly from a forty-two-line poem by Elizabeth Barrett Browning, with the leading lines worked a bit awkwardly into the men's memories of childhood adventure with Polly their caretaker. Herzog doesn't insist overmuch, and it works for us. Street Corner Arts provides the full text in the program so we can ponder afterward about the relevance of Browning's swift sketch of the 'half-beast God. . . making a poet out of a man.'
Click to view the program leaflet for The Great God Pan
---
The Great God Pan
by Amy Herzog
Street Corner Arts
Wednesdays-Saturdays,
April 03 - April 18, 2015
April 3 thru 18, 2015, Thursdays - Saturdays; Industry Night: Wed, April 15
Wednesday industry night performance, April 8
All shows at 8 pm
Special Post-Show Panel on April 9: Dede Sparks (UT Dept.of Social Work), Julie Spiers (Lifeworks), and representatives from Austin's neuroscience community will discuss the impact of trauma on memory development.
$20 general tickets / $5 discounts available for educators and students with ID; Contact us for group ticket sales
Tickets: https://secure.buyplaytix.com/streetcornerarts/reserve/the_great_god_pan.html
OR 512-298-9776