We Are Proud to Present a Presentation About the Herero of Namibia. . .
by Street Corner Arts
Nov. 30 - Dec. 15, 2018
Thursdays-Saturdays
STREET CORNER ARTS
brings you
WE ARE PROUD TO PRESENT
a Presentation About the Herero of Namibia,
Formerly Known as Southwest Africa,
From the German Sudwestafrika,
Between the Years 1884–1915
by Jackie Sibblies Drury
Content Advisory: This play features adult language and mature themes.
Jackie Sibblies Drury's stunning, self-referential theatrical collage tackles the subject of racism and the theatre community's own (sometime self-serving) attempts at engaging with this subject matter. To helm this ambitious show, SCA has brought back Liz Fisher, director of SCA's 2016 production of CONSTELLATIONS and recent recipient of the prestigious 2018 Princess Grace Award in Theatre.
An idealistic theatre ensemble comprised of 3 black actors and 3 white actors rehearses a devised piece that tells the little-known story of what is regarded as the first genocide of the 20th century, an outrage perpetrated by the German Empire upon the Herero and Nama indigenous peoples of German Southwest Africa (now Namibia). But as the ensemble seeks to find a unified voice and common ground, their own cultural proclivities and prejudices threaten to boil over and devolve their idealism into an all-too common cataclysmic outcome. Hilarious and audacious in its telling, audiences should expect to laugh so hard it will hurt, but for many, probably uncomfortably so.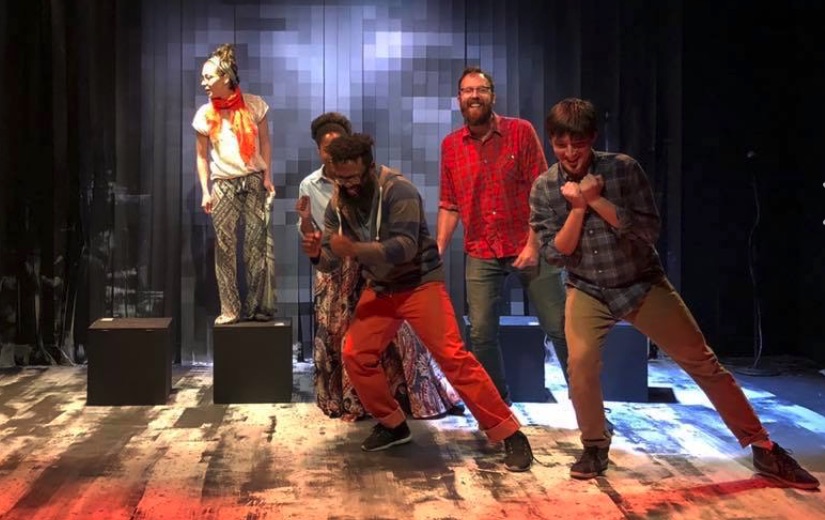 Here's what others have said about Ms. Drury's bold and important work:
"90 minutes of original, enlightening, pulse-pounding theater" – Backstage
"a genuine thunderbolt … devastatingly funny … dangerous and primal" – The Washington Post
"incendiary" "inventive" "impressively navigates the tricky boundaries that separate art and life, the haunted present and the haunting historical past" – The New York Times
Starring an exceptional cast which acts, sings and dances, the ensemble is comprised of Valoneecia Tolbert, Amelia Turner, Judd Farris, Jeremy Rashad Brown, Matrex Kilgore and Zac Carr.
Directed by Liz Fisher (CONSTELLATIONS – SCA; HAMLET, BELLEVILLE – TEXAS STATE THEATRE; DEUS EX MACHINA – WHIRLIGIG THEATRE; VODKA, FUCKING AND TELEVISION – BREAKING STRING THEATER). Ms Fisher is an MFA Directing Candidate at Texas State University and counts among her many accolades the 2018 Princess Grace Award in Theatre, the 2016 SDC National Directing Award and O'Neill Playwrights Conference Directing Fellowship, and the 2016 Kennedy Center American Theater Festival National Award).
Scenic Design by UT-Theatre MFA in Scenic Design candidate Chris Conard (GROUNDED, POCATELLO for which he received 2017-2018 Austin Critics Table Awards in lighting design and scenic design, respectively), Lighting Design by Megan Reilly (returning to Austin from Minneapolis for this show), Costume Design by the always excellent Aaron Flynn. Sound Design and original music by Nick Hart. With Ashton Murphy serving as Stage Manager and Indiia Wilmott as Assistant Director / Dramaturg.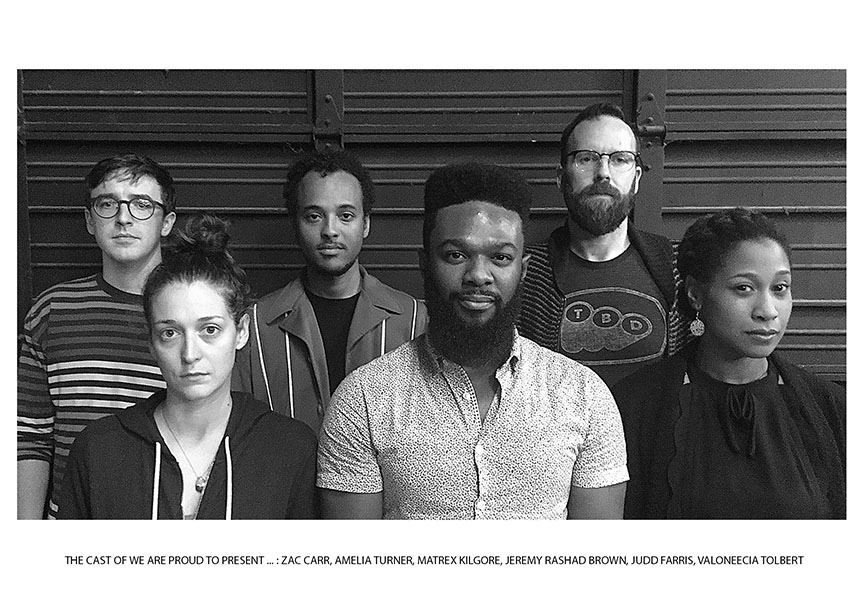 ---
We Are Proud to Present a Presentation About the Herero of Namibia. . .
by Jackie Sibblies Drury
Street Corner Arts
Thursdays-Saturdays,
November 30 - December 15, 2018
Runs November 30, 2018 – December 15, 2018
Opening Performance Friday, November 30 with post-show Opening Party
Saturday, December 1 – SCA "Family Night" with refreshments and post-show Karaoke!
Wednesday, December 12 – "Industry Night"
All other shows Thursday, Friday & Saturday nights at 8 pm
Tickets November 30 – December 15: $22, General Admission; $17 Educators + Students with ID
Final Fri-Sat, December 14-15, $25 General Admission; $20 Educators + Students with ID
ALL PERFORMANCES AT HYDE PARK THEATRE, 511 West 43rd Street, Austin
Tickets on sale NOW at https://www.streetcornerarts.org or call us at (512) 539-8638
Group Tickets available upon request