Feb. 07 - Feb. 25, 2018
Thursdays-Sundays
Austin Shakespeare brings Chekhov's revolutionary play The Seagull to the Rollins Studio Theatre at the Long Center from February 7 – 25, 2018. This is the first time the legendary Russian playwright's work will be performed by the professional (Actors' Equity) company.
"The Seagull is one of the most beautiful scripts ever written," says Director Ann Ciccolella, "It blew the top off playwriting in its time because it was so truthful. I am thrilled to work on our own adaptation."
Featured as the aspiring playwright and young actor Konstantin is Andrew Matthews, who has previously performed in Austin Shakespeare's staged reading of Wolf Hall and the Zilker Park production of A Midsummer Night's Dream. Corinna Browning, who recently played ingénues in Much Ado about Nothing and Present Laughter, will portray Nina.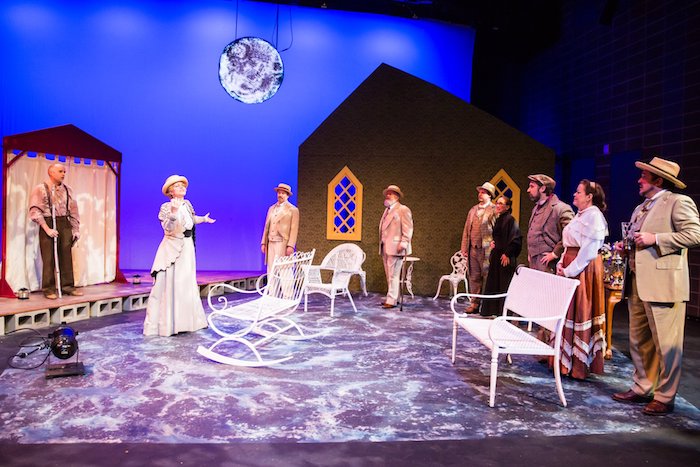 In her Austin Shakespeare debut, Tyler Layton will take on the role of the acclaimed actress, Irina Arkadina. Layton performed seven seasons at Oregon Shakespeare Festival before moving to Austin in 2015 to work at St. Edward's University as their Assistant Professor of Theatre. Her television credits include recurring roles on Ellen and Charmed, and the series lead on USA Network's Silk Stalkings.
Guest Artist Matt Radford Davies will play the novelist, Trigorin. Radford Davies performed regularly with Austin Shakespeare while studying for his PhD in Renaissance Drama at The University of Texas at Austin. Following a professional acting career in the United Kingdom, Matt now teaches at Virginia's Mary Baldwin University in collaboration with the American Shakespeare Center and is an Associate Director of Actors From The London Stage.
Other alumni actors include: Helen Merino, an Austin Shakespeare favorite (Hamlet in Hamlet, Lady Macbeth in Macbeth), will portray the melancholy Masha; Ev Lunning, Jr., who recently retired from St. Edwards' University and played Judge Danforth in Austin Shakespeare's reading of The Crucible, will play Sorin; James "Bobby" Byers (Roderigo in Othello) will be the school teacher Medvedenko; Patrick David Wheeler (Borachio in Much Ado about Nothing) will be the pushy and comedic land manager, Shamreyev; and Jet Ryan will portray Yakov. Chuck Winkler, who will be Dr. Dorn, and Sarah Stuart, who is set to play Polina, will be making their Austin Shakespeare debuts in The Seagull.
A video glance:
---
The Seagull
by Anton Chekhov
Austin Shakespeare
Thursdays-Sundays,
February 07 - February 25, 2018
Rollins Theatre
Long Center
701 Riverside at South First,
Austin, TX, 78704
Thursdays - Saturdays at 7:30 p.m., Sundays at 3 p.m. Reduced-price preview on Wednesday, February 7.
General admission $46.75, student admission $20.75 incuding fees.
Tickets available now at www.thelongcenter.org/event/the-seagull or call The Long Center 3M Box Office at (512) 474-LONG (5664).
Specially-priced student tickets and six $5 "eyeGO to the Arts" tickets for High School students are available for every performance. Tickets are also available for a student "Informance" on Friday, February 23 at 11 am, where students will have a chance to tour the Long Center, see fully-staged scenes, and participate in a Q & A with the actors and director. For more information, contact education@austinshakespeare.org.
[poster design by David Nichols, photo of Corinna Browning by Errich Petersen]