Review: The Seagull by Austin Shakespeare
by Michael Meigs
Entertainment site TimeOut Austin ran an interview with director Ann Ciccolella under the title "'The Seagull' Takes Flight at Austin Shakespeare." Written no doubt with the best of intentions and presumably without the advice of interviewer Andrew J. Friedenthal, that heading was one of terrible, unintended irony. Chekhov would have appreciated it.
Because the titular seagull of Chekhov's first major success as a playwright doesn't fly at all. It's a dead bird, shot down by the unhappy son of this Russian family and flung at the feet of the tender young woman he loves. Earnest and polite, Nina simply doesn't return his affections. And by the fourth act of Chekhov's moody play it's clear that Nina herself has come to resemble that slaughtered seagull, for her ambitions of artistic triumph as an actress have failed. She's become a working stiff, consigned to a weary round of performances in the provinces. And that gun toted by Konstantin when he delivers the dead bird will inevitably -- in conformity with Chekhov's Law -- be used again before the final blackout.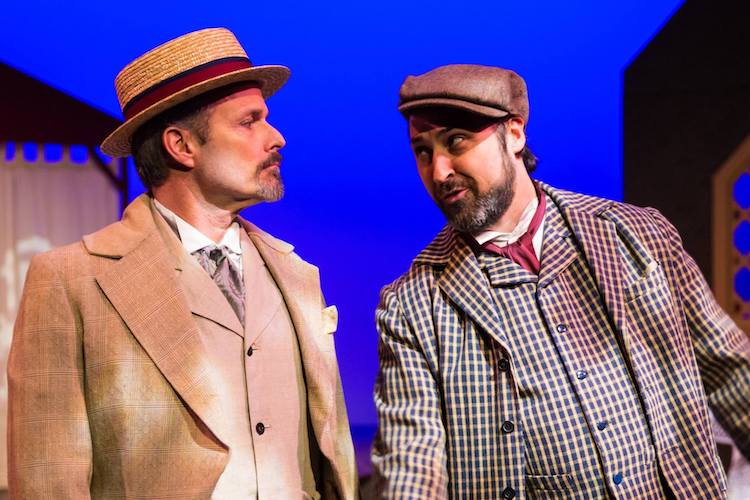 Yes, as one audience member commented afterward, The Seagull is "terribly Russian." As with Chekov's other plays it features a family yearning to leave provincial life but mired there by circumstance, sluggishness and a lack of finances. They're people of learning and culture, aching for something better, annoyed and irritated by the requirements of the everyday though they're served by pragmatic household staff and visited by local notables. Art looms out there somewhere, as does greatness of spirit; and Chekhov's brooding preoccupation for some better future is more present here even than in later plays, for it's the theme of Konstantin's symbolist play. Nina recites his script on an improvised stage in the garden, presenting herself as a spirit from 20,000 years in the future, when all humanity will have passed away.
The truth is that Chekhov set the pattern for "terribly Russian," at least for the minds of English speakers. His creations were a break with stylized stagings of the time, for the master short-story writer took large stories but worked them out in realistic, almost naturalistic fashion. He emphasized to what extent our greatest aspirations are blocked by the requirements of the everyday, the reality of our interactions with family and neighbors. Great thoughts, particularly those of Art (with a capital "A") that would make Existence meaningful sink like deadweight, leaving us with yearnings that carry us along through life like rafts of shipwrecked timber.
Consider throwaway lines by George Gershwin, preserved in "But Not for Me," from the great American songbook:
They're writing songs of love, but not for me;
A lucky star's above, but not for me.
With love to lead the way
I found more skies of gray
Than any Russian play could guarantee.
The Seagull failed at its first staging, in 1896, but the Moscow Art Theatre production two years later was a success. The script is almost painfully self-referential, and that's part of its attraction to Chekhov fans. A principal character is the writer Trigorin, unmoved by his own literary success and obsessed by mining everyday impressions so he can churn out stories, yet all too aware that his successes will be forgotten: "They'll say he's no Tolstoy." Chekhov was just as prolific; for example, he wrote more than a hundred stories in 1885-1886. And he met Tolstoy for the first time the same year that he was writing The Seagull.
Chekhov was a physician, and the story features a doctor who's the kindly associate of the family. And for good measure, a foreshadowng of real life: a major character is the mother of the family, Irina Arkadina, a celebrated -- perhaps notorious -- actress who unapologetically keeps the writer Trigorin as trophy lover and admirer. While attending Moscow Art Theatre rehearsals for The Seagull Chekov met Olga Knipper, who played Irina in that production. She would be cast in central roles in each of the three succeeding major plays and would marry Chekhov three years later..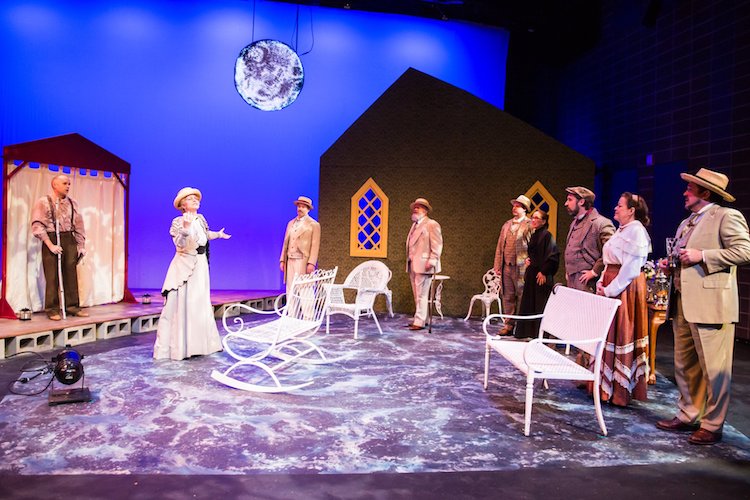 Director Ann Ciccolella places Chekhov's gently melancholic realism in a setting that's abstract, almost cartoon-like at times. Audience access is via a long corridor to backstage where odd mementos stand displayed on shelves suggesting the informal clutter of a country existence. Once the audience steps to the left and then out again to the seating area, they find that set designer Chris Hejl has stripped away drapes, legs and curtains to leave the bare walls of the Rollins Theatre plainly in view. A makeshift framework with curtain is set on a wide bare platform on stage right; this is where Konstantin hopes to use his enigmatic symbolist play to impress his mother Irina Aradina, who if anything is too self-impressed to care very much. Benjamin Taylor Ridgway's meticulously designed, eye-catching costumes stand out sharply against the starkly stylized background.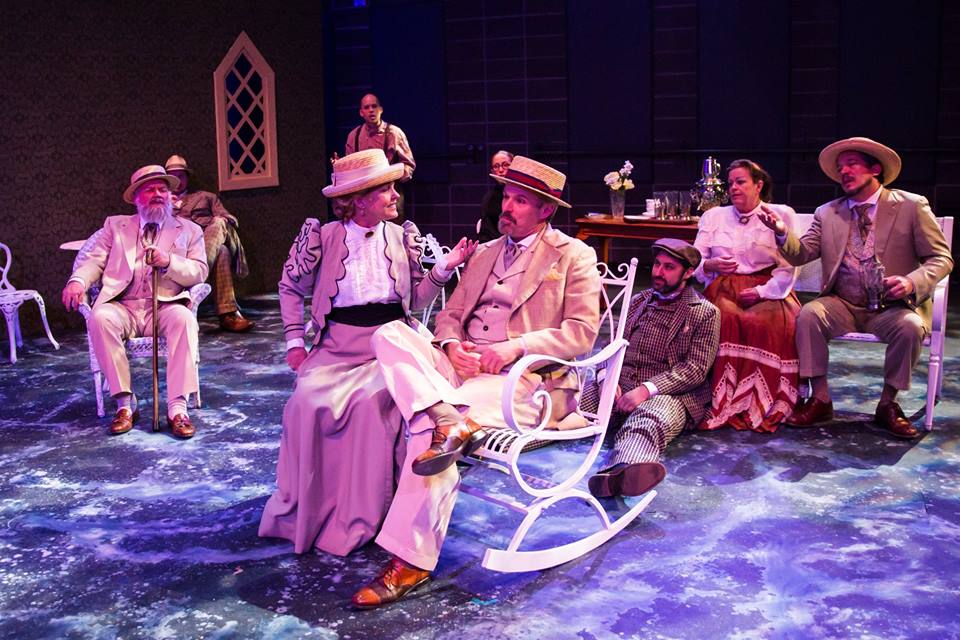 Andrew Matthews as Konstantin is jumpy and emphatic in these early scenes. He's also charged with delivering a lot of exposition; the same will be true at the openng of Act Four, when after a lapse of two years he fills in the audience at the same time as family physician Dr. Dorn, just returned from abroad. The through-line of The Seagull is the relationship beetween Konstantin and Nina, the impoverished young woman from across the lake. He desires her just as ardently as he needs to impress his mother. Corinna Browning as Nina is demure, somewhat confused by Konstantin's script and reluctant to acknowledge his affections; she's in awe of Trigorin the famous writer, and her worship of him will lead to disaster. After that two-year lapse, Nina returns, abandoned, sadder, wiser and desperate; the extended duo scene between Konstantin and Nina gives both actors the opportunity to modulate and enrich their characters beyond what we've seen in the first half.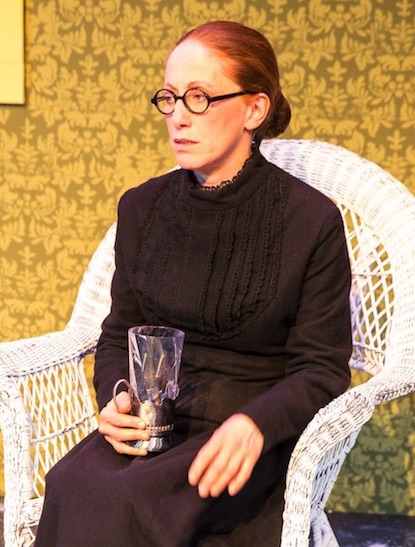 Chekhov's cast provides eleven distinct characters who mix easily on the estate: the landed gentry, the local educated, and the employees. Helen Merino is Masha, the estate bookkeeper, unhappy to be ignored by Konstantin and courted by the local schoolmaster. Wrapped in black, Merino has relatively few lines but reinforces these with vivid gesture and physical reactions to Konstantin and to Bobby Byers as the well-meaning schoolmaster Medvedenko.
Other vivid portrayals are offered by Ev Lunning, Jr. as family elder Sorin, and by Chuck Winkler as the serene listener Dr. Dorn. Estate manager Shamrayev (David Patrick Wheeler) and his wife Polina (Sarah Stuart) add plenty of exuberant local color as the manager berates the gentry for taking 'his' horses away from the fields and Polina pursues the somewhat reluctant Dr. Dorn.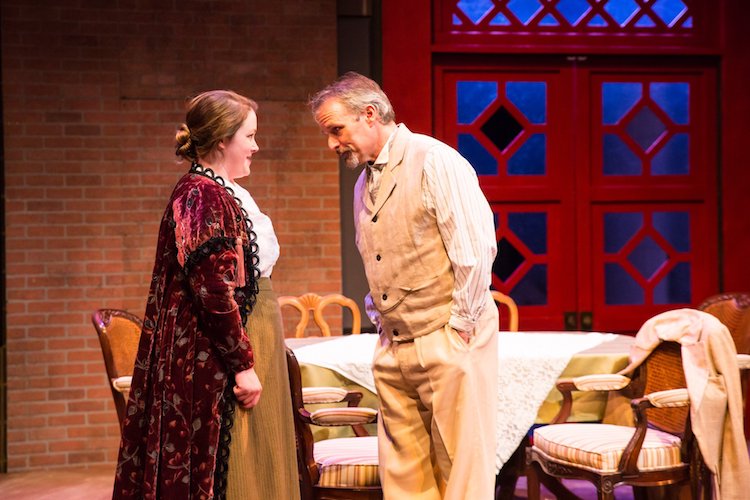 United in casual self-regard and egotism, scarcely aware of the others, actress Irina Arkadina (Tyler Layton) and writer Trigorin (Matt Radford Davies), float through these ccomplications. Davies gives us a man wrapped up in his own thoughts most of the time, although his encounters with the worshipful Nina (Browning) snip him gradually free from abstractions. His increasing awareness and eventual fascination with this fresh, hopeful young woman are subtly amusing. As a theatre artist of impressive experience, Davies must have enjoyed Chekhov's self-parody. His comment after the production: "Chekhov writes comedy that doesn't require you to laugh."
EXTRA
Click to view Austin Shakespeare's program for The Seagull
---
The Seagull
by Anton Chekhov
Austin Shakespeare
Thursdays-Sundays,
February 07 - February 25, 2018
Rollins Theatre
Long Center
701 Riverside at South First,
Austin, TX, 78704
Thursdays - Saturdays at 7:30 p.m., Sundays at 3 p.m. Reduced-price preview on Wednesday, February 7.
General admission $46.75, student admission $20.75 incuding fees.
Tickets available now at www.thelongcenter.org/event/the-seagull or call The Long Center 3M Box Office at (512) 474-LONG (5664).
Specially-priced student tickets and six $5 "eyeGO to the Arts" tickets for High School students are available for every performance. Tickets are also available for a student "Informance" on Friday, February 23 at 11 am, where students will have a chance to tour the Long Center, see fully-staged scenes, and participate in a Q & A with the actors and director. For more information, contact education@austinshakespeare.org.
[poster design by David Nichols, photo of Corinna Browning by Errich Petersen]