Review: Venus in Fur by Austin Playhouse
by David Glen Robinson
Venus in Fur by David Ives is a new, highly regarded American play making the rounds of theatres in Texas and across the nation. It's currently playing at Austin Playhouse, Austin's singular shopping mall theatre through January 25th. Austin Playhouse is calling it an off-season play and discounting its ticket price for its initial run. Theatre-goers won't want to miss this one.
The setting is a rented rehearsal studio in Manhattan, where a young playwright named Thomas (Gray G. Haddock) is holding auditions for a self-production of his new play. It's based on Leopold Sacher-Masoch's 1870 novel Venus in Furs, the Bible and Sears Catalog of fetish masochism. Auditions have not gone well. Every scheduled actor has come and gone, and none were any good.
Then the door opens and for a few seconds nobody enters. A woman steps in with a duffel bag of costumes and says she is there to audition. Her name is Vanda (Molly Karrasch); what a coincidence, so is that of the female character in Thomas' play. Impossible, Thomas says; he would have noticed if that same name were on the audition list . Vanda says her agent failed to call him; she's ready to read. She pulls out the full script from her duffel instead of the few sections of text called audition sides normally made available to auditioners. Thomas asks how she got the entire script; it hasn't been released yet. She says she doesn't know. She says she glanced through the script on the subway coming over, but when she starts reading, she doesn't bother to look at the script. She recites the lines of the play perfectly, in character.
In these first minutes of the play, playwright Ives is more than telegraphing the audience that absolutely nothing in this rehearsal studio is as it seems. We've been warned. Thomas mistrusts Vanda. Vanda mistrusts Thomas. The audience mistrusts Ives. Ives mistrusts Sacher-Masoch. And a great night of theatre is had by all.
The action of the play addresses, plainly and directly, the shifts in dominance between men and women. Layers of plot and nuance are added on from the very beginning like diaphanous veils floating down to drape the set and actors. The script addresses the contest between actors and directors, men and women, upper and lower classes, masters and slaves. Bondage fetishism is explored only as a high-stakes game born of all these contests and mined for its metaphoric value in illuminating them. This is Ives' tribute to the excess and art of Sacher-Masoch. Never forget the exquisite pain.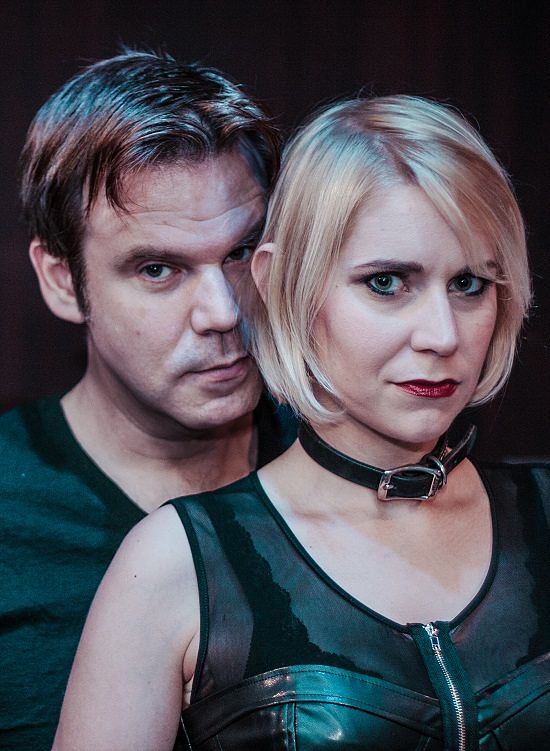 The alternation of the polarity of dominance accelerates throughout the play, reversing subtly or boldly but always satisfyingly and with plausibility. The characters step back and forth between the rehearsal hall and the play within the play. Eventually these changes describe a very clear vector that brings us to understand why Thomas the playwright had to write the play and accept the seismic changes wrought in him by it, with assistance -- control -- by Vanda. That tiny pinball of self-recognition pinging back and forth insistently in Everyman's mind may or may not come to rest. At the end of the play, the veils of every layer vanish to reveal one of the clearest and sharpest endings ever, flavored with a dash of magical realism and an electrical storm outside the rehearsal hall.
Unlike the plots of many contemporary plays, the twists and turns in the action in Venus in Fur are clearly defined, as are the story premises and foreshadowing. Ives doesn't disdain to pick up all the sticks of the plot. It is immensely difficult to be complex and pellucid at the same time, yet these qualities both characterise Ives' play. Also refreshing is the play's refusal in its larger themes to lapse either into Freudianism or mass-market feminism.
The humor in the play is sharp contemporary adult dialogue. Someday this topical humor may date Venus in Fur to the early ought-teens of the twenty-first century, but so be it.
On Austin Playhouse's part, the direction was as fresh and clear as Ives's script. Hats off to Director Lara Toner. Haddock as Thomas and Karrasch as Vanda inhabit all their characters with confidence. The play seemed written for Ms. Karrasch, for it allowed her to slide effortlessly back and forth among more characters than it would be fair to reveal, while casting an erotic glamour upon them all. So when she merely holds her fist in the air and mimes the blows of an imaginary birch switch held in it, the pain is exquisite.
The Austin Playhouse production of the white-hot Venus in Fur by David Ives rewards audiences on many levels and is exceptionally well done. Happy audiences will remember this one for years.
---
Venus in Fur
by David Ives
Austin Playhouse
Thursdays-Sundays,
January 03 - January 25, 2014
Thursdays–Saturdays at 8 p.m. and Sundays at 5 p.m.
Venus in Fur is rated R. Strictly adults only.
Tickets $24 Thursdays/Fridays, $26 Saturdays/Sundays
at 512.476.0084 or online at: www.austinplayhouse.com
All student tickets are half-price. $3 discount for Seniors 65 and up.
Limited Pick-Your-Price Rush tickets will be available at the box office one hour prior to showtime for each Thursday performance.