Review: Venus in Fur by Austin Playhouse
by Michael Meigs
What is desire?
The attraction to a pair of long legs in black high-heeled boots and fishnet stockings? The fascination with a pair of bright eyes with heavy mascara, a mane of blond hair, and lips coated with a gloss as luscious and thick as blood-colored chocolate? The yearning for physical contact and the hypnotic intensity of mystery? Or perhaps the transmutation of half-understood, deep-buried memories from childhood?
Or maybe the enigma of the Other, the hot elusiveness of the shape-changing Unknowable in an uneasy transactional stalking where assumed realities vanish one after another?
Molly Karrasch will give you all that and more in her mesmerizing, entirely unpredictable performance as Vanda.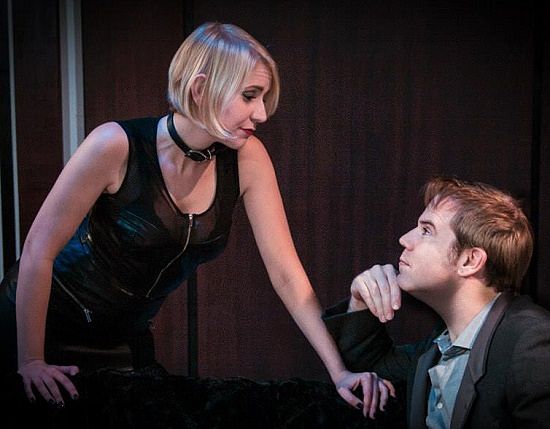 Along with with other works, playwright David Ives has made his mark with successful adaptions or evocations of literary works or historical events. Last year Paradox Players presented New Jerusalem, his imaginative recreation of the 1656 trial of Jewish heretic Bernard Spinoza. Ives has adapted Feydeau's 1907 farce A Flea in her Ear and Molière's The Misanthrope (1666); and the next piece up in Austin Playhouse's regular subscription season is The Liar, Ives' postmodernist 'translaptation' of Pierre Corneille's Le menteur (1644). He wears his erudition lightly and he's always informative and entertaining.
In his 2010 Venus in Fur Ives exploits and transforms the 1870 novella in German Venus in Furs of Leopold von Sacher-Masoch -- famous in his day as a leading writer and essayist but now remembered principally because Kraft-Ebbing drew upon his name to invent the term 'masochism,' the perversion of taking pleasure in enduring pain and humiliation. The novella depicts in dream-like transformation a life experiment the writer and his mistress had just conducted: they signed a six-month contract obliging him to serve as her abject lackey as they traveled to Italy where they were unknown.
The playwright cleverly cooks down those fantastical six months into a potent ninety-minute brew by, in effect, putting himself onstage -- or, at a minimum, putting onstage a moody, distracted emblematic playwright. We meet Thomas alone in a bare, underfurnished studio space where he has just finished auditioning dozens of actresses for his play Venus in Fur, drawn directly from Sacher-Masoch's book. Actor Gray G. Haddock appears haggard and discouraged. None of the candidates had the slightest understanding of Vanda, the character he was seeking to create. Both roles in the play come from the novel: Vanda, who becomes the dominatrix, and Severin, who becomes enchanted by her and vows himself to be her slave.
Thomas is on the phone to his fiancée, complaining -- or, to be more precise, bitching and moaning -- when Karrash appears, breathless, enthusiastic and late for auditions. She tries to talk Thomas into hearing her read anyway. After all, her name is Vanda, just like the woman in the play! She's contrite, enthusiastic, gosh-gee-whiz and please, I've had such a bad day today! Against his inclination, Thomas agrees to hear her read and to prompt her as Severin.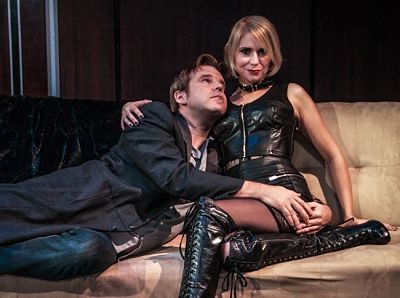 Suddenly several different stories are revealing themselves to us: the director and the aspiring actress; the subtly menacing development of the relationship between the two characters in Thomas's play and Sacher-Masoch's novel; a shift of power between man-employer and woman-applicant; a director who finds himself becoming directed; a ditz who transforms in astonishing fashion into a woman of power and sophistication; a flickering of this story across time into new regions of implied language; the channeling of Aphrodite; bonding, the creation of a fictional contractual bond and a physical binding.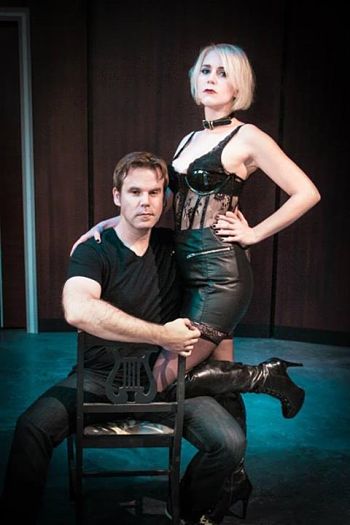 Karrasch's transformations of costume and personae are by turns amusing, alluring and alarming; Haddock is fatigued, then intrigued, then confused, then spellbound. Karrasch is a chameleon but she's also a shape-shifter, an enchantress or an illusion. The emotional arc of this intense one-act play is neither simple nor predictable, and it is totally gripping throughout. Mysteries are raised and left unsolved: who is this Vanda? How can she have such evident mastery of Thomas's script? Was the playwright set up, and if so, by whom? How can she know his psychology so well? And, ultimately -- perhaps for contemplation after the curtain call and on the way home through the night -- was she real? Or have we been been carried off into some dark recesses of Thomas's psyche?
It's no wonder that the survey by American Theatre magazine found that Venus in Fur has more productions scheduled for the 2013-2014 season than any other stage piece in the United States. Playhouse San Antonio opens a three-weekend run of it on January 24 in its Cellar Theatre.
Venus in Fur is enticing, mysterious and unexplained. It offers just the right amount of flesh and kink. Molly Karrasch in black leather is mouth-watering but she's also very, very dangerous. At every moment she makes us want to see more -- both of Vanda with her personalities and of Molly Karrasch.
With Venus in Fur director Lara Toner administers a 10,000-volt shock of excitement and intensity that signals the Playhouse's intention to get competitive as it works its way toward its delayed new homecoming at the Mueller Airport development. Both Ken Webster and Katherine Catmull of the Hyde Park Theatre posted on-line praise of opening-weekend performances. Not surprising, and highly relevant: Karrasch co-starred with Webster in the HPT's applauded Slowgirl last year, for which she and the play won Austin's B. Iden Payne awards. She is avidly followed by the crowd in town that usually stays away from both the Playhouse and the Zach Theatre.
This production is likely to change some of those minds about the programming at Austin Playhouse. Venus in Fur deserves to sell out every night of its non-subscription-season four-weekend run.
Highly recommended!
---
Venus in Fur
by David Ives
Austin Playhouse
Thursdays-Sundays,
January 03 - January 25, 2014
Thursdays–Saturdays at 8 p.m. and Sundays at 5 p.m.
Venus in Fur is rated R. Strictly adults only.
Tickets $24 Thursdays/Fridays, $26 Saturdays/Sundays
at 512.476.0084 or online at: www.austinplayhouse.com
All student tickets are half-price. $3 discount for Seniors 65 and up.
Limited Pick-Your-Price Rush tickets will be available at the box office one hour prior to showtime for each Thursday performance.