Review: The Winter's Tale by William Shakespeare, Something for Nothing Theatre
by Michael Meigs
Station Eleven, a 2014 novel by Canadian author Emily St. John Mandel, set at an unspecified future date after Western civilization has collapsed, features an itinerant group of actors making their way in covered wagons across the dangerous regions of the depopulated northeastern UInited States. They pull into hamlets widely scattered in that wilderness and earn their food by performing Shakespeare's plays for inhabitants otherwise completely deprived of literary culture and wider social contact.
I like to think that Austin's Something for Nothing Theatre would fit perfectly into that imaginary world. Chelsea Bunn and friends first got together in 2012 to do The Comedy of Errors on a simple concrete pavilion in Ramsey Park, a flat green space in the Rosedale neighborhood off North Lamar Boulevard. This was Shakespeare on the simple and, relatively speaking, on the cheap. The play began at 8 p.m. in the fuill sunlight of midsummer and moved gradually into the warm Texas night, illuminated by portable fixtures. Onlookers sat on concrete blocks, spread picnic blankets or set up low stadium chairs on the negligible hillock facing the pavilion.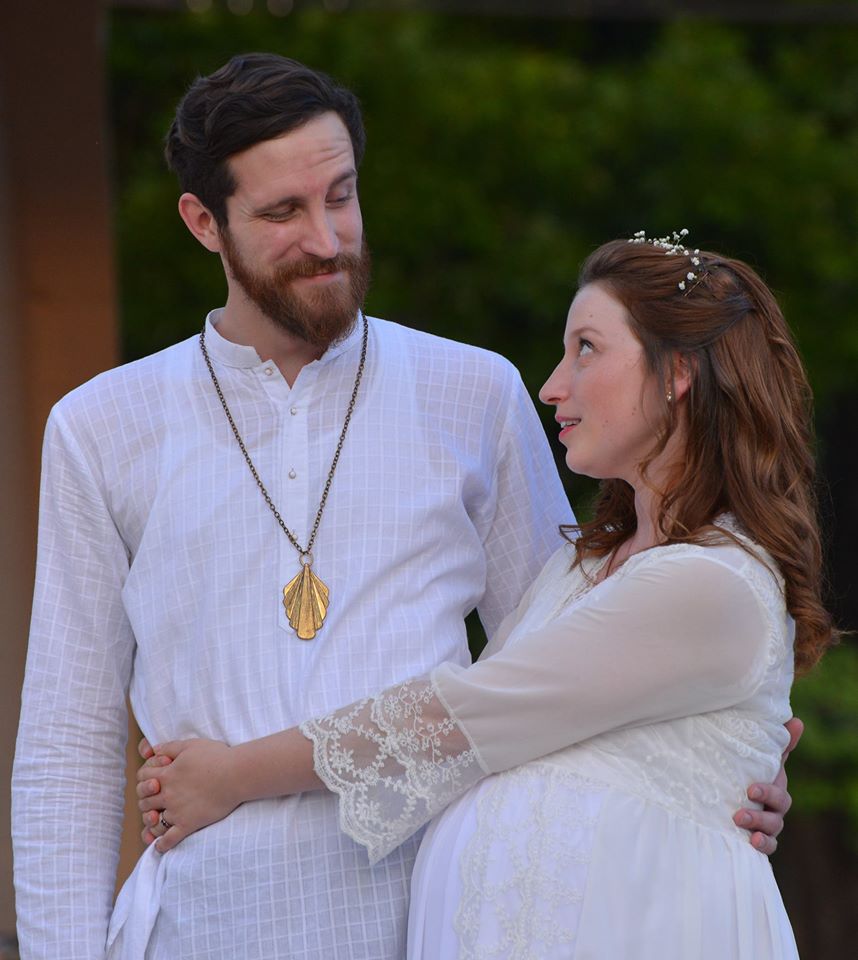 That successful opening led to an annual succession of Shakespeare performances in Ramsey Park, each running Thursday - Saturday over three June weekends: The Two Gentlemen of Verona, Hamlet (in which Ms. Bunn distinguished herself by stepping in to replace the ailing lead only ten days before the opening), Henry IV, Part 1 and this year's The Winter's Tale. The youth, versatility and dedication of these actors constitute an ensemble very like that imagined by Mandel. I'd be comfortable seeing them as the custodians of the literature that embodies much of the lore and many of the values of Western civilization.
Something for Nothing Theatre acknowledges the (modest) support from the City of Austin's cultural arts program and the permission for the events from Austin's Parks and Recreation Division. They thank the relevant City Council representative. The director and cast let you know from the start that they'll be circulating among you at intermission to ask for donations. The quality of the performances merits a generous offering. One advantage of The Winter's Tale is that I got to drop my currency into the bear's head instead of into a mere hat.
The Winter's Tale is a parable play, often labeled as one of Shakespeare's 'problem plays.' King Leontes of Sicily is seized by unreasoning jealousy when his lovely Queen Hermione affectionately entertains Leontes' friend the visiting King of Bohemia. That jealousy becomes virtual dementia as he orders a servant to poison his visitor, finds his plot thwarted, arrests his queen, tries her for treason and condemns her to prison. When Hermione gives birth to a girl, Leontes orders his old retainer Antigonus to take it far from the kingdom and leave it exposed in the wild to die. The queen's serving woman berates the king for the death in the dungeon of his lady. Antigonus takes the babe abroad but perishes ('Exit, pursued by bear'), and a doltish old shepherd finds both the babe and the box of gold carried by Antigonus. The remainder of the play, set 16 years later, is the unwinding of this elaborate construction.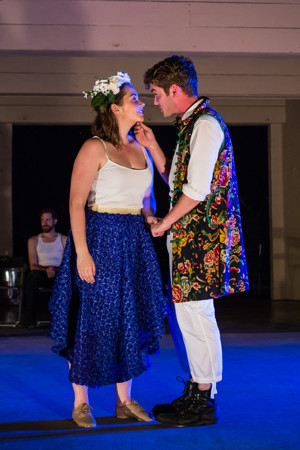 Courtney Bailey Parker as the unjustly accused Hermione shows great dignity in her amazement and desperation. As the evening proceeded, the suddenness and fixity of King Leontes' jealousy became increasingly apparent. His belief in spousal betrayal and his overpassing malevolence against his own flesh -- both his wife and the newborn daughter he rejects as illegitimate -- go beyond reason and convert the king's previous adoration into hatred. This is a huge but vital element of the plot, and the audience must, like a python, swallow it whole.
Kevin Moxley as Leontes works valiantly to make us do so. He plays this regal madness straigh -- emphatic, convinced and unyielding. I'd like to have seen more subtlety in his attitudes. Occasional hesitation and self debate would create Leontes as more a character than a plot device. He will get his regal comeuppance sixteen years down the road, when the fire of his personality has died to embers, and there Moxley is convincing in his embodiment of that self-defeated monarch.

Hopeful young love contrasts with this royal raving, and -- wouldn't you know it -- it involves Prince Florizell (Ryan Wilson) of Bohemia and the impressively self-possessed young shepherdess Perdita. In a droll bit of casting, director Streusand chose UK-accented Victoria Barton Rosenthal as that lovely bit of abandoned royalty. That melodious English in a child raised by a rude shepherd suggests that perhaps royal nature wins out over rustic nurture.
Filling this out are a rascal and two clowns. They constitute a three stooges of this fantasy land. Compact, agile and dark-haired Tony Salinas is the sly trickster Autolycus, the Moe Howard of the trio. Bob Jones, spindly, big-eyed and often alarmed, is the Larry Fine; and Robert Dieke as Perdita's foster-papa the shepherd could correspond to Shemp Howard, for over the years Deike has shown great zeal in portraying Shakespeare's misfits and clowns (as well as an impressive Shylock with The Baron's men in 2013).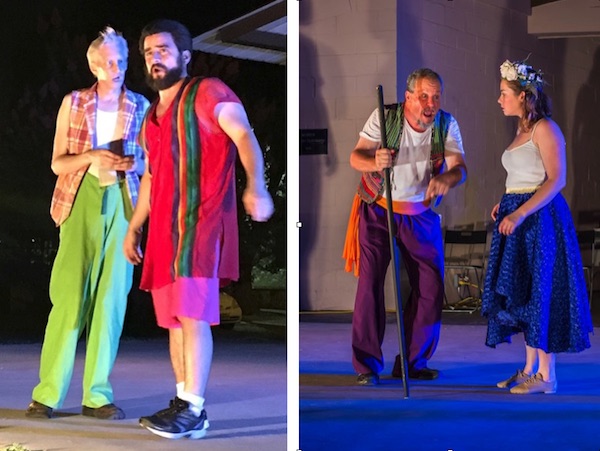 A key theme in The Winter's Tale is that of authority -- not only its just exercise but also the due deference of those subject to it. King Leontes' excess arouses protests from his retainers, who do however obey his injust commands. An exception is his counselor Camillo (Steve Cook), who agrees to poison Polixenes of Bohemia (Daniel Rigney) but warns the victim and flees the country with him. The only individual consistently standing up to the madly mistaken Leontes is Hermione's serving woman Paulina. Jennifer McGraw is fearless in her efforts to change the king's poisoned mind and in willful actions that dupe the king and flout his authority. There's a touch of comedy here, particularly when a strong-willed woman berates a king, but her actions indicate that there does exist a higher justification than the divine right of kings. In similar fashion, when the impulsive Prince Florizell (Ryan Wilson) schemes to abandon his responsibilities and future kingdom, all for the love of sweet Perdita, Shakespeare sets him up for a lecture on duty delivered by his disguised father.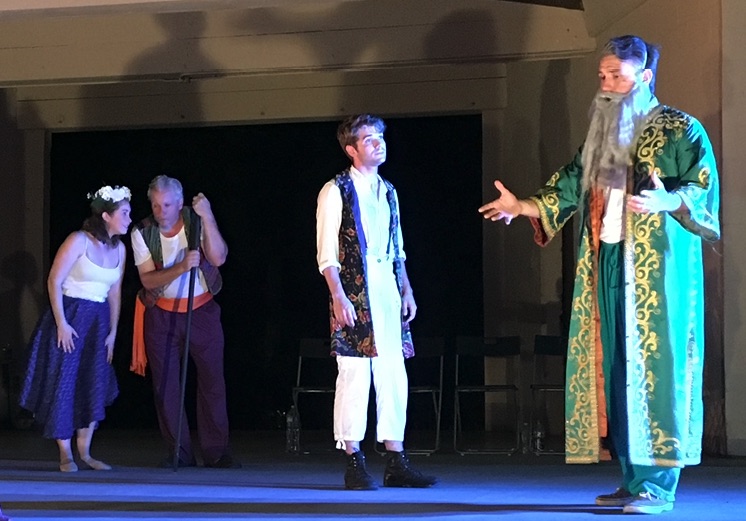 One note, related to that theme: in Shakespeare's world no person would dare lay a hand upon a person of royalty. This occcurs several times in this staging.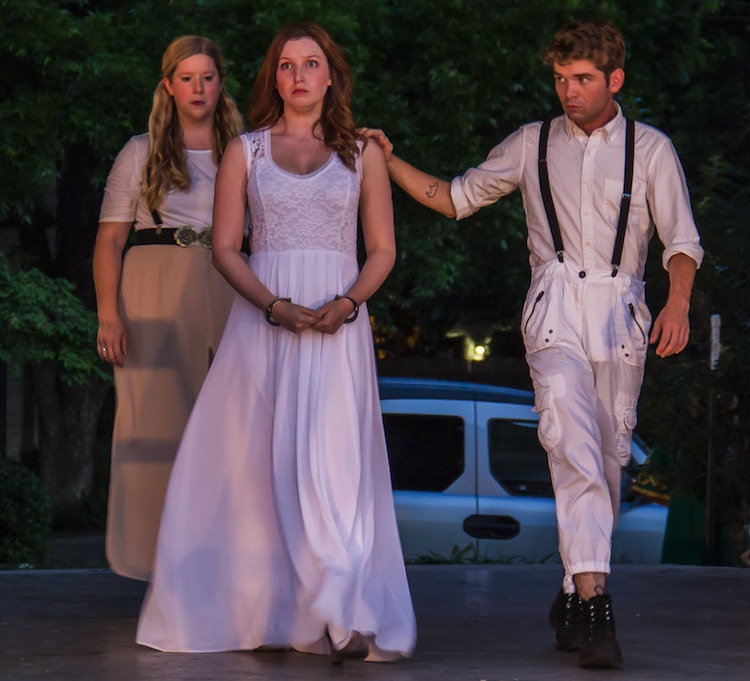 But do not worry. All turns out well and no one perishes except the unfortunate Antigonus. The foolish shepherds are granted aristocratic privilege, the cozener is dismayed, couples are united or reunited, and Paulina turns out never to have much needed that husband who wound up as the bear's dinner. Director Streusand's movement of the characters is graceful and measured, and the double- and triple-casting of roles works smoothly. And the company entertains you with a jig in the middle and a dance at the end.
There were a couple of annoyances, hardly surprising when the entertainment occurs in such a public and unprotected space. Airplanes passed, as did cars, and there was music from a nearby house. The single persistent bother was the participation of a Texas mockingbird that warbled, tweeted and whistled all manner of tunes until darkness fell well into Act II. The saucy fellow even flew across the playing area a couple of times, fluttering his white-flashed wings as if in disdain. There were no ringing cell phones that evening, but it would have been nice to have had some way to turn off the mockingbird. The cast continued shaping the story, and the audience was sufficiently engaged to concentrate on it despite the interruption.
And there's more to come. This year, for the first time, Something for Nothing Theatre will be doing a second production in Ramsey Park. Watch for information about their October staging of Romeo and Juliet.
EXTRA
Cast List for The Winter's Tale by Something for Nothing Theatre
Kevin Moxley: Leontes, 4th Servant
Courtney Bailey Parker: Hermione, Time, Mopsa
Steve Cook: Camillo, Mariner, 4th Gentleman
Jennifer McGraw: Paulina, Archidamus
Daniel Rigney: Polixenes, Jailer
Victoria Barton Rosenthal: Perdita, Mamillius
Ryan Wilson: Florizell, 1st Gentleman, 2nd Servant
Robert Deike: Shepherd, Lord, 5th Servant
Bob Jones: Antigonus, Shepherd's Son, 3rd Servant
Callie Hacker: Cleomenes, Emilia, 2nd Gentleman, Shepherdess
Stacey Fernandez: Dorcas, 2nd Lady, Officer, 3rd Gentleman
and
Tony Salinas: Autolycus, Dion, 1st Servant
Lighting by Zac Crofford
---
The Winter's Tale
by William Shakespeare
Rosedale Shakespeare
Thursdays-Saturdays,
June 09 - June 25, 2016
Ramsey Park Picnic Pavilion (4301 N. Rosedale Ave Austin TX 78756)
June 9, 10, 11, 16, 17, 18, 23, 24, and 25, all at 8 pm.
TICKETS: Free admission. (Donations accepted.)