Jun. 11 - Jun. 27, 2015
Thursdays-Saturdays
Shake out your picnic blankets for a night of Shakespeare under the stars! Something for Nothing Theater (S4N) returns to Ramsey Park (4301 Rosedale Ave, Austin, TX 78756) with William Shakespeare's Henry the Fourth Part One.
Marking the company's third annual production of a community-friendly Shakespearean play at Ramsey Park, Henry the Fourth will be performed with minimal props, costumes, and lighting, focusing on storytelling and the rich language of Shakespeare. Performed by a cast of 12 actors, most portraying multiple roles, Henry the Fourth concludes at a brisk two hours.
Featured in the cast are Travis Bedard as Falstaff, Ben McLemore as Hal, Matt Fitzgerald as Henry IV, Brad Wright as Hotspur, Hannah Adrian, Toni Baum, Steve Cook, Robert Deike, Becky Musser, Brooks Naylor, Robert Stevens, and Kenneth Williams.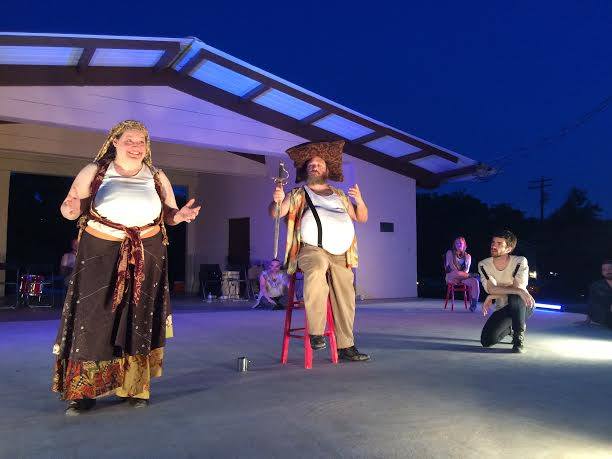 Henry the Fourth Part One is Shakespeare's most beloved history, featuring the unforgettable character of Falstaff, the heavy, humorous, and hedonistic knight. The story centers on the young prince Hal's journey from an irresponsible party boy to a brave hero. Rebellion is tearing England apart, with the devious Worcester plotting against King Henry, and Hal must become the man who can defeat the valiant and headstrong Hotspur. This lively play features family drama, romance, sword fighting, and rollicking pub antics. Join us in Ramsey Park for a fun and fascinating evening of theater!
Director Daniel Rigney says, "The story revolves around the most primal human experience: a fight to the death. Surrounding that struggle, though, is a kaleidoscope of characters and moments that transcend us, but in so doing become accessible to us at a fundamental level."
Rigney, Something for Nothing's Managing Director, co-directed Hamlet last season with Executive Director Chelsea Bunn.
Something for Nothing Theater was founded on the belief that Shakespeare's works, at their best, are performed with a minimum amount of gimmick and a great deal of heart. The company produces accessible, family-friendly Shakespeare on a shoestring budget and discovers all performances through the creative act of play.
Something for Nothing Theater is a sponsored project of the Austin Creative Alliance, a non-profit arts service organization.
---
Henry IV, Part 1
by William Shakespeare
Rosedale Shakespeare
Thursdays-Saturdays,
June 11 - June 27, 2015
Ramsey Park Picnic Pavilion (4301 Rosedale Ave, Austin, TX 78756)
WHEN: June 11-13, 18-20, 25-27, at 8 p.m.
TICKETS: FREE admission (donations accepted)
More info at s4ntheater@gmail.com or www.facebook.com/SomethingForNothingTheater