Review: The Real Thing by Austin Playhouse
by Michael Meigs
Wit is not obliged to be funny. The Real Thing isn't a comedy, but it flashes with insights and features exchanges as swift, surprising and unexpected as those of a fencing match. Austin Playhouse provides an assured and impressive production of this grown-up exploration of the hearts' contract that is the essence of any lengthy intimate relationship.
And most particularly, its exploration of the issues of emotional fidelity and toleration of sentimental and sexual relationships with others. Bernadette Nason delivers one of Stoppard's many painfully acute comments when as Charlotte she turns to her husband after they've been estranged for two years:
There are no commitments, only bargains. And they have to be made again every day. You think making a commitment is it. Finish. You think it sets like a concrete platform and it'll take any strain you want to put on it. In fact you can afford a little neglect, indulge in a little bit of sarcsm here and there, isolate yourself when you want to. Underneath it's concrete for life. I'm a cow in some ways, but you're an idiot. Were an idiot.
In this 1984 work Tom Stoppard the youngish middle-aged playwright presented as his protagonist a youngish middle-aged playwright married to one actress, involved with another, and foolishly protective of a teenage daughter who needs no protecting, thank you very much. One can't hellp but assume an autobiographical content, if not in detail then at least in the depiction of the tasks, rewards and dangers of the profession and the adjunct arts of stage, television and film.
A biographical note: Felicity Kindal, who played Ann, the actress who coaxes the playwright away from his long-term marriage, initiated a close professional relationship with Stoppard with this work and entered into a lengthy personal relationship nine years later.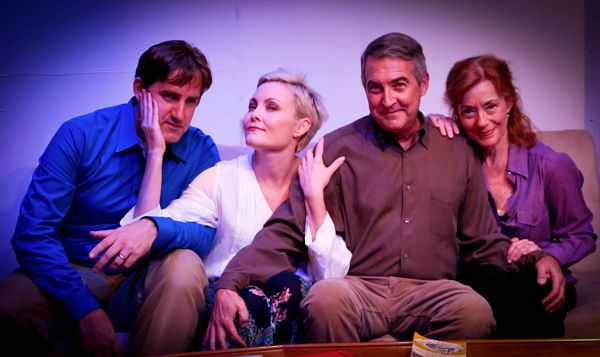 David Stahl is Henry -- let's call him 'the Stoppard figure' -- with a nuanced and understated performance that reminds us that Henry's a man with a gift for words who's not particularly erudite, a fellow of simple tastes and fairly traditional expectations. Equipped with lines of Stoppard's wit, this character could be played with aggressive sarcasm. Stahl makes him a bit clueless instead, old-fashioned and almost colorless. The Real Thing is, among many other things, Henry's education at a time of changing sexual morés and an incipient feminism that doesn't speak its name.

As Henry's daughter Debbie (Marie Rose Fahlgren) complains to him in her single appearance as she's about to set out adventuring with a man Henry's never even met,
Most people think not having it off is fidelity. They think all relationships hinge in the middle. Sex or no sex. What a fantastic range of possibilities. Like an on/off switch. Did she or didn't she. By Henry Ibsen. Why would you want to make it such a crisis? [. . . .] It's what comes of making such a mystery of it.
There's a great deal more than the on/off issue in this play. Director Don Toner makes sure that it's not only cerebral. Among the work's delights are Henry's adamant lectures on the craft and art of writing, including a peroration concerning a cricket bat that would be a wickedly effective intro to Composition 101. Stoppard teases us a bit with stagecraft, as well, incorporating scenes from a play of Henry's and lines from one of his potboiler SciFi scripts for television, sizzling seduction scenes of dual meaning from John Ford's 'Tis Pity She's A Whore [1630], and passages, interpretations and reprises of a clunky drama written by an AWOL soldier involved in anti-missile demonstrations.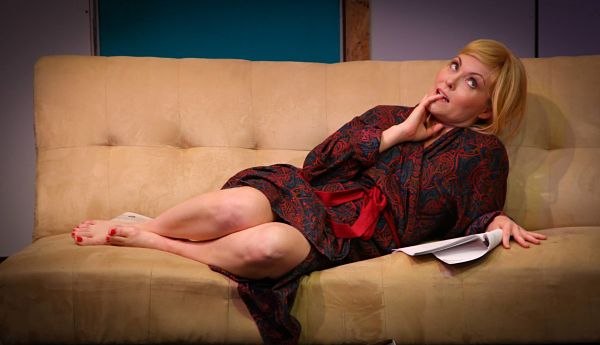 Three times Stoppard uses the trope of the jealous male searching a lover's clothes and possessions, each time pushing the loved one to a crisis of confrontation. The first results in avoidance, the second in confession, the third in dialogue and revelation that challenges and tests the unhappy searcher.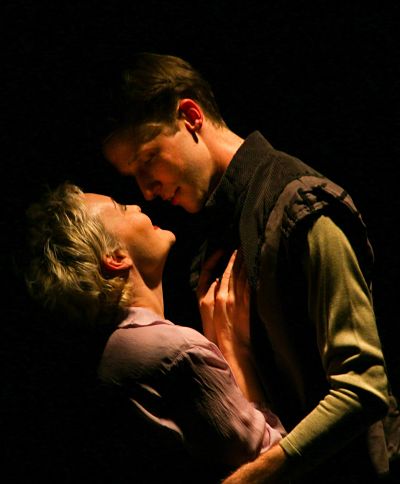 Mike Toner's set design has its own razzle-dazzle, with units revolving to constitute new playing areas, some choice set decoration with 1980's props, and a clever cross-section of a railway carriage. Changes were smooth and with just enough light during the darkouts to appreciate the orchestration of the scene ninjas.
Significant in these contortions of the heart are both the allure and lure of youth. Henry falls for Annie, the boisterous actress who's impetuous enough to tempt him when their respective spouses are out of the room. We don't know why, other than Andrea Osborne's puppyish appeal as the impulsively naughty younger woman. Annie was earlier attracted to the AWOL soldier Pvt. Brodie (Stephen Mercantel) and later, while living with Henry, is drawn to and involved with the yet younger actor Billy (Aaron Johnson), who plays opposite her as the incestuous brother in Ford's piece.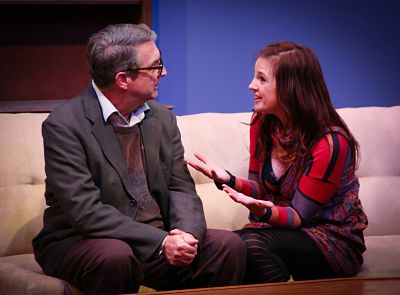 And of course there's Fahlgren as daughter Debbie who simply considers her elders' sentimental attachments to be hopelessly old-fashioned. For some reason -- probaby not of deliberate desilgn -- Fahlgren is stationed in full profile throughout her scene with Henry, making it hard to read her focus and intentions.
Where there are uncertain winners, there must be losers. Bernadette Nason as Charlotte, Henry's crisply dismissive first wife and eventual truth teller, is quite sanguine about it all and seems to have developed a cheerfully impenetrable callus about her heart. Annie's husband Max is written in to be left out, and Annie's dismissive reports of his woe are entirely heartless. On opening weekend Samuel Knowlton as Max delivered his lines with apt phrasing and intensity but showed an unnerving tendency not to meet the eyes of the characters with whom he was speaking. We speculated whether this was deliberate, a studied avoidance, or simply a sign of opening jitters. Or perhaps from our front-row seats we were just seeing more than we were intended to see.
EXTRA
Click to view program excerpts from the Austin Playhouse production of The Real Thing.
---
The Real Thing
by Tom Stoppard
Austin Playhouse
Thursdays-Sundays,
September 18 - October 11, 2015
Thursdays - Saturdays at 8 p.m., Sundays at 5 p.m. at Highland Mall on Airport Boulevard.
Austin Playhouse at ACC's Highland Campus
6001 Airport Blvd., Austin, TX 78752
WEB: austinplayhouse.com
TICKETS: $28 Thursday/Friday, $30 Saturday/Sunday, $35 Opening Night
BOX OFFICE: Call 512.476.0084 or email boxoffice@austinplayhouse.com
DISCOUNTS: All student tickets are half-price. $3 discount for Seniors 65 and up. Group rates available.