Review: The History of King Lear, Nahum Tate adaptation by Hidden Room Theatre
by David Glen Robinson
The English Restoration was made in 1660, and 21 years into Charles II's reign Nahum Tate premiered his History of King Lear in London. The play was a strong rewriting of Shakespeare's King Lear, much to Restoration tastes. Tate's tale of the mad, storm-crawling king with two treacherous daughters held sway on stages for 150 years, it is said, until there was something of a Shakespearean restoration. Thereafter, Tate's version was effectively lost.
Enter Beth Burns of The Hidden Room and Tiffany Stern of Oxford University after almost another two centuries. Theirs is a tale of literary archeology worthy of a separate treatment as a scholarly work. This research follows that for Der Bestrafte Brudermord, the puppet Hamlet, Prince of Denmark that The Hidden Room produced a few years back (and will again next year). The Hidden Room modestly mutes any claims of great accuracy in restoring the Restoration version, but what the company is showing on stage now at their space at the York Rite building in downtown Austin is a wonderfully satisfying theatrical production regardless of its exact degree of authenticity to any period.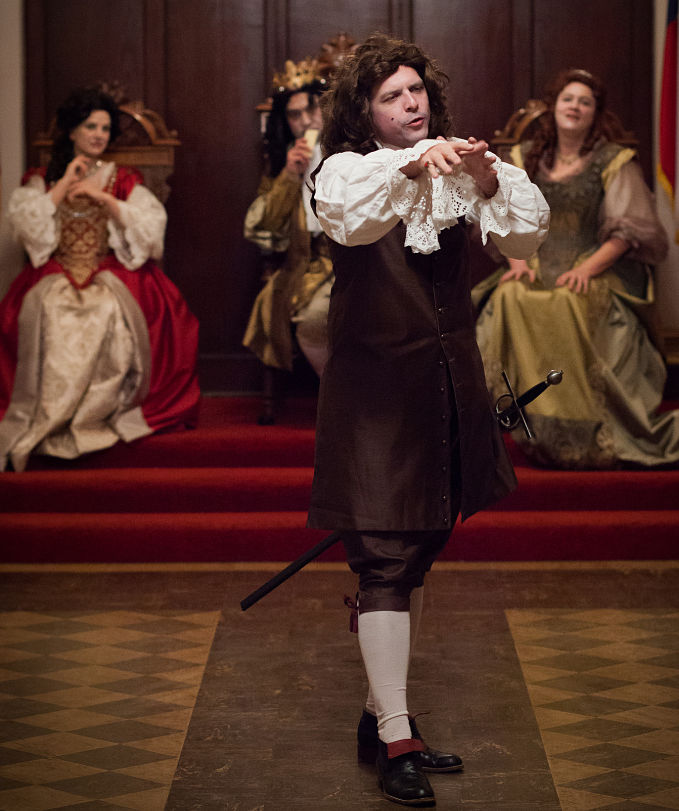 The play could be subtitled Restoration Cinematic Kabuki. Burns' and Stern's excavations of the Restoration have pulled out and dusted off new things surprising for our world. No one can stand in judgement of the stylized movements and gestures assembled and integrated into such a spectacular whole, because few have known of their existence since the Restoration. When all are blended with one of Western civilization's primary gifts to the world—theatrical speech in verse—one melts into the pleasures of an astoundingly rich evening of 21st century theatre.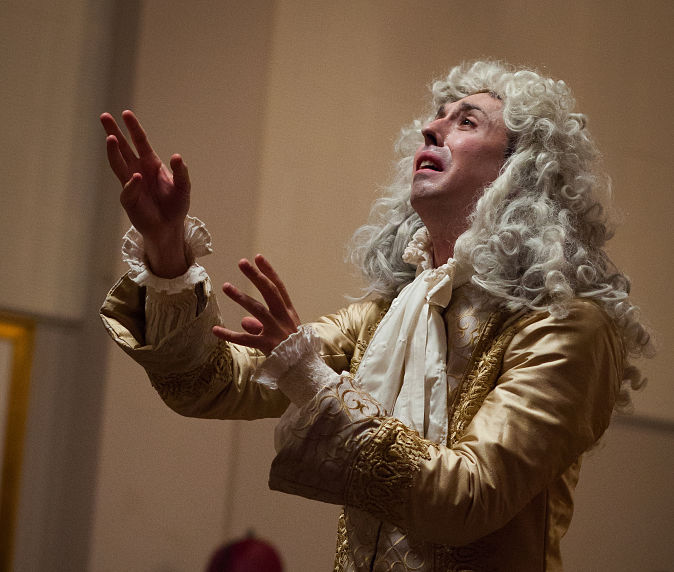 The powerful Ryan Crowder leads the cast as King Lear, and he does it with apparent ease.His hand-clapping, finger-snapping, gesturing, and posturing king appears to rise fully to Restoration standards. Crowder's versified orations to the court set the tone for the entire production. Joseph Garlock plays the Duke of Kent, faithful to Lear through his stormy derangement. Garlock's Kent is particularly adept at larger body movements. The stylization of the court and courtiers, perfidious or loyal, brings to mind a kind of westernized Kabuki, in which all the actors on stage know their highly symbolic locations; and they change gestures, poses, and implied emotionality on cue, sign of a well-regulated court.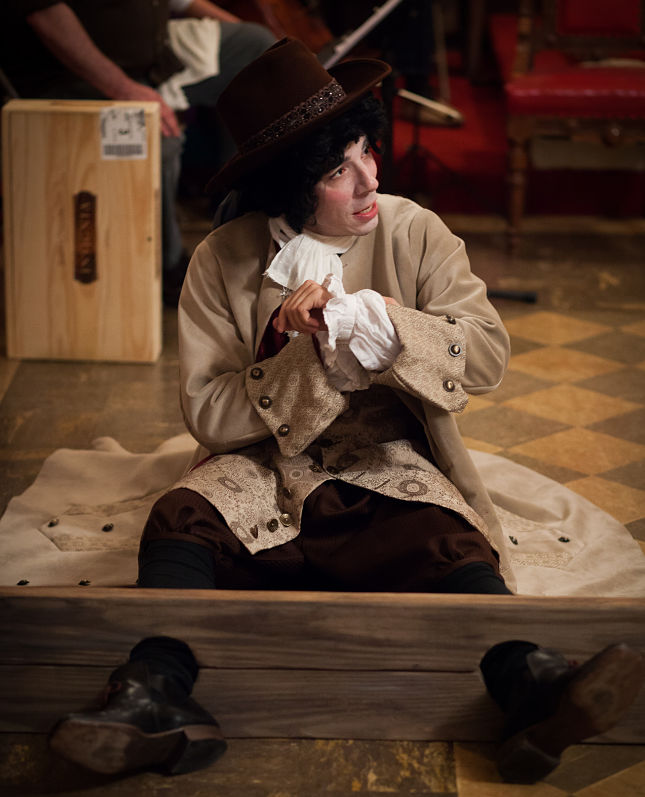 The stage is bare save for chairs and thrones at either end of the long, rectangular playing space. This spareness gives emphasis to the spectacular costumes and wigs of the nobility. These are among the major delights of the production.The costume and wig designs are credited to Ms McNee of the American Shakespeare Center, Jennifer Rose Davis, and three assistants working on various aspects of confection. Of particular excellence in the costume domain is Rose's gown for Cordelia (played by Julia Lorenz-Olson) daughter of Lear and faithful to a mighty reward. Lorenz-Olson wore a sumptuous court gown, gray-becoming-argent, a shiny taffeta surrounded by floating, misty tulle. She created an image having kinship with any number of Baroque paintings of courtly noble ladies. Surely the costume design group will stand for recognition in the next award season.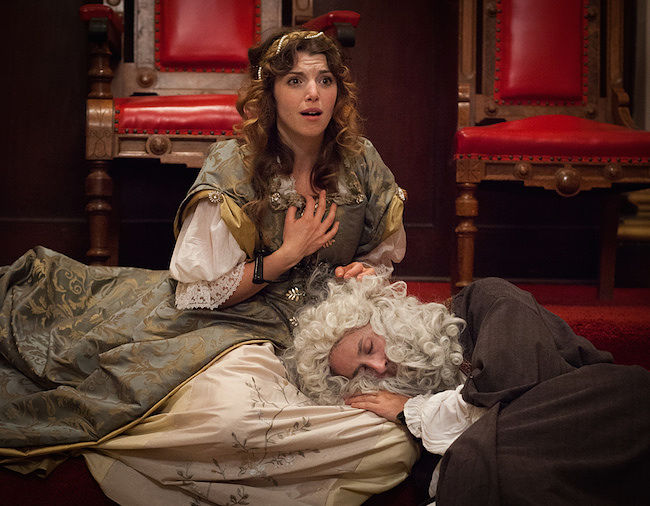 Judd Farris gave the romantic Edgar reserve in the court and howling madness in the forest when exiled by the sharp knives and sharper tongues of the conspirators. Tate's notes call Edgar's feigned insanity "Edgar's Disguise." Edgar calls himself "Old Tom," and Farris's portrayal of Old Tom is a rolling and cavorting romp that enchants the wandering Lear when they encounter each other. Farris's Old Tom gives clear insight on the Elizabethan theatrical type of a character feigning mental breakdown, used as cover for a deeper pain and a hoped-for return. Farris often brings extremes together in his characterizations and in so doing demonstrates his immense range.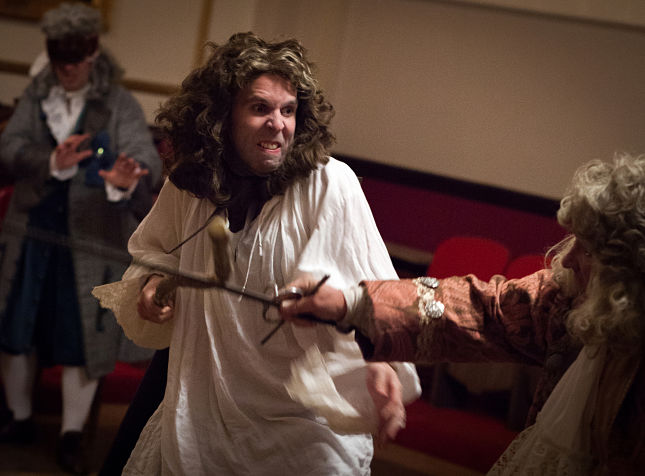 The same may perhaps be said for the rest of the cast; they are extremely committed to their tasks and clearly treat this play as a rare opportunity. Of special note is Robert Matney, who plays Gloster (the Duke of Gloucester in Shakespeare's original). Matney is always clear and delivers well his so far immortal monologues on suffering after his frightful mutilation. Matney also gives an exemplary demonstration of the Restoration gesture set as researched for the play by The Hidden Room.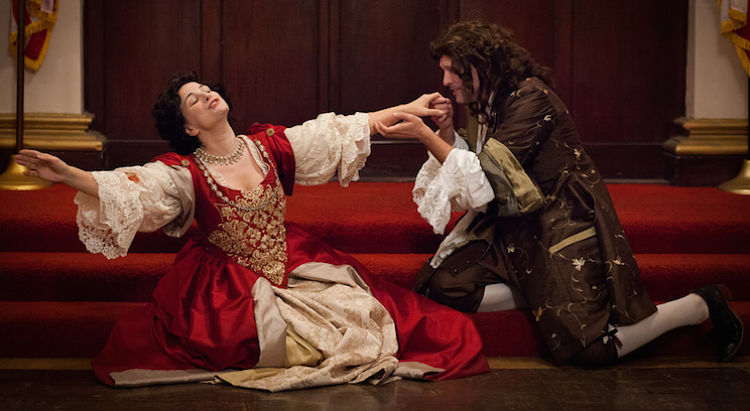 One wonders if the occasional instance of by-play among the attendants and guards is a Restoration trope or an updated improvisation to provide humor for modern sensibilities. Also of note is a feature of the staging area. Its rectangular shape with hardwood floor lends itself to echoing and noisy clatter from hard-soled shoes and boots. For the most part, lines were not uttered until actors were still, but at other times the natural reverb reduced significantly the spoken clarity of some passages of the play.
Audiences are strongly encouraged to attend and enjoy and listen carefully to the magical language that The History of King Lear provides in abundance. The play runs through November 29th at the York Rite theatre "in a Hidden Room somewhere within 311 W. 7th Street, 78701" downtown Austin.
EXTRA
Click to view the Hidden Room Theatre program for The History of King Lear, as adapted by Nahum Tate
---
The History of King Lear, Nahum Tate adaptation
by William Shakespeare, Nahum Tate
Hidden Room Theatre
Fridays-Sundays,
November 06 - November 29, 2015
Tate's Lear unveils scenes for some of the world's most prestigious early modern theatre scholars at the American Shakespeare Center's Blackfriars Conference November 1st before beginning its Austin run every Friday, Saturday, and Sunday in November 2015 at the York Rite Masonic Hall. Tickets will become available shortly on
www.hiddenroomtheatrecom
.
every weekend in November
Fridays and Saturdays at 8 pm
Sundays at 5 pm
Industry Night Thursday Nov 12th, 8pm
www.hiddenroomtheatre.com