Review: The Explorers' Club by Austin Playhouse
by David Glen Robinson
The Explorers Club by Nell Benjamin is a relatively new American comedy, nominated for the Drama Desk Best Play Award in 2014. Benjamin's wit takes on a series of largely English characters ranging from stuffy to stiff in a club in London in 1879. These are high Victorian times, and a little wit suffices to bring out an abundance of comedic material.
Austin Playhouse with its talented cast puts on an exceptionally funny version of The Explorers Club. Eight out of the ten cast members are also company members, and they work very well together. Brian Coughlin serves as the wheelhorse of the story in the role of Sir Harry Percy, the big, bluff, brain-dead explorer just back from finding the East Pole, to the consternation of those buggers at National Geographic and his fellow Explorers Club members. Percy specializes in stumbling back alive and unmaimed when the other participants in his expeditions do not. His plot function in the club is to thwart Acting President Lucius Fretway (Aaron Johnson's) in his obvious sophomoric romantic designs on Phyllida Spotte-Hume (Claire Grasso) by nominating her as the first female member of the club. For 1879 this is unseemly -- not that the boundaryless Sir Percy doesn't try to get into her face and bodice at every turn, to the exclusion of Fretway.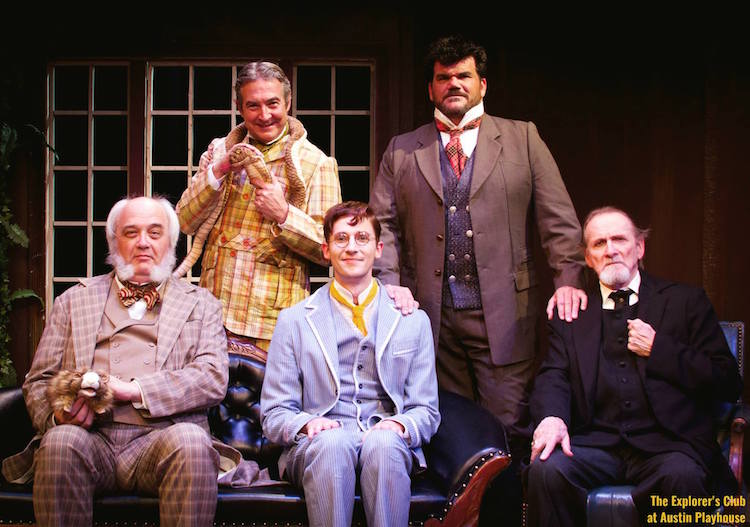 The precocious Aaron Johnson plays Lucius Fretway as the stereotypical anemic, boring, and insecure English boy, the kind who would force any American to squeal "eww-w" upon shaking his hand. Ineffectuality, thy name is Lucius Fretway, a regrettable quality emphasized in competitive contrast with Sir Percy. Fretway doesn't really connect with the audience until he catches the drinks three different times. He has one winning stroke of cleverness in the second act, and by curtain's fall Johnson has given us a truly memorable character.
The pseudo-anthropologist Phyllida Spotte-Hume makes her entrance followed by her living artifact, a tribesman wrested from the jungle, played by J. Ben Wolfe. She has pet-named him Luigi. The name is exactly the sort given by U.S. antebellum plantation lords to their slaves, such as "Jove," "Rex," or "Old Sam."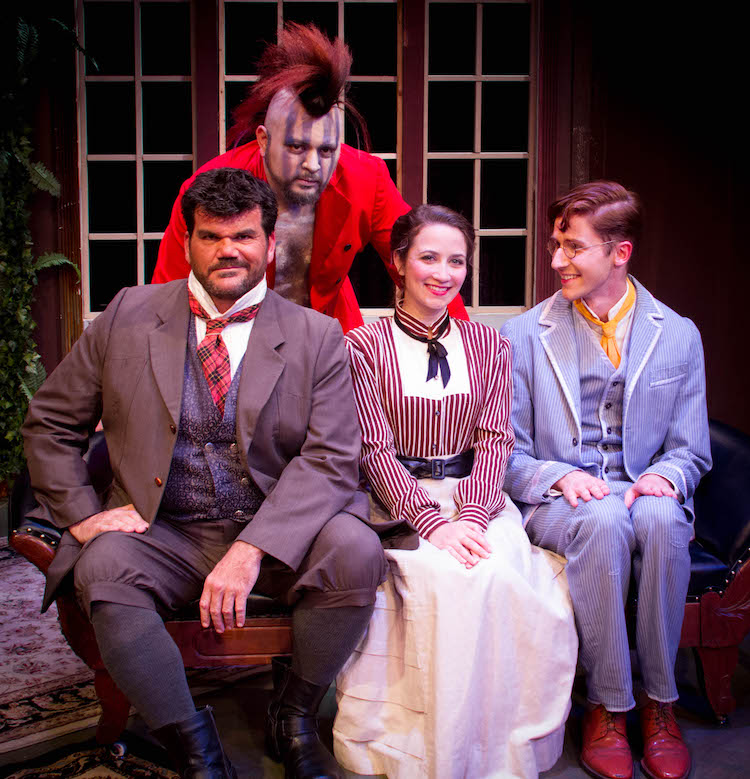 Wolfe, as with all his characters, is capable of turning dross to gold. He can win a play and audiences' hearts with his elocution, his comedic timing, his oratory, or even his flashing eyes. This time he wins it all with vital movement, a leaping wild man with mystical gestures. 'Luigi' stands out from the stiff Englishmen around him, aided by his blue and white body stripes and towering Mohawk. After slapping the Queen's face in his audience with her (that's how his people say hello and pay honor), he hid out, finding work as a bartender; his look would have fitted right in with any London punk bar of the 1980s or 1990s. Even without speaking the language, 'Luigi' comprehends the conflicts in the story spinning around him.Hhis sharp-eyed glances react to everything and telegraph his emotions.
Professors Cope, Walling, and Sloane, played by David Stahl, Michael Stuart, and Tom Parker, bring the mayhem of Victorian science at its peak, with cobra stings, guinea pig eating, and prooof that the Irish are the Ten Lost Tribes of Israel -- in short, Jews. Masters of comedy, these actors work together and make it look easy, a very hard thing indeed. Huck Huckaby plays Sir Bernard Humphries as straight man for the entire play, a structural role that always ramps up the humor. Relative newcomer Zac Thomas plays two roles with impressive athleticism. His feats are the only competition for J. Ben Wolfe in the mystical gesture department.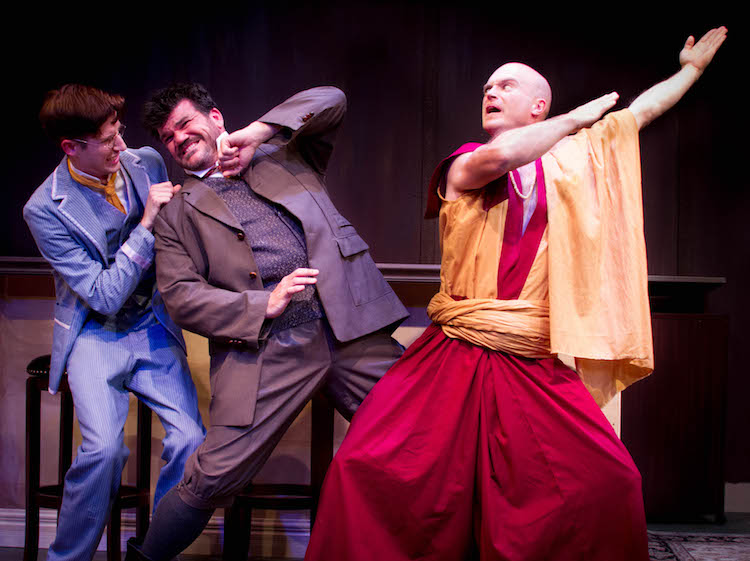 In the end, The Explorers Club is, for all its humor, nothing more than a failed attempt at self-justification. Phyllida Spotte-Hume is smarter than the Englishmen, and Luigi is smarter than everyone, period. But placing the overlords of the British Empire in high mockery and on the hot seat of political correctness doesn't really work when it amounts to scene after scene of condescension and name-calling of every world culture and historical period? The laughs prvoked by unfortunate put-downs haven't faded, whether down tribal cultures, dismissing Tibetan Buddhism, or labeling the Irish Semites. In the end, after the laugh riot, all the explorers' privileges are intact and Luigi finds steady employment as a menial. This is how the British Empire has dealt with its Commonwealth populations and its own lower classes from Victorian times to this day.
The Explorers Club by Nell Benjamin is fit meat for those addicted to stories with almost nonstop laughs, but teenagers interested in history might suffer intellectual damage without some careful parental guidance.
The play runs until May 1, 2016 at the old Highland Mall in central Austin.
---
The Explorers' Club
by Neil Benjamin
Austin Playhouse
Thursdays-Sundays,
April 01 - May 01, 2016
April 1 - May 1, 2016
Thursdays - Saturdays at 8 p.m. and Sundays at 5 p.m.
at Austin Playhouse at ACC's Highland Campus, 6001 Airport Blvd., Austin, TX 78752
WEB: austinplayhouse.com
TICKETS: $28 Thursday/Friday, $30 Saturday/Sunday, $35 Opening Night
BOX OFFICE: Call 512.476.0084 or email boxoffice@austinplayhouse.com
DISCOUNTS: All student tickets are half-price. $3 discount for Seniors 65 and up. Group rates available.