Review: Steel Magnolias by Sam Bass Community Theatre
by Michael Meigs
At one point in Robert Harling's mischievous script for Steel Magnolias, set in Truvy's beauty shop in Chinquapin, Louisiana, newly hired perm-and-trim assistant Annelle worries that one of the husbands might intrude into that women's world. Tidily turned out Clairee Beltcher responds, "Oh, those men wouldn't ever come in here. They're afraid that we might be running around nekkid or something."
Harling's 1987 play and the 1989 film of Steel Magnolias succeed exactly for that reason. These simple, charming women are sweet and frank with one another, emotionally naked and not the least ashamed of it.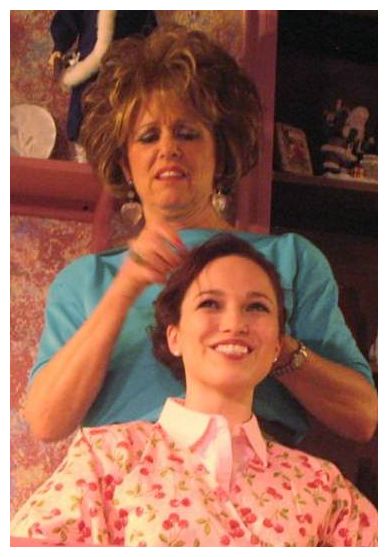 Steel Magnolias
is a story with a powerful attraction, one that transcends its "chick flic" aspect. It's a story of friendship and bonding for the long term. No wonder that this play is so frequently produced in community theatre. I first saw it at
Way Off Broadway Community Players
in Leander in January 2009, then again a few months later at the
Trinity Street Players of First Baptist Church
. I was out of town when the City Theatre did it this past December. Sam Bass has this appealing production running until February 19, the Renaissance Guild in San Antonio stages an African-American edition for three weekends starting on Friday, February 4, and the Hill Country Community Theatre near Marble Falls holds auditions late this month for an April production.
It's popular with audiences because they know the story and they can't resist the fragile young Shelby surrounded by those funny and affectionate older women. Almost everyone loves a good cry -- 'cepting maybe the caricatured Louisiana men who never look inside the beauty shop.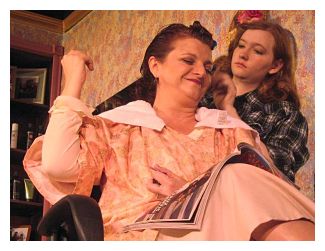 Almost as important a factor in this script's popularity, in my opinion, is the bonding experience that this script offers to a cast. There are few enough contemporary plays that offer mature women a rich ensemble challenge, and almost no other scripts provide the intimacy in rehearsal and concept that this one does. Director Olin Meadows and the talented women of this cast admitted that even the read-throughs provoked tears. The decision to double cast the role of the doomed Shelby intensified that focus, as Kat Connor and Cici Barone essentially melded their efforts to define the character. They alternate as Shelby in successive performances.
Audiences at the old depot now on Lee Street in Round Rock will find an interpretation of Steel Magnolias that's fresh and forthright. The Sam Bass Theatre uses its small, comfortable space to great advantage. Set decoration is imaginative and meticulous. The preview audience discovered that each member of the cast had brought personal mementos or photos to decorate the set. The costumes are just right -- clothing and accessories that define each of the ladies.
Newcomer Kat Connor from San Antonio has the fragility and the steel. Shelby is sincere, sweet, courteous and in control of herself, and Connor was heartbreakingly perfect throughout. The carefully polite contest of wills between daughter and mother is the core of the play. Cathie Sheridan is a power actor -- I've seen her force and charisma fill up the Georgetown Palace. On this intimate stage she wraps us up in mama M'Lynn's warmth and apprehension. She's strong, open and humorous. No one could remain unmoved in the inevitable obligatory last scene when M'Lynn breaks down and rages against the loss of her daughter.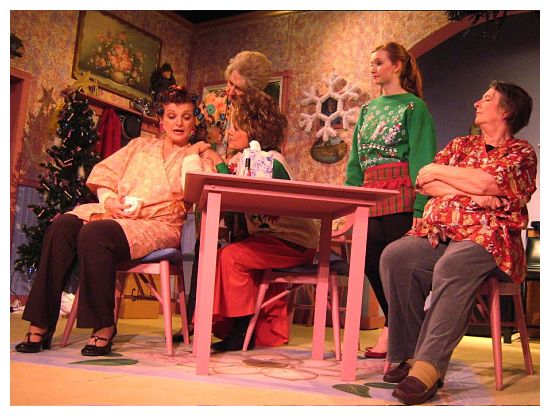 Playwright Harling began this text as therapy, after his sister had died of diabetes, the same illness that afflicts the principal character. His creation is much more than a memorial. He crafts a coherent, believable world for those vivid women characters and brings them through the shocks and changes of two years. Their strength is in each other.
Edie Elkjer plays Truvy the beauty shop owner with a folksy touch and a twinkle in her eye. She will be welcoming you to Chinquapin in the first moments of the play. Owner, hostess, and confidante for this circle, she shows great heart. Megan Henderson is the earnest Annelle, who flourishes as Truvy's new assistant.
Roni Prior as the grumpy Ouiser and Joan Baker as Clairee, the elegantly calm widow of the mayor, are entirely at home in those parts. I ran a thought experiment afterwards, mentally switching the actresses in those two roles, and decided that either variation would have been effective. This cast works together in harmony with one another and with the director's concept.
Tickets for the Round Rock hometown production of this hometown comedy-drama are moving briskly. Everyone wants to go down to Truvy's. Even the good ol' boys.
Review by Rob Faubion at AustinOnStage.com, February 7
EXTRA
Click to view program for Steel Magnolias by Robert Harling at the Sam Bass Community Theatre
Hits as of 2015 03 01: 2969
---
Steel Magnolias
by Robert Harling
Sam Bass Theatre Association
January 27 - February 19, 2011