Review: Steel Magnolias by Way Off Broadway Community Players
by Michael Meigs
Leander's community theatre, the waggishly named Way Off Broadway Community Players, is located on Crystal Falls Parkway, which is an unlit country road between 183a and Parmer Lane. I almost missed it, and I did indeed miss the entrance, as did a car directly behind me. We decided not to chance the cross-lawn route and instead maneuvered back around to the driveway.

The Players had a full house for the second night of their three-weekend run of Steel Magnolias. I suspect that I was the only person in that audience who didn't know the story, since the 1989 movie with the all-star cast came out while I was on assignment outside the United States.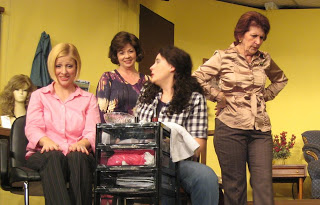 It's a gentle story, played out on a single set, Truvy's beauty salon in the depths of Louisiana. Steel Magnolias follows six women over three years -- a collection of matter-of-fact southern eccentrics, including a mother and daughter. The daughter, Shelby, is an attractive blonde young woman who is revealed to be suffering from Type I diabetes. In scene 1 she is preparing for her wedding; in scene 2 Shelby announces to her mother that she's pregnant; in scene 3 she is a happy young mother but her kidneys are failing and her mom has volunteered to donate a kidney; and in scene 4 we learn that Shelby has died suddenly following failure of the transplant. That plot line is brutal, the stuff of tear-jerkers.
But you knew all that. Perhaps you didn't know that in fact, actor Robert Harling began writing short stories and then this script as a therapeutic exercise after his older sister died of just such complications.
Rather than dwelling on the morbidly inevitable outcome, Harling created a piece that celebrates friendship and authenticity. These women know each other well and they are very forgiving. It's a piece about the female community that thrives in that beauty shop, off limits to men.One never sees any men in this piece, and the gentle jabs at southern masculinity are of the feminine "I just can't believe that he does that!" variety.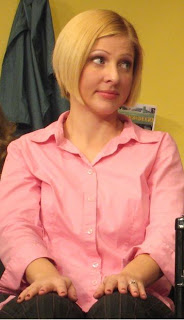 Erin Mwalwanda plays Shelby as positive and decisive, a young woman entering her own pink dream of marriage and motherhood. Yes, she has differences with her protective mother, M'Lynn (the patient, lip-biting Kim Rubin), but she will not be deterred. There's not a trace of pathos here, as long as she is present in the story.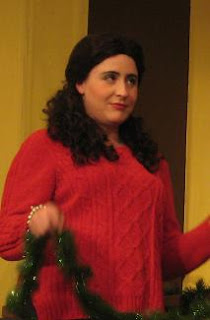 Lissa Satterfield as Truvy is the unflappable hostess to all her friends. She presides over the rituals of hair (with the help of some impressive wigs, provided by theatre supporter Pat Painter). In the opening scene Truvy herself is in the chair, trying out the skills of a young woman seeking a job.
Truvy's decision to hire Annelle might have been an act of charity, but it provides opportunity and safe haven for a lost and intensely unhappy young woman. Under the protection of the female friends at Truvy's, Katherine Sheppard transforms from the severe, frightened haircutter (before) into a happy, self confident party girl (after). Annelle then finds companionship and support in an evangelical Christian group, a development that the other women understand and tolerate.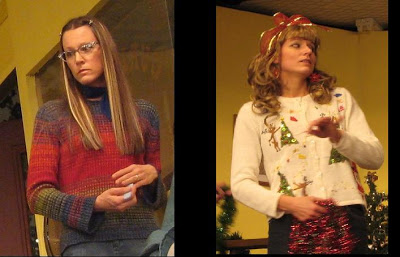 My favorites in this piece were the two women who completed the ensemble: Sandie Bush as the moneyed widow of the town mayor (left) and Shelley Kelley as grouch Ouiser Boudreaux (right). These two are often in the background of the action -- here, quite literally, as they sit at deep upstage center. Sandie Bush is adorably attentive at every moment of the action, even when she is relegated to the outskirts, and she has fun when the women talk her into buying the local radio station. Shelley Kelley has great presence and she makes the most of her grumpy remarks. Her exasperation is that of a highly intelligent woman who finds herself given a smorgasbord of disappointments. Kelley is comic but at the same time very appealing.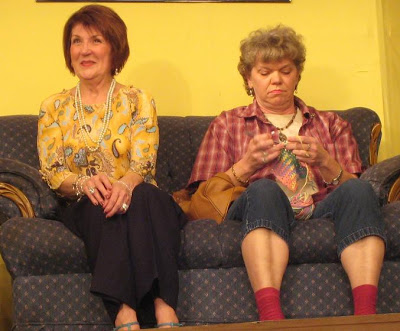 Director Lynda Davidson moves her characters smoothly about the stage and they keep the audience laughing. Only in scene 4 is there a disquieting break in the rhythm -- the scene runs very slowly, almost apprehensively, until grieving mother M'Lynn finally arrives in the circle of friends. This scene makes huge demands on M'Lynn, who must first appear collected, then must relate to all of us the unexpected catastrophe, rage and weep, react in surprise, and then achieve tearful equanimity. The plot demands that transformation, essentially concentrating the whole process of shock, grieving and tentative reconciliation into about ten minutes on-stage time. Kim Rubin plays the sequence with great conviction. She breaks entirely through the surfaces of the worried, contained M'Lynn and takes that previously steady woman character into previously unglimpsed territory.
One where we know the story and we know that Bad Things are going to happen to Good People?
Probably as a celebration of community. Gathering in a community theatre to share that amusement, experience, grief and catharsis reaffirms us. Looking into the eyes of hopeful Shelby, worried M'Lynn, grouchy Ouiser and others, and seeing ourselves and the community around us.
As a friend commented to me this morning, "You could probably reach into that audience and pull out those same personalities." Thanks to the entirely voluntary efforts of groups like the Way Off Broadway Community Players, the audience has exactly that privilege.
---
Steel Magnolias
by Robert Harling
Way Off Broadway Community Players
January 16 - January 31, 2009