Review: Steel Magnolias by Trinity Street Players
by Michael Meigs
I was invited this past weekend to attend the closing performance of Steel Magnolias, produced at the First Baptist Church, 901 Trinity Street, by the aptly named Trinity Street Players.

The audience filled the black box theatre, a converted space on the upper floor of the church, in which banks of raised seating stood on three sides of the rectangular playing space.

Both the venue and the disposition of the stage brought to mind one of the essays in UT philosopher Paul Woodruff's book last year, The Necessity of Theatre: The Art of Watching and Being Watched (Oxford/New York: Oxford University Press, 2007). After thirty years of work, like me, he returned to an early passion for the theatre. "Instead of writing about Aristotle," he comments in the introduction, "I have written a kind of poetics of my own."

Early in his fifteen-page meditation on "Sacred Space," Woodruff comments, "'Sacred' is a word we have almost lost in modern times, like 'reverence,' to which it is related in meaning. Sacred things and places call us to reverence, as do sacred times like the Sabbath; perhaps in our century we are too alert to the dangers of idolatry to recognize that we are, still, surrounded by what we wordlessly take to be
sacred. [. . . ] I will say that a place or an object or a person is sacred if it is held to be untouchable except by people who are marked off, usually by ritual, so as to be allowed to touch it."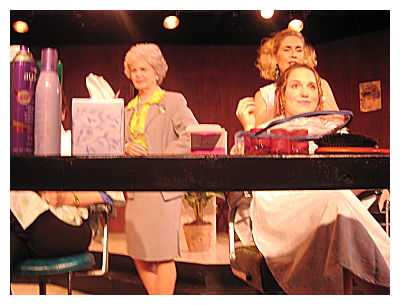 Steel Magnolias takes place in a beauty parlor in a Louisiana town. The women characters joke that men "don't dare come in here; they think we might be running around nekkid or something." Truvy's hair salon is lovingly constituted, with sinks, a big sit-down hair dryer, and at the front of the stage, Truvy's work table. It stands there with the various sacred objects of the hair dresser's art, literally within reach of those of us sitting on the front row. Like an altar. And we, the audience directly before the stage, have the impression of looking into that sacred space through a big mirror hung above that table.

And there we have the magic of sacred space. The characters, women friends of long date, inhabit a sacred space in their imagined reality; the Trinity players present their story in the sacred space of theatre; and the third-floor black box theatre is one of several sacred spaces provided by the First Baptist Church in which the congregation and general public are gently invited to witness and explore friendship, community, life decisions and loss.
Steel Magnolias is a clever, humorous play, trading very little in solemnity. The crowd loved the occasional jests about religion in a Louisiana town not so different from here. "Why, M'Lynn, I understand that your mental patients include lots of born again Christians!"
That one brought down the house -- with a reminder of our common humanity.

Let me crib from my earlier summary of the play, which I saw for the first time out in Leander with the Way Off Broadway Community Players:
"Steel Magnolias follows six women over three years -- a collection of matter-of-fact southern eccentrics, including a mother and daughter. The daughter, Shelby, is an attractive young woman who is revealed to be suffering from Type I diabetes. In scene 1 she is preparing for her wedding; in scene 2 Shelby announces to her mother that she's pregnant; in scene 3 she is a happy young mother but her kidneys are failing and her mom has volunteered to donate a kidney; and in scene 4 we learn that Shelby has died suddenly following failure of the transplant.

"But you knew all that. Perhaps you didn't know that in fact, actor Robert Harling began writing short stories and then this script as a therapeutic exercise after his older sister died of just such complications."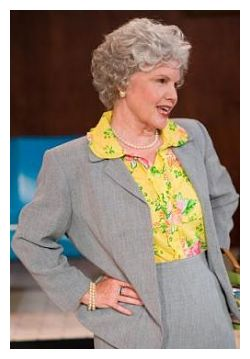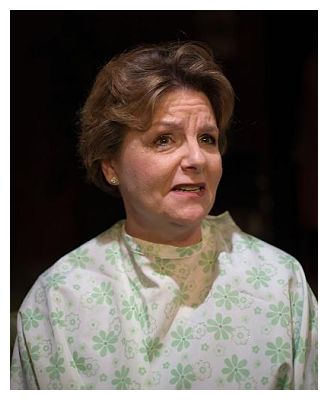 Since just about all of us know in advance of Shelby's choice and her doom, the effectiveness of any production of Steel Magnolias is determined by the actors' ability quickly to make us love the eccentricities of these characters and understand the deep, mixed feelings that bind daughter Shelby and her mother M'Lynn. The Trinity Players succeeded early and often in those tasks. Ann Pittman as Shelby is attractive, decisive and well spoken; Mary Jane Smith as M'Lynn plays just the right amount of reproval and concern.
Director Cathy Jones keeps her cast moving smartly along, with a particular sensitivity and mastery of the dramatic moments of Shelby's sudden diabetic seizure.
Cast bios indicate varying levels of experience in theatrical presentation. Arleigh DeLeon as the wealthy but matter-of-fact Clairée Belcher admits cheerfully that she last acted 50 years ago! Her droll delivery and twinkle showed that she was having a very good time. She may have been simply playing herself, a triumph of casting, or perhaps the Austin stage has been missing out for a very long time.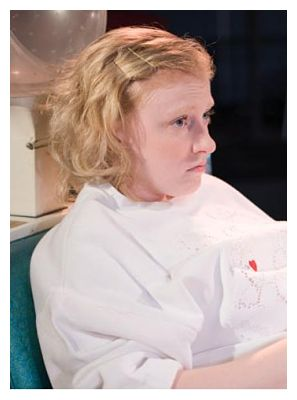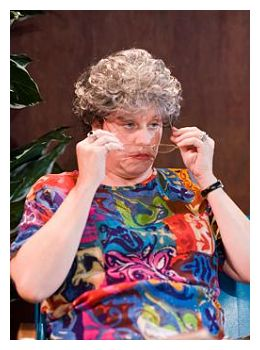 Each of the others was credible and appealing: Julie Latimer-Spears as Truvy; Linda Miller Raff as the cantankerous Ouiser Boudreaux; and Elspeth Silva as the innocently wide-eyed new assistant Anelle, taken in by the ladies despite her mysterious past.


Thanks to the Trinity Street Players, and particularly to assistant director David McCullars, for the invitation to share their sacred spaces. I look forward to their next season.
EXTRA
Click to view program of Steel Magnolias by Trinity Street Players
Hits as of 2015 03 01: 3562
---
Steel Magnolias
by Robert Harling
Trinity Street Players
July 31 - August 09, 2009
Trinity Street Players
Black Box Theatre, 4th floor, First Baptist Church
901 Trinity Street
Austin, TX, 78701