Review: Roaring by Austin Playhouse
by David Glen Robinson
Austin Playhouse is producing the premiere run of Cyndi Williams' Roaring at their Highland Mall theatre in central Austin. Balancing their recent trend of producing contemporary plays by international playwrights (David Ives' Venus in Fur and The Liar), Austin Playhouse has given an impressive opportunity to a long-time Austin theatre playwright, Cyndi Williams. The multi-talented Williams is most often seen on stage or gaining laudable credits in the design fields. Her play Roaring is now onstage until May 4th.
Program credit went also to Austin's Scriptworks for assistance in developing the play; Scriptworks is well recognized for helping birth the works of many Austin playwrights.
Roaring is set in a high-tech underground advanced care facility with oxygenated air and skylights for natural lighting at all times. It's loaded with life-extending technology, and it's a home for the illustrious—a twentieth century female physicist, a seventies rockstar, a dependent wife of a military victim of the attack on Pearl Harbor.
But the star of this collection of lives is a flapper from the 1920s, who, having been born in the 1890s and despite lying in a vegetative state, comes to the fore of this group as the oldest living person on earth. On her 123rd birthday, celebrity finally strikes. A TV reporter played by Stephen Mercantel comes to interview her as others visit their own family members.
The titular roaring that stops all this narrative action is the sound of the fracturing life histories of the residents. Thereafter, fragments of lives of these famous, like shards of colored glass, are held up to the light. But with these shards, when a photon (a wave or a particle?) of light strikes the fragment, the image begins to present the brief pinnacle chapter of the life, like a short YouTube video.
Most delightful is the presentation of these capstone periods and the forks in the roads of these lives -- the decisive life moments that people do not recognize as such when they are in them. We never know when we're having it the best we'll ever have it. We never know when we've made the one decision among many that will take us on a new pathway of no return. For example, one might major in one field and change it or later even drop out entirely. One might marry THE ONE and divorce a few years later. One chooses to keep the baby or not. There's often confusion in the moment and complete unpredictability of the consequences.
The giant what if? of this play is that some of these characters finally are granted the blessing of seeing and knowing these periods and their consequences.
But what would you do if you knew? Would it give you a grain of wisdom, or sorrow, or bitterness, or despair? If perhaps you had a little more time, would you communicate your findings to the young? Would you set forth to perform humanitarian work on another continent? Would you marry the aging rockstar?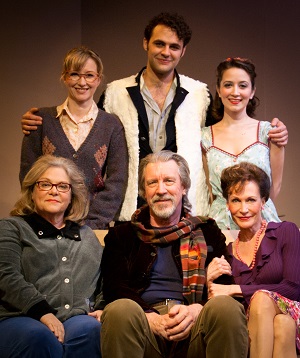 It's good for an audience to think and feel this hard about a play. The wisdom in Roaring, perhaps the stroke of genius, is simply asking the question. Anyone who has visited a nursing home is struck by the archive of living history along every corridor, winding down to its final days. Cyndi Williams' play takes this idea and magnifies it; Roaring isn't a play about nursing homes, not really.
The play succeeds in part thanks to Austin Playhouse's exceptional technical production. The work of every design field is flawless. The cast is comprised entirely of members of the Austin Playhouse acting company, perhaps the most talented group in Austin. It's useless to try to pick standout performances because all the actors' performances were standouts.
Go see this play and see for yourself. Roaring runs until May 4th, 2014 at Austin Playhouse in Highland Mall, central Austin.
---
Roaring
by Cyndi Williams
Austin Playhouse
April 4 – May 4, 2014, Thursdays–Saturdays at 8 p.m. and Sundaysat 5 p.m.
TICKETS: $28 Thursday/Friday, $30 Saturday/Sunday, $35 Opening Night
BOX OFFICE: 512.476.0084 or online at www.austinplayhouse.com
DISCOUNTS: All student tickets are half-price. $3 discount for Seniors 65 and up.
THURSDAYS Limited Pick-Your-Price Rush tickets will be available at the box office one hour prior to show-time for eachThursday performance.