Review: Much Ado About Nothing by Baron's Men
by Michael Meigs
"Twenty-one productions in thirteen years!" director Monette Mueller informed opening-night spectators gathered before the torch-lit boards of the Curtain Theatre. The Baron's Men first performed in October, 2002 on a makeshift stage erected that very day. Their patron Richard Garriott later had a tidy Elizabethan-style stage erected for them on the north bank of the Colorado River, just west of the 360 bridge, and they've explored Shakespeare and other authors of early modern drama in that locale since then. This production of Much Ado About Nothing features, as always, the battles between Benedick and Beatrice and the drama of Hero, the wrongly accused bride. It also brings the company full circle, for this is the work that began their unexpectedly long and dedicated history.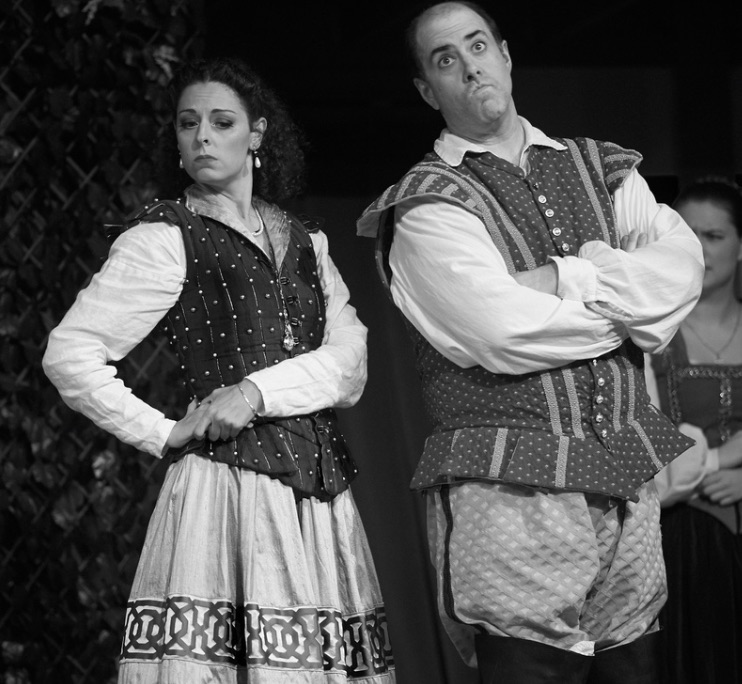 The Baron's Men's stage practice is close to that of Shakespeare's day, with the mostly undecorated two-level thrust stage before two galleries of spectators and the wrap-around space for groundlings. One notable exception: the 'Men' are both male and female, and the women of the company, including director Mueller, are notable and visible. In contrast to Shakespeare's original practices, women often appear onstage, either unsubtly garbed as male characters (for example, Victoria Kelly as the Sexton, the magistrate who hears the case against the malefactor Borracio) or as female versions of established characters. In this sprightly production the sullen Don John, whose machinations come close to thwarting a happy wedding, becomes Dona Giovanna, played by Leanna Holmquist, another long-time company member. It's a deft and apt adaptation, and the clarity and power of Holmquist's performance are a strong addition. Unapologetic in her resentments, she has more than enough reason for them; as a woman she is barred from the honors and inheritance that go to her brother Don Pedro (Mike Osborne), returning from successful battles abroad.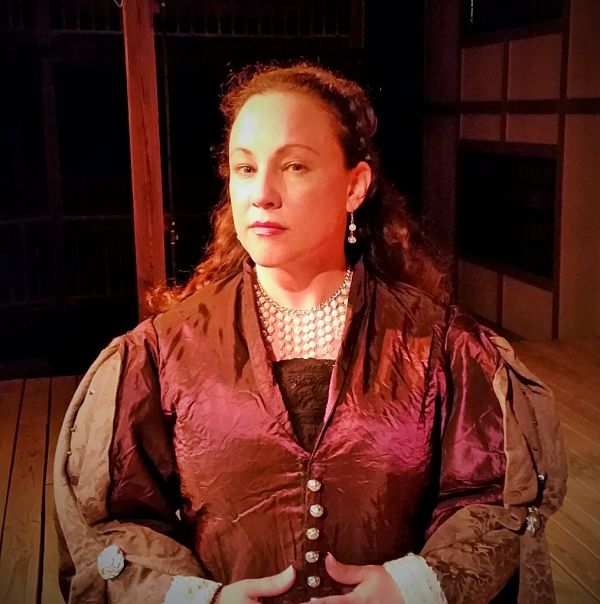 Much Ado may be one of the most familiar of Shakespeare's comedies. I confess, to my embarrassment, that I do sometimes have trouble keeping some of those opaque titles sorted in my head -- Much Ado, As You Like It, All's Well That Ends Well, and The Comedy of Errors. But once you name those duelists of love Benedick and Beatrice, I know exactly where you are. Lindsay M. Palinsky is a rousing, saucy Beatrice, and she watches with glittering eyes as her gibes go home. Aaron Niemuth as Benedick was initially a bit wooden on opening night, hitting all of his lines sharply but with little inflection or apparent reflection. That may have been first-night adrenaline, for after the intermission he settled in and became much more human, particularly in the duo with Beatrice where he avows his love and is met by her fierce demand to fight Don Claudio (Ryan Wilson), who has just renounced Beatrice's cousin Hero. In his subsequent grim rebuke and challenge to Claudio Niemuth coverts Benedick the mayfly into Benedick the menacing man of principle.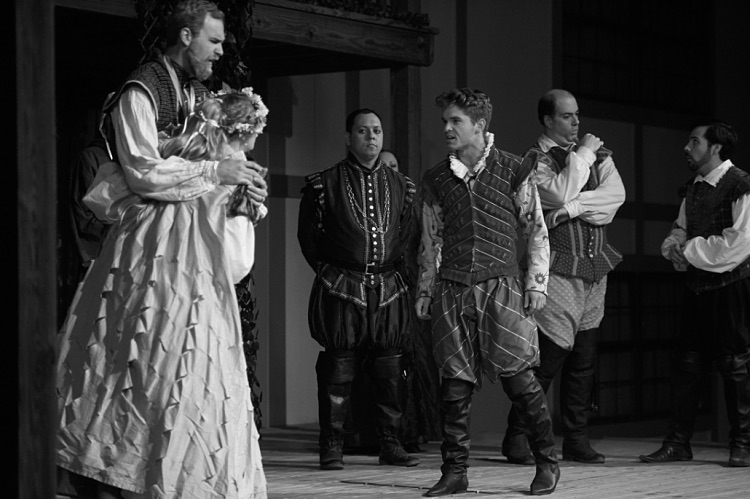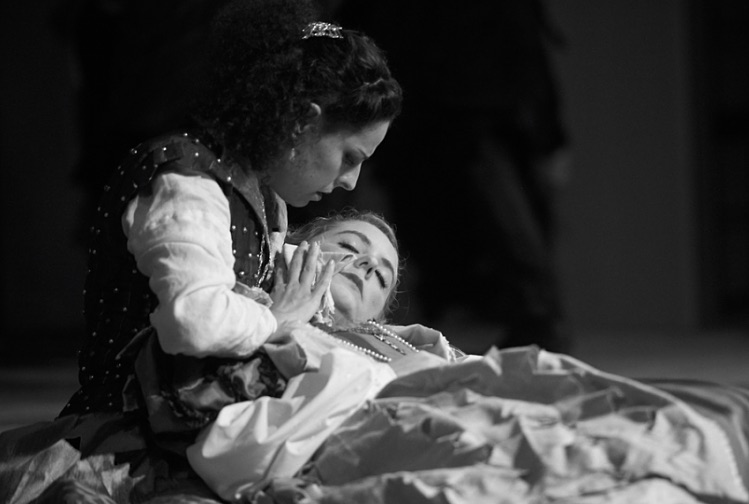 Stephanie Donowho as the wronged Hero is comely, well-spoken and moving; Ryan Wilson as don Claudio her deceived and affronted beau is equally strong, with the confidence to deliver some of his lines directly to the galleries. That's a stage practice well approved in Elizabethan stagings, but it's an opportunity often forgotten or lost.
The clown of Much Ado is Dogberry, the bumbling and lexically confused constable, a master of malapropisms more than 175 years before Sheridan coined the word in his play The Rivals. Comic confusions of words ('benefactor' instead of 'malefactor,' for example) are sometimes referred to as 'Dogberryisms,' with good reason. Andrew Bond walks away with his scenes as Dogberry, for he's decisive, humorless, crisp of diction and entirely sincere although completely wrong most of the time. Bond's slim and bearded Dogberry is a man who lives by his wits, although he's got precious few of them.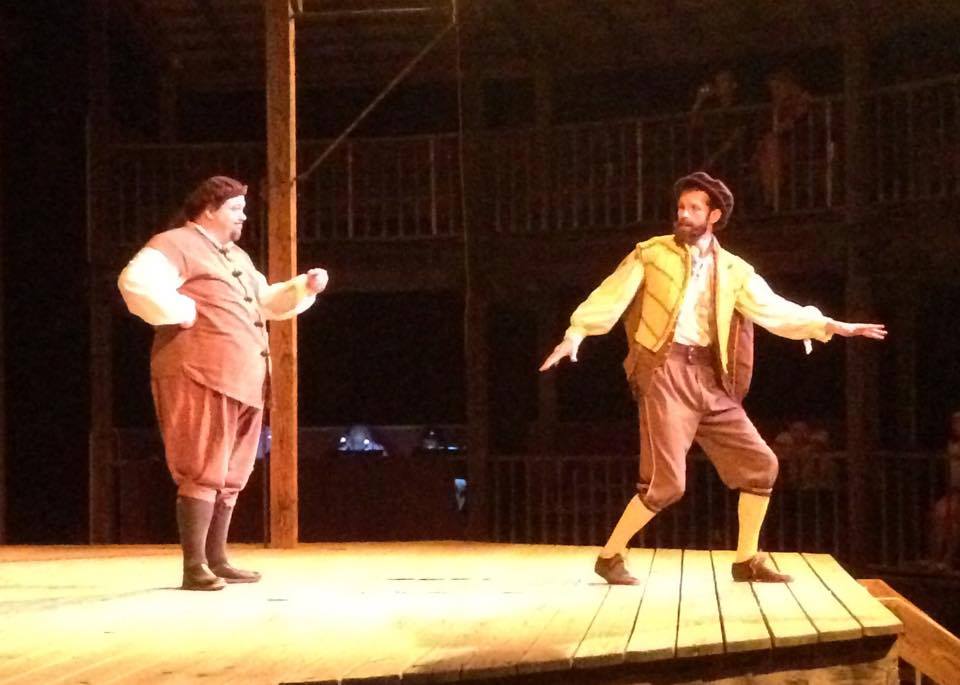 This is not a professional company, but rather a gathering of friends and aficionados. Not all have the mastery of scansion, meaning and effective controlled gesture demonstrated by those mentioned above, but everyone is audible and competent in the assigned roles.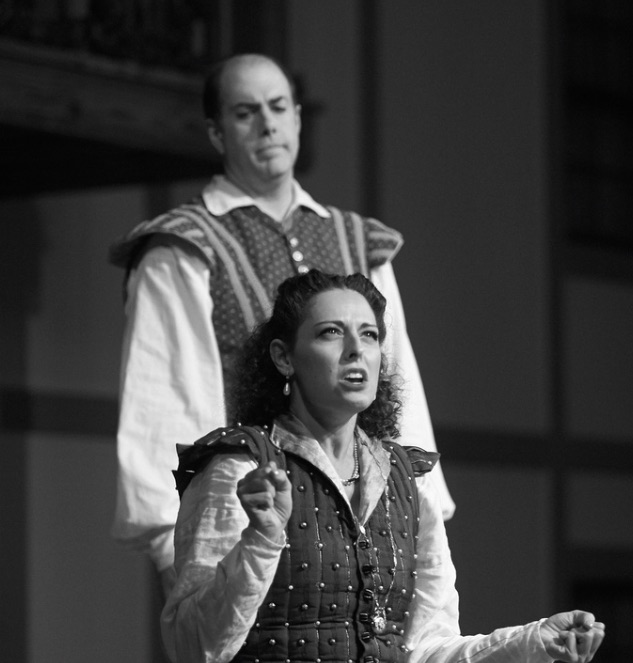 As always, the company's costumes are superbly detailed Elizabethan dress, designed by Dawn Allee. David Shankle's consort of musicians provides period musical accompaniment, much of it with recorders, and the evening ends with a choreographed dance finale reminiscent of the jigs that concluded all of Shakespeare's works, not just the comedies.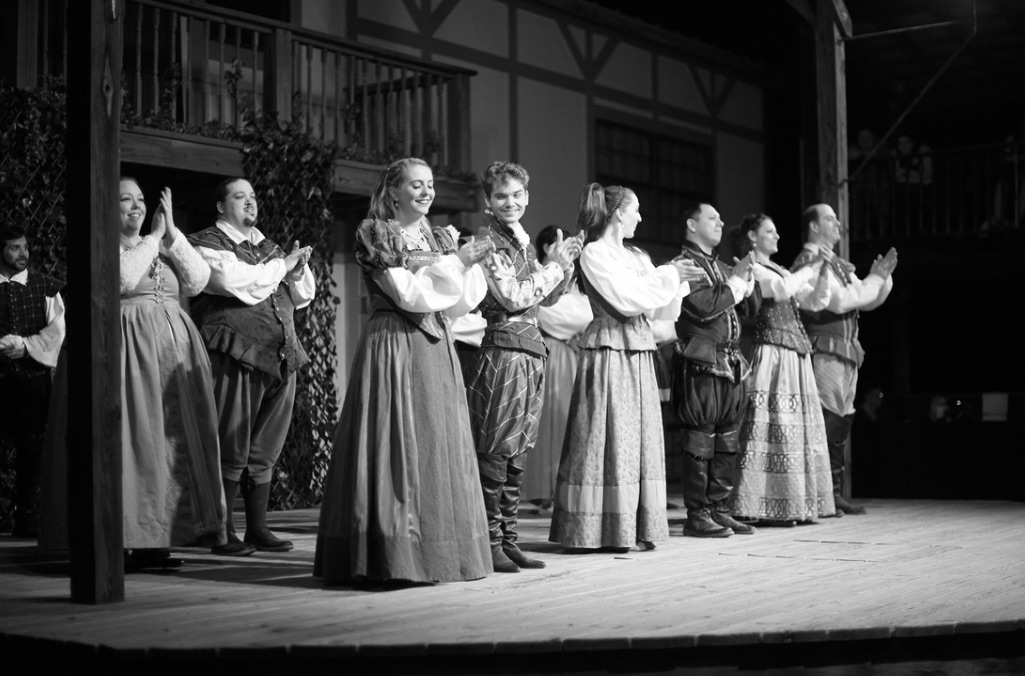 This Much Ado is a pleasure, yet another feather in the already well-feathered cap of the company. The Curtain Theatre is not far from anywhere in Austin, and the directions and map at the website make its riverside venue easy to locate. The starting bell sounds at 7:30 p.m. on performance evenings, but you can come early and purchase a warm or cold meal to consume at the picnic tables if you wish. Padded folding stadium seats are available for the modest fee of $1 and make things much more comfortable on those wooden benches. And remember, it's October; you'll probably want to have a sweater or similarly warm attire from about Act III onward.
EXTRA
Click to view the broadsheet for the Baron's Men's Much Ado About Nothing
---
Much Ado About Nothing
by William Shakespeare
The Baron's Men
Thursdays-Saturdays,
October 02 - October 24, 2015
We will be performing October 2,3, 9,10, 15, 16, 17 and 22-24th, 2015 at the Curtain Theatre, 7400 Coldwater Canyon. (click for directions)

Tickets available in advance via the website www.thebaronsmen.org or at the door.
Food available for purchase at the theatre.