Review: Misalliance by Austin Playhouse
by Michael Meigs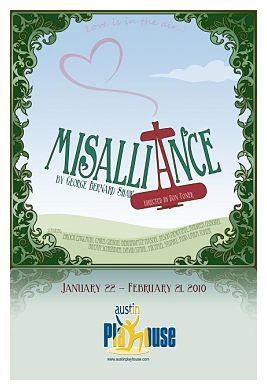 Is it only coincidence that Austin theatre is staging a rolling centenary celebration of George Bernard Shaw? Not of his birth or death -- we'd have to wait another forty or so years for either of those, since the man lived well into his 90's --but of his plays exploring matrimony.

In late 2008 Different Stages gave us a twinkling production of Shaw's 1908 comedy Getting Married and now Austin Playhouse is offering Misalliance, first staged in 1910. Despite their talky amusements, in the canon of Shaw's 63 full-length dramas they are relatively unknown. You can browse the length of the shelves at Half-Price Books or consult the catalog at the Austin Public Library, and neither will appear.

So we have all the more reason to thank Austin stages for blowing the dust off GBS's mischievous social commentary. Getting Married looked at the dilemmas and disadvantages for the Edwardian chattering classes of the marriage contract; Misalliance pushes the boundries a bit further, as the rascally Fabian looks at the delusions of romantic love and the practicalities of extramarital liaisons. He advocates a degree of female sexual liberation that must have left those proper Edwardians agog.

And that's certainly what he intended to do, for the London playgoing audiences inevitably resembled the household and acquaintances shown onstage. The Tarletons live in a well-appointed country manor, enjoying the fortune that John Tarleton (David Stahl) acquired by turning his simple tailor shop into a wholesale manufacturer of fine underwear. His wife (the humorous and subtle Bernadette Nason) is practical and without airs, a former shop girl quite unaffected by good fortune. Son John (Chris Gibson) runs the business in no-nonsense fashion while 23-year-old daughter Hypatia (Lara Toner), a cheerful scoffer at convention, wishes that something extraordinary would happen to interrupt the tedium of entertaining and turning down the earnest young men who wish to marry her.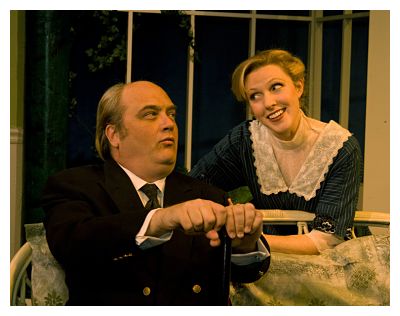 Hanging about the Tarletons are the titled idle -- Lord Summerhays (Michael Stuart) and his youngest, thoroughly spoiled afterthought of a son Bentley (Bryan Schneider), ready to launch into tantrum in an instant if contradicted.


As always in Shaw, there is plenty of talk. Practical Johnny is fed up with high-strung Bentley, unkindly dubbing him "Bunny." Bunny's stay at the manse is a sort of trial assignment to see if he might be a fit suitor for Hypatia. Tarleton the manufacturer has high self regard, an impatience with the practicalities of business, and a passion for endowing free public libraries. Hypatia teases and torments the painfully sincere old Lord Summerhays with the threat to reveal to the world -- and not least, to his son Bunny -- that in an earlier moment of impulse Summerhays asked Hypatia to marry him.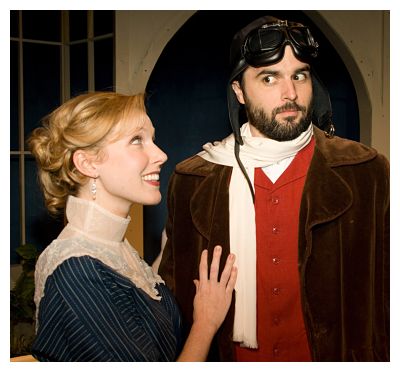 Once these relations are filled out with the aid of anecdote, harrumphing and repartee, Shaw sends a grand surprise into the middle of the long weekend in the form of a two-passenger aeroplane that sputters out of petrol and crash lands onto the nearby greenhouse. What a machina ex deos! Remember, the Wright brothers had made their first flight at Kitty Hawk scarcely seven years earlier. Incorporating the new technology to forward his intrigue, Shaw sends an Apollonian pilot with an Artemis of a passenger bang into the middle of conventional country society. Joey Percival (Jason Newman) is at the controls but it turns out that Lina Szczepanowska (Andrea Osborn) is in control.


Both of the older men are big softies, vulnerable romantics yearning for liaisons and ready to pay big time for them. The three younger men wrangle about rules and conduct and gentlemen's obligations, absurdities that Shaw mocks further by sending a self-dramatizing romantic young man with a gun (Brock England) into the situation.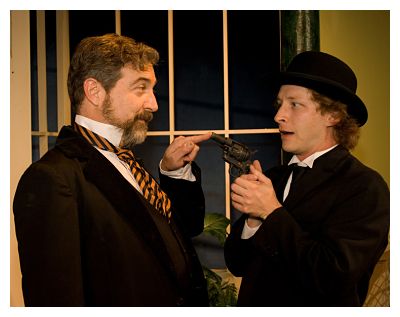 Mrs. T is unflappable, Hypatia is sweet but shameless, and Andrea Osborn as the airplane passenger is a regal, rowdy Polish-accented acrobatic treat with a resounding final monologue that must have left them all aghast in the theatre stalls.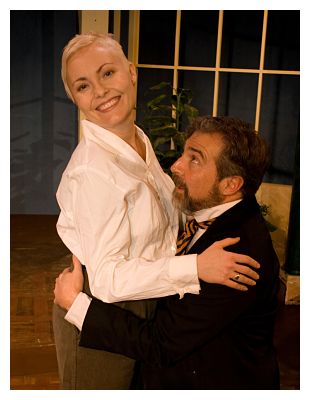 There's lots of energy, sly satire and paradox in this hundred-year-old show. Director Don Toner keeps the action skipping along, and the familiar faces of the Austin Playhouse regulars make a fine dish of it. Shaw's provocations remain fresh and relevant. Age will forever be tempted by youth, confident assertive women will triumph over foolish men, money and privilege will win no special distinctions for wisdom, and talk, talk, talk will ventilate those dilemmas in the meantime!
Review by Ryan E. Johnson at examiner.com, February 4
Review by webmaster, www.groups.yahoo.com/group/theatreaustin, February 4
Review by Robert Faires for Austin Chronicle, February 11
EXTRA
Click to view program of Misalliance by Austin Playhouse
---
Misalliance
by George Bernard Shaw
Austin Playhouse
January 22 - January 23, 2010