Review: Hold Me Well by Shrewd Productions
by Brian Paul Scipione
The Immediate Jewel of the Soul
"Good name in man and woman, dear my lord, is the immediate jewel of their souls. Who steals my purse steals trash. (…..) But he that filches from me my good name robs me of that which not enriches him, and makes me poor indeed."
These words from Act 3, scene 3 in Othello summarize both Iago's fiendish plan and one of the play's largest themes. It is the Moor's foreign background that lends greater gravity and consequence to his reputation, and therefore the loss of it also causes the forfeiture of his happiness, his marriage his wife and finally his own life.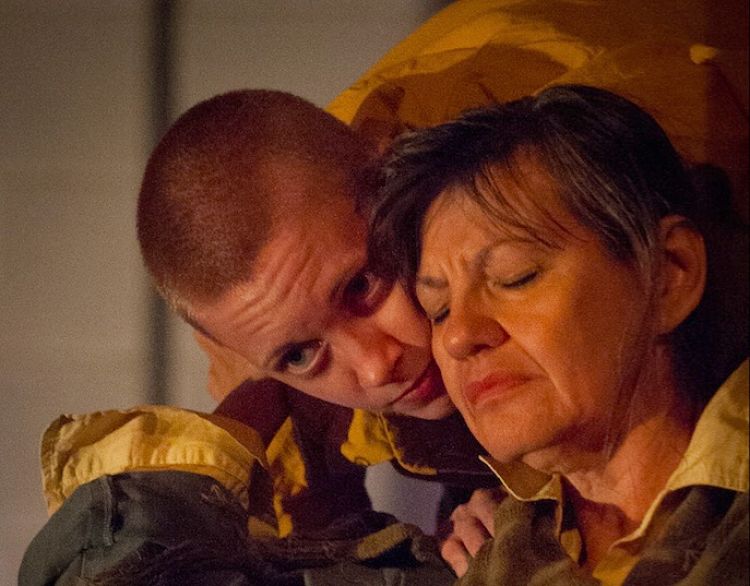 Eva Suter's new play Hold Me Well is described as a post-apocalyptic re-imaging of Shakespeare's Othello, and it is fair to say that in her vision reputation, or self-actualization if you will, has been given an even more monumental significance. You see, in her future world almost nothing is left, not even men. The woman live in shambled ruins somewhere in the middle of Texas surrounded by warring factions, dwindling supplies, and a tenuous hope for creating a generation after them. They live by their wits, their wiles, the strength of their arms to fight, and most significantly by the familial and societal structures they have created. They hold each other during despair and celebrate each other when they fall in love.
They have developed or maintained (or even resurrected) a series of rituals and ceremony. The Remember-ance Day proceedings and the marriage rites have distinctly pagan elements such as candles, flowers, herbs, blood-letting and binding of hands. It is fitting a in a desolate land that they need to keep nature on their side. This is how it is with the group of survivors we are privy to -- but in theory this post-apocalyptic life-style is practiced across all of Texas and perhaps throughout what remains of the rest of the world. These women have few tools and weapons, the lone CD player is their sole source of external mirth. What they have is each other and the deep trust that binds them together. The action of the play like that of its inspiration Othello, is the rapid dissolution of that trust: the smashing of the immediate jewels of their souls.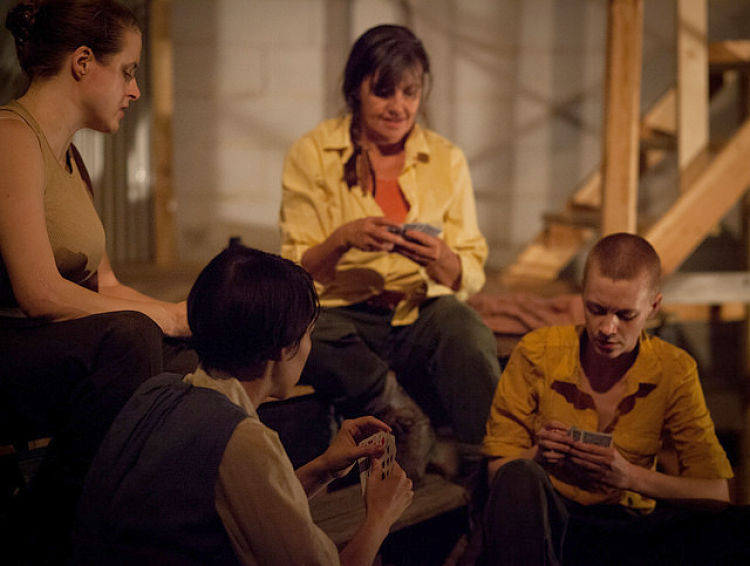 The play's title echoes Iago's words in Act 1 Scene 1, "He hold me well. The better shall my purpose work on him." In the original context, Iago delights in the fact that Othello trusts him so much that it will be all the easier to deceive him. In Suter's work we can also interpret it as "Don't let me go," "Protect me," "Believe me," "Love me."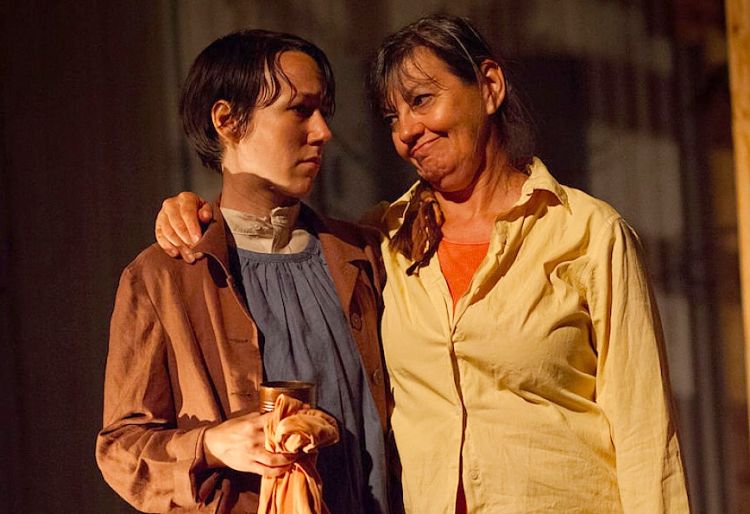 The opening curtain reveals a desolate setting of ramshackle boards, platforms and stairs that are the shattered remains of a past domicile. The actors stride towards it cautiously and begin picking at it like birds venturing into the remains of a family picnic, but this sad disoriented feeling falls away as they discover each other and familiar remnants of their past: This hesitancy turns to ease and then to joy as they fall into the embraces of old friends. It is not much of a home but they appreciate what they have. They begin to speak of the world around them. We learn of the fighting and much needed supplies brought to them by a Legion out in the distance defending them from the Secessionists. Hope creeps into their dialogue, and the forbidden topic of leaving and seeking out new life crops up again and again. The elder character, Amelia, dismisses the idea repeatedly and is often seen seeking solace in her bottle of liquor. The younger three quibble anyway. Casey wants to leave and fight; perhaps that is better than waiting. Raquel is convinced that life must be better anywhere then here, but Des is more pragmatic and gibes at her "There is no island of lost men."
There may not be men or a surviving convent of Sisters in the South but what they know for sure is that there is the Stock. They speak of it reverently, almost chanting:
"The stock is everything."
"The stock is hope."
"The stock is life."
I assumed (as much of the audience does, I assume) that stock is just that, food and other necessary supplies coming from the Legion so that they may continue to survive in their remote outpost. Then Odele, a powerful and well known high-ranking soldier from the Legion, arrives with this very stock and in a few scenes we learn what it really is. It is life, in a way.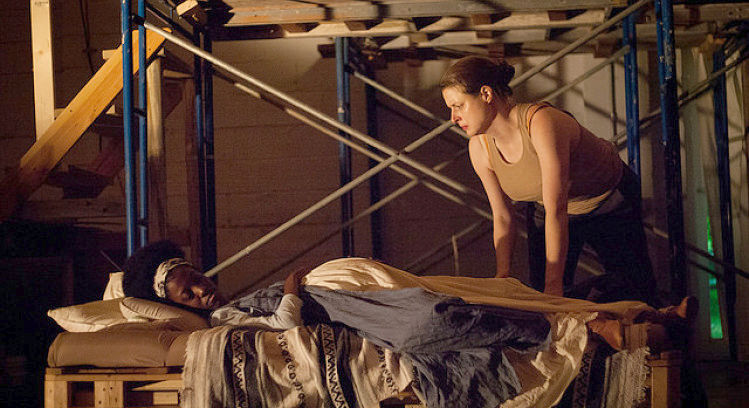 Suter's play-writing is masterly: well-paced, interspersed with some comic relief but overall moody and tonally consistent. There are no wasted words or scenes. In fact, every moment of the play builds on the preceding with deliberate and energizing certitude. Like modern movies or Netflix serials, every ten minutes or so there is another twist, another mini-cliffhanger drawing the audience along with suspense-ridden curiosity and amplified intensity. You may suppose that you know the story's next step if you are well read on the original. Des is Desdemona. Odele is Othello. Casey is Cassio. Yet Suter is ahead of the audience the whole way, for she allows the beloved tropes to remain but updates the story within its neo-historical setting and singular gender context. If it proceeded or ended the same way as Shakespeare's tale, it would fall short and feel hollow. Her rich and fully actualized characters find their own fates. It's tragically beautiful to watch (sorry no spoilers here -- you must go see it for yourself).
Casting and direction are superb. One can almost believe that there is no cast, for the actors have all embodied their characters to the point of possession. They react to each other purely and genuinely, no showboating, no English-style stage acting: One could imagine these passions running so wild on the stage would be the same if there had been no audience in the room. Even the curtain call was a precious moment, as if the guffawing and hooting crowd before them had just suddenly appeared before them. And this too is fit. The characters are on a raft adrift upon an empty sea with no hope in sight. And so we the spectators are the ghosts in the room, while the characters are the only true material beings.
---
Hold Me Well
by Eva Suter
Shrewd Productions
Fridays-Mondays,
July 15 - August 07, 2016
Off Center
2211-A Hidalgo Street
near Robert Martinez and E. 7th Street, behind Joe's Bakery
Austin, TX, 78702
Friday, July 15 @8 pm
Saturday, July 16 @ 8 pm
Sunday, July 17 @ 5 pm
Friday, July 22 @8 pm
Saturday, July 23 @ 8 pm
Sunday, July 24 @ 5 pm
Friday, July 29 @8 pm
Saturday, July 30 @ 8 pm
Sunday, July 31 @ 5 pm
Industry Night: Monday, August 1 @8 pm
Friday, August 5 @8 pm
Saturday, August 6 @8 pm
Sunday, August 7 @5 pm
at The Off Shoot, 2211A Hidalgo Street, Austin, TX 78751
Tickets $15 -$25 plus service fees via