Review: Emma When You Need Her by Shrewd Productions
by Michael Meigs
The immersive experience of an ensemble piece like Emma When You Need Her can be disconcerting. You walk into the black box of the Vortex Rep to find people milling around, and someone — who was it, now? — offers you a chunk of chalk and invites you to write on the unadorned walls. Well, why not? Chalk thoughts and images bloom as the seats fill. The cheerful troupe of actors in ragtag attire swirls about the playing space as if they're at a Vortex mixer out in the yard.
Rudy Ramirez brought Emma Goldman's memoir Living My Life to these actors for UT's Cohen New Works festival. Their workshopped version played several times there in April and then moved this month to the Vortex with support from Shrewd Productions. Shrewd's Shannon Grounds, only a few years older than others in the cast, is prominent in this telling, taking the role of the middle-aged Emma after that ardent radical, stripped of her U.S. citizenship, traveled to the brave new world of Russian communism in the mid-1920s.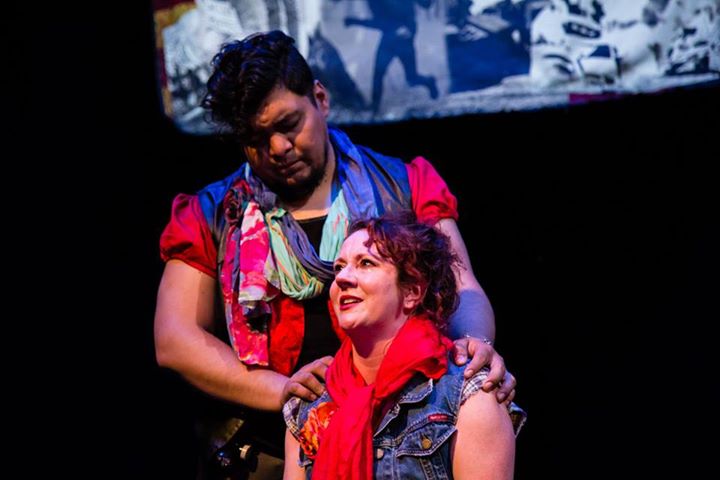 Goldman's life was full of incident, conflict and zeal, and Ramirez with the assistance of the ensemble has mounted a vigorous, thrusting and often jarringly noisy staging of it. As a young German Jewish immigrant in the early years of the twentieth century she rejected her family and faith, setting off aflame with idealism to join organizers of protests against worker exploitation. Emma was radical in just about everything she did, from street demonstrations to anti-capitalist lectures and soapbox harranges to unapologetic support for all varieties of free love. Young and eloquent, she rose to prominence (or notoriety) when a German anarchist newspaper dispatched her to tour labor halls of the industrial Northeast with their message.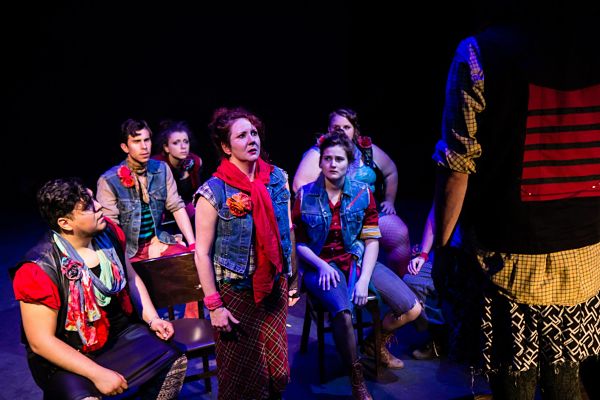 The stage version is highly choreographed but tied closely to a text drawn directly from Goldman's first-person autobiography. Avoiding the predictability of chronological narrative, action leaps about in time and space. So does the role of Emma. Grounds passes the radical torch to other women in cast, each of whom depicts an Emma as ardent and emphatic as her predecessor.
There's a protean churning in the cast, for these twelve actors gather as crowds, audiences, workforces and hounded dissident conspirators. With a bang and shift of the wooden chairs that constitute virtually the entire set, scenes change and individuals step out, sometimes up, and deliver several full decks of cameos and secondary characters. Over the 90 minutes of turbulent action the audience rapidly gets to know these faces and has a sense of knowing these actors. The anonymity of the ensemble masks them, however, and that's the disconcerting aspect. A flimsy program sheet provides Ramirez's eloquent personal homage to Goldman and her work, but none of the names in the cast list is linked to an onstage persona. That's a particular disappointment to the theatre aficionado captivated by any of these emphatic individual turns.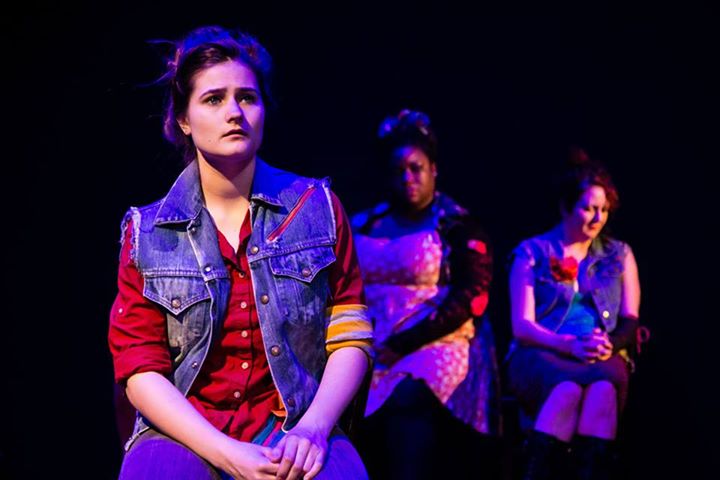 Emma's accusations of capitalism and her enormous later disappointment at the outcome of the Russian revolution provide the historical themes, but the focus of this Ramirez/Shrewds/Vortex story is really on Emma's non-conformity and individualism. She's absolute in her beliefs, including her endearing attachment to beauty, love, flowers and theatre. Emma's self-certainty is seductive, especially to those seeking recognition of their own values and individual life choices.
Emma When You Need Her with its historical depictions has little to teach us about today's sociology, politics or economics other than the confirmation that injustices and inequalities continue to exist. The dynamic ensemble has boatloads of zeal but no more solutions than the rest of us. Perhaps the fact that company members have the freedom, leisure and space to deliver that message is palliative; but the persistence of those issues is a reminder that we do still need Emma and idealists like her.
---
Emma When You Need Her
Shrewd Productions
Thursdays-Sundays,
May 01 - May 16, 2015
Thursdays - Sundays at 8pm

TICKETS: $30 Priority Seating, $20 General Admission, $10 Student/Senior/Artist