Review: Durang Durang by Oh Dragon Theatre Company
by Michael Meigs
The 1994 collection of short theatre pieces by Christopher Durang done by Oh Dragon Theatre Company at the City Theatre is a writer's wastepaper basket, the sort of collection of scribblings that the Harry Ransom Center might treasure and ponder some twenty years from now. They seem wildly uneven.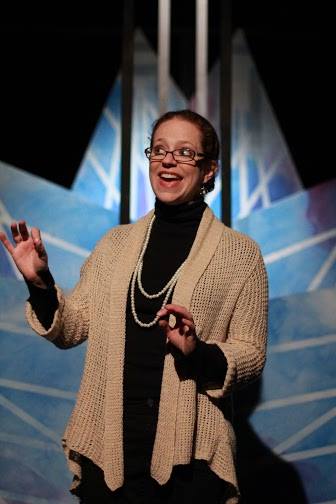 Everything before the intermission I found dismaying. Not because of the actors or the direction, except for the choice of the material in the first place. The opening piece, a prologue, is a comfortable discourse on drama and the theatre by a Mrs. Sorken from New Jersey, drawn by the playwright with indulgent contmpt and apparently representing the audiences he imagines to be attending his plays. Kristin Hall does Mrs. Sorken in something like her own persona, that of a high strung mid-20s Energizer bunny, a concept I found off putting. The texts suggested strongly instead a late middle-aged Hadassah lady from the Jersey suburbs, a persona of pondrous foolishness and ignorant self-certainty.
After that the playwright does his inadequate best to parody, first, Tennessee Williams's The Glass Menagerie and, second, mostly Sam Shepard's A Lie of the Mind. Distinctive works both of them, dark and somewhat grotesque, but each piece made -- and continues to make -- a deep, spellbinding and contrarian impression on the American psyche. I realize that I must not care for parody, because Durang's treatment of them struck me as pathetic and stupid. Sister Laura's delicate symbolic glass menagerie becomes a collection of cocktail swizzle sticks; Laura is played cross gender by Kevin Hippler as a nitwit with none of the vulnerability that catches the heart in the original. The Gentleman Caller, that awkward and well meaning outsider, becomes a brash butch roustabout, played by Chelsea Beth.
The Shepard piece is almost as much a travesty, with Nicolaus Weindel playing the two violent brothers as halves of one man's split personality. Their/his dimwit drunken mother on the other end of the phone line, played by Kate Clark, is just about as disconnected from the world about her. I found Shepard's original work borderline offensive; reviewing a St. Ed's production of A Lie of the Mind at the Mary Moody Northen Theatre, I commented that Shepard's drama "concentrates on degradation, limitation and loss. [He] is writing about frozen hearts and destroyed lives." Durang's parody of the work fills up the stage with idiots, madness and incest done by grotesque no-hoper characters, in effect mocking our gullible empathy with Shepard's creations.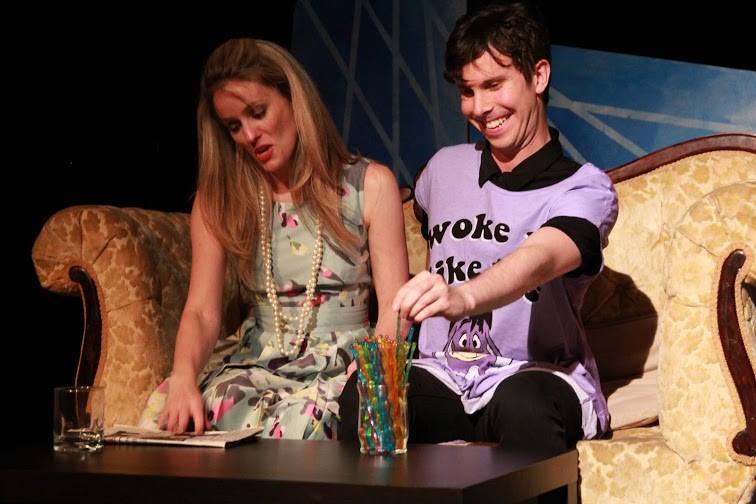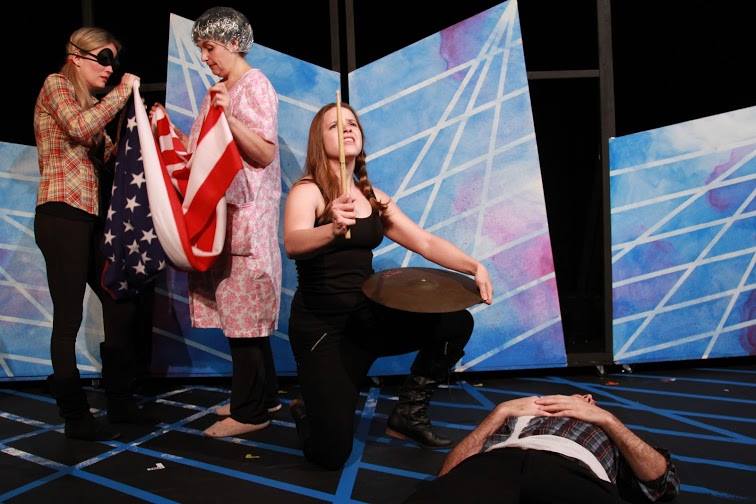 Intermission brought respite and a subsequent change of course. Each of the three sketches in the second half of the evening was coherent, mostly non-referential, and entertaining.
In Nina in the Morning a nameless narrator (Donald Evans) presents Kate Clark as wealthy languid New York matron with little better to do than await the return to the City of her vacationing plastic surgeon. Her Butler Foote (Weindel) , a stone-faced former dentist, deals with her three bothersome children (all played by Hippler) while the bored Nina contemplates her choice between suicide and lunch. It's a clever portrait. Durang commented to his publisher that Manhattan audiences, trying to identify it as another parody, supposed he was referring to Edward Albee's work, while he thought of it as an oddity on the lines of Edward Gorey. I caught a whiff of the ennui of Chekhov's stage work, enhanced by the use of the omniscient narrator standing at stage left.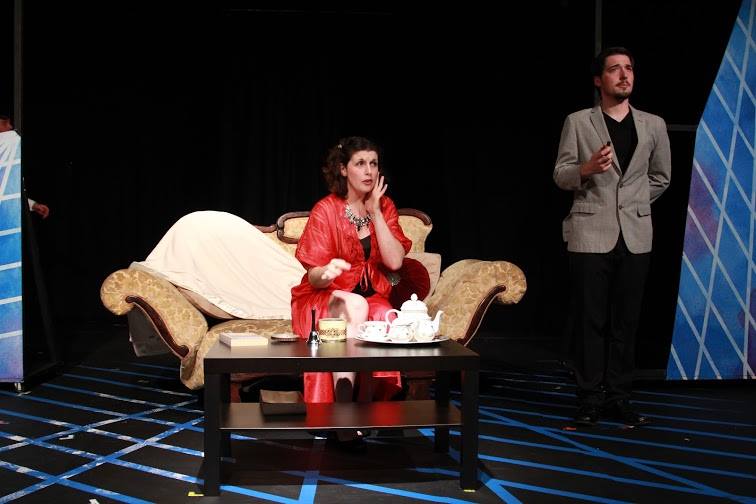 A hellhound from the past appears in Wanda's Visit. Marsha and Jim open the story. They're a comfortably married and perhaps somewhat bored couple played by Ashley Sauls and Weindel. Their droll glassy-eyed interview might be occuring on television. Wanda, played by Chelsea Beth, descends upon them, demanding and provocative. She was Jim's high school prom date all those years ago. Wanda loudly tells them of her life of confusion, frustration promiscuity and underground activity. Playwright Durang, director Dillon Yruegas and the players make something real, increasingly tense and increasingly comic out of this visitor's revelations and intentions. Jim's bewilderment builds and Marsha's surprise and annoyance transform subtly into desperation. Wanda has no social sense whatsoever; she monologues through the night, intruding into their bedroom. Having created the dilemma, Durang cuts it short, tailoring it to one-act sketch length with a couple of masked dei-ex-machina.

The final bit is a petulant but funny character sketch of a Hollywood promoter (Hall) who breezes into the City, interrupting a writer (Hippler) folding his laundry to convoke him to lunch at the Russian Tea Room. Hall's energy and fast talk is comic and entertaining as she pitches an absurd script concept. This priest and this rabbi fall in love with one another, see? Wonderful opportunity for jokes and warm-hearted drama! The concluding piece is almost a monologue, with the writer, the imagined priest (Sauls) and the imagined rabbi (Chelsea Beth) hardly able to get a word in. There's a neat little turn at the end involving that pile of unfolded laundry once the astonishingly superficial motor-mouth promoter sweeps out of the restaurant.
EXTRA
Click to view program sheet for Durang Durang by Oh Dragon Theatre Company
---
Durang Durang
by Christopher Durang
Oh Dragon Theatre Company
Thursdays-Sundays,
April 07 - April 17, 2016
April 8th - 17th, 2016 at The City Theatre
3823 Airport Blvd. Suite D
Austin, TX 78722

Thursday, Friday, and Saturday evenings @ 8 PM
Saturday and Sunday MATINEE performances @ 3 PM

www.ohdragontheatre.org

Tickets $25 priority admission,$15 general admission plus service fees via