Review: Disgraced by Ayad Akhtar, Austin Playhouse
by Michael Meigs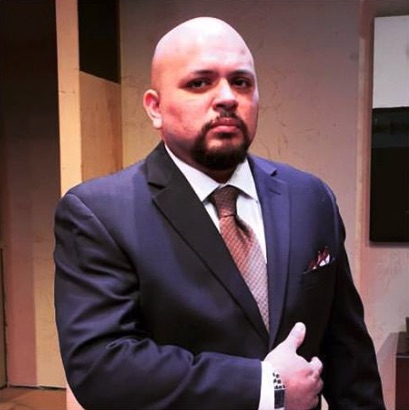 J. Ben Wolfe is a powerful but subtle actor, and that's just what's required in Ayad Akhtar's brooding drama Disgraced. This ninety-minute one-act in four scenes delves deep into the psyche of Amir, the protagonist, who's a tense, talented and aspiring attorney in a New York law firm specializing in big-money litigation. Amir is handling big issues, both at work and in his personal life. His family immigrated from Pakistan when he was eight years old. This is a man for whom a cross-cultural upbringing has created unbearable tensions; he's bleeding and burning inside, crucifying himself with a sense of inferiority and unbelonging.
Religion, race and idenity are at the heart of this story. Playwright Akhtar gives a smart and cynical picture of New York sophisticates who're supposed to be above all that. Amir, who angrily scorns his Islamic upbringing and yet is deeply marked by it; his Anglo wife Emily the artist, an unbeliever writ large whose fascination with Islamic art forms has the shallowness of the latest Vogue magazine; Isaac the art dealer who's obviously a non-practicing Jew; and Isaac's wife Jory, an attorney from Amir's office, an African-American with style and a sharp tongue, a successful escapee from the ghetto according to her own report. Two married couples, each with a worker bee and a drone. What could possibly go wrong?
A lot, of course. The four of them get along very well early in the piece, and the cocktail chatter of their exposition, sharp and vivid, offers a number of funny quips. But when a playwright puts an urban group this diverse together on stage, you're right to get that Star Wars hunch (('I've got a bad feeling about this'). The arc of this story somewhat resembles that of Yasmina Reza's God of Carnage, in that the veneer of civilized behavior is stripped away by ugly events that leave no one looking good.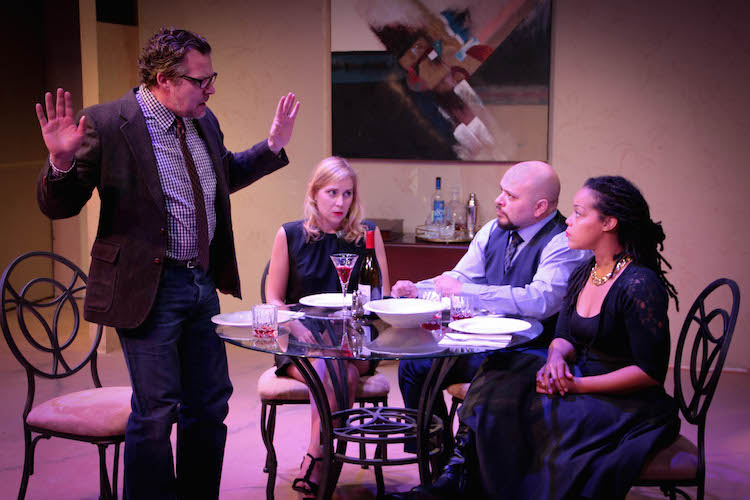 That Hobbesian thesis is fair game and pretty good entertainment, especially when executed by this capable group of actors. Wolfe keeps Amir always on an edge that's closer to a razor blade than to mere self consciousness. Karrasch as his artist-wife is initially something of a Barbie with a Bryn Mawr education, but she's working without much thread from the playwright in the first half. One wonders whether in pursuit of a theme Akhtar was making her deliberately shallow in the opening. Developments in later scenes gave the talented Karrasch the opportunity to rescue the character and to come back from the confusion of an early fluffed line mixing up Hindus and Muslims. Crystal Bird Caviel gives Jory the woman attorney seriousness, sass and, eventually, cold fury. Michael Miller's Isaac is a soft schlub, appropriately, something of a Baby Huey.
Akhtar's thesis for this piece burns unpleasantly clear. He's concentrating not on crossing cultures but instead on the deep psychic conflicts experienced by Muslims in the relatively godless urban West. Amir resents his Pakistani Muslim heritage and has tried to abandon and deny it; his nephew has tried to assimilate in the United States and disguise his origins, even to the extent of changing his first name from 'Hussein' to 'Abe.' Each of those attitudes will change under pressure during the course of the piece. Amir's earlier subterfuges and a series of unfortunate events brand him as unreliable and perhaps dangerous in the eyes of his coilleagues, provoking his self-hatred to emerge in violence; Hussein finds himself singled out and put under pressure by oppressive law enforcement and responds with anger and alienation. Harold Fisch as the nephew was weak and at times almost inaudible in the opening but became a fierce and pained antagonist to Wolfe in the dénouement.
Akhtar draws an ugly picture in this play, and it's easy to imagine a faithful Muslim, however sophisticated, interpreting this as yet another hateful caricature. The thoughtful and complex exchanges across cultural divides are driven out of the audience's minds when the despondent, aggrieved and drunken Amir turns to despicable violence. It's not much different from what a good ole boy with a skinful of corn whisky might do; but in the current climate of incomprehension and fear fed by low politicians and the media, Disgraced is at best a disservice. While seeking to present a story that comes close to a tragedy of a protagonist undone by his own fatal flaws, it provides instead a picture of an American Muslim that all too many would be willing to generalize into a template for 'those people.'
EXTRA
Click to view the program of Austin Playhouse's production of DISGRACED
---
Disgraced
by Ayad Akhtar
Austin Playhouse
Thursdays-Sundays,
January 15 - January 31, 2016
Austin Playhouse at Highland Mall, Thursdays - Saturdays at 8 p.m., Sundays at 5 p.m.
Tickets are $24. All student tickets are half-price. $3 discount for Seniors 65 and up. Group rates available - for tickets call 512-476-0084.