Review: Der Bestrafte Brudermord by Hidden Room Theatre
by Michael Meigs
William Shakespeare is a time machine. We attend performances of his work and it transports us four centuries or more back in time, to an imagined realm of rich language, amazing characters and astounding intrigue. Even in stagings done in modern dress, like that Beach Boy Love's Labor's Lost staged by Robert Faires for Austin Shakespeare in 2011, or in altered context such as artistic director Ann Ciccolella's Latino-flavored Romeo and Juliet for the same company two years before that, we're not deceived. He takes us to the roots of our English-language cultural consciousness.
Beth Burns, that remarkably creative theatre director who's graced Austin with her presence since 2008 or so, has ridden that time machine as well as anyone else (videlicit a charming Twelfth Night that year and the sweeping Rose Rage, the compendium of the Henry VI plays in that earned four of Austin's 2012 B. Iden Payne theatre performance awards, including those for most outstanding drama and best direction of a drama).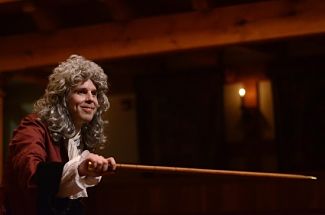 Burns has again used her wit and scholarly connections, and this time she cleverly takes us only part way back, like Dr. Who steering his TARDIS to sometime around 1700. The outcome is fascinating. Dr. Tiffany Stern of Oxford University has been working on a manuscript in German, found about 1710 somewhere in Germany. Der Bestrafte Brudermord (literally The Fratricide, Punished) is a script clearly drawn directly from Shakespeare's Hamlet, tracking the action of that great work in all major details. Some of the names are different and late in the speeding story an oddball courtier named Fantasmo turns up. It's far shorter than any of the extant versions of the original -- those of the first and second quartos and that of the first folio, all of which are usually conflated into a walloping long text (by the way, that's why Kenneth Branaugh's 'full' cinema version is so long).
Stern's explanation is that Brudermord is a remnant from some company of wandering actors making their way across Germany. Much like the Tragedians of the City in Hamlet, those unknowns had a fine repertory writ in choice English, but they presented their shows in markets and inns where almost no one understood the language. An intermediary or interpreter would explain to the assembled crowd in German what was going on. There's even a specific word for that function --Dolmetscher -- that came into German via Hungarian, and previous to that, from Turkish. It specifically signifies someone who delivers the meanings across the language boundary using both speech and gesture.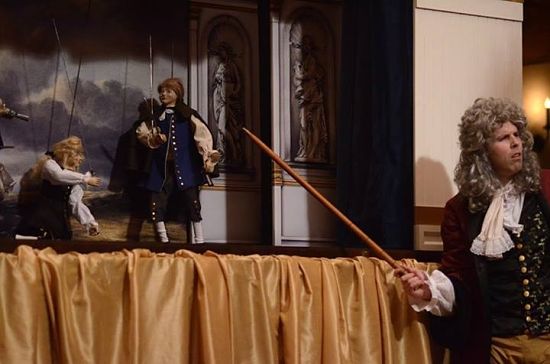 Shakespeare was unknown in Germany at that time. Not until the Romantic period in the early 1800's did August Wilhelm Schlegel produce the translations into German that became standard, as edited by Ludwig Tieck. Before then virtually no one in Germany knew the English bard -- with the honorable exception of the great Goethe, who in 1772 at the age of 23, early in his own intellectual apprenticeship, organized the first German 'Shakespeare Day' in the home of his parents.
Dr. Stern looked into the Brudermord text and studied playbills and other material from the period and had her own creative inspiration. Given the notion of the interpreter, might not this text have served just as well for puppet shows offered by the itinerant company? After all, the deep thought, the poetry and the soliloquies had all disappeared; that version, reduced rather than simply abridged, offered the opportunity both for a bravado visual performance in a puppet theatre and for a lively running commentary, complete with character voices, by a flesh-and-blood actor.
In fact, respecting those theoretical origins, Burns assembled a cohort of actors for the piece. Four of them became the puppeteers, busy in the rafters of the puppet theatre: Joseph Garlock, Ryan Hamilton, Jeff Mills and Kim Adams. Stationed in front of the entertainment and guiding the audience were two more: Judd Farris and Jason Newman.
Jennifer Rose Davis provides the music and much else. Davis is a marvel as an interpreter of the music, costume and staging of Shakespeare; she has designed and produced period costume for productions by the Baron's men, she has directed music for them and for Burns' Hidden Room, and she directed a fine Midsummer Night's Dream for the Baron's Men in 2010. Davis imagined and sewed the intricate costumes for this stable of perhaps two dozen puppets created by Mystery Bird Puppet Theatre of California, each one a good two feet high. She's also credited for designing the puppet booth, the props, and the scenic backdrops within the booth, each of them roughly four feet high and twelve feet across. Hidden Room's puppets have almost as many eye-catching backdrops as does the venerable basement theatre at the Scottish Rite in Central Austin.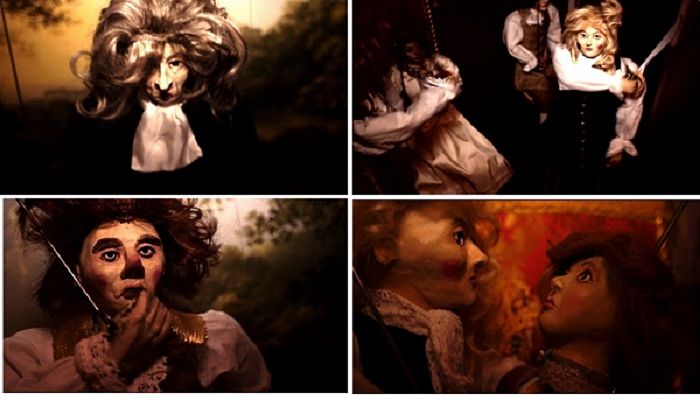 They present Der Bestraffte Brudermord in the locale from which the company took its name: the 'hidden room' on the third floor of the building of the York Rite Masons on 311 West 7th Street downtown. It's a long, relatively narrow hall. The company's monumental puppet booth sits at one end. Folding chairs are set in rows before it. For the late there is acceptable seating well forward along the sides of the hall and for the limber there are some bulky cushions in carpet fabric on the floor immediately in front of the front row, only about six feet from the stage. The puppet stage is raised sufficiently to provide acceptable sightlines even for those further back in the hall, and the actor-interpreters stand and move about throughout the show.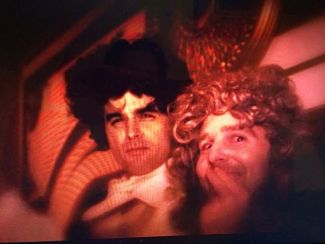 And it works. Of course, we have advantages that those early German crowds didn't have: we know the story. But the concept is fun and fascinating. Judd Farris, who has the greater part of the narration, establishes himself as a droll, jigging character in his flowing wig and fancy coat, one capable of channeling several characters simultaneously. He comments, vaunts, enlists the cooperation of the audience, and even carries out a duel with himself, clashing a pair of short swords while grunting and exulting. We have as much fun as fifth graders watching sock puppets, but we're treated to quality far higher than that. Jason Newman strums away on some stringed instrument and interjects occasionally -- curiously for an actor with such an extensive resumé, on opening night he often failed to articulate or project, and when he voiced the clownish Fantasmo the lines spoken in his would-be French accent were completely incomprehensible.
The Hidden Room presented this piece at the American Shakespeare Center in Staunton some months ago, in a curious reversal of procedure -- usually one runs a work at home to get the kinks out before taking it on the road. But that didn't faze them. They performed this curiosity for a full hall of Shakespeare junkies at the Blackfriars Theatre and got a standing ovation. It's a clever, entertaining experiment in imagination, one that'll let you gulp all that Hamlet stuff without pain and in fact, with lots of the delighted laughter of discovery.
---
Der Bestrafte Brudermord
by Anonymous after William Shakespeare, translated by Christine Schmidle
Hidden Room Theatre
Fridays-Sundays,
January 17 - February 08, 2014
Fridays and Saturdays at 8 p.m., Sundays at 5 p.m.
Running time: 75 minutes
All tickets are pick your price $15-$30, with a suggested ticket of $20
Look for a mysterious figure outside the front door. The password is "Horatio."