Review: Arden of Faversham by Hidden Room Theatre
by Michael Meigs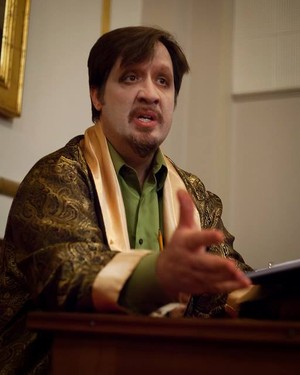 Who knew that dusty old unperformed plays could be such fun? The Hidden Room, that admirable project of Beth Burns, is devoting three weekends to bringing back to life Elizabethan scripts that may -- or may not -- have had William Shakespeare as an unacknowledged collaborator (mind you, almost everyone was uncredited in the theatre of the day). Scholars have attributed 37 works to the Bard, and there's always speculation about more.
These are not amateurs standing awkwardly with scripts in their hands. Burns recruits top Austin talent for these staged readings. They're folks you've seen at Austin Shakespeare, at the Zach Theatre, at Penfold Theatre and in large part in the antics at the Hidden Room, an impressive long hall upstairs at the York Rite Mason Temple on W. 7th Street downtown. Rehearsals were limited, as in Shakespeare's day, but the presentations are fully blocked, costumed and characterized, the next best thing to all-bells-and-whistles formal stagings. The fact that the actors are carrying scripts does very little to diminish the drama (and the infrequent occasions when someone loses his place in the script added to the laughter).
Arden of Faversham is a murder story (not a trace of mystery to it, for we all know that Robert Matney as the foolishly credulous Arden is going to get it eventually), and it's a comedy.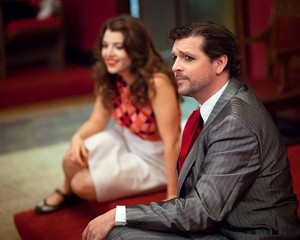 It seems that everyone is trying to figure out how to do him in -- his duplicitous wife Alice (played by the brassy Barbara Chisholm) doses his soup with poison; her lover the dandy Mosbie (Nathan Jerkins) would like to top the cuckolded Arden with a tombstone; resentful tenant farmer Greene (Lowell Bartholomee) agrees to hire ruffians; servant Michael (Isto Barton) is won to the scheme by the promise of Mosbie's sister Susan (Julia Lorenz-Olson); Clarke the painter (Karim Badir) offers a painting that poisons on sight and a crucifix that's fatal to touch; and murderers Black Will (Jason Newman) and Shakebag (Joseph Garlock) are the most comical pair of Sopranos-style mugs ever to try and fail repeatedly to get their man. Everyone has a good time with this one -- so much so that Matney, once they finally, finally caught up with him, couldn't resist a grin and chortle as he loomed dead in the closet.
Is it Shakespeare? No, almost certainly not; this 1590 piece was staged at the very beginning of Shakespeare's activity in London, and its blood-and-thunder plot, based on a contemporary murder investigation, was calculated to please the groundlings more than the lordlings. But there are moments -- particularly the soliloquy toward the middle when the seducer Mosbie broods on the confusion and vileness of the undertaking -- when you hear texts that just might have served as precursors to some of the great meditations.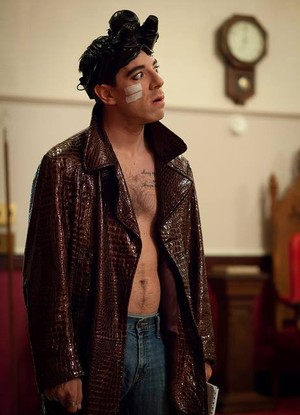 So if you missed it, too bad for you -- but there are two more of these apocrypha, wistfully ascribed by some, at least in part, to Shakespeare. They run Friday-Sunday of upcoming weekends. Next up: the fairy taleMucedorus, a great success back in the day.
This is painless education in bardology, theatre, and staging. And, as always with the Hidden Theatre, it's a great deal of fun.
---
Arden of Faversham
Hidden Room Theatre
October 17 - October 19, 2014
The shows ran October 17th through November 1st, 2014 to standing ovations, hearty press, and jubilant scholars. It begins what we hope will be only the first of such apocryphal endeavors.