Review: The Catastrophist by Austin Playhouse
by Brian Paul Scipione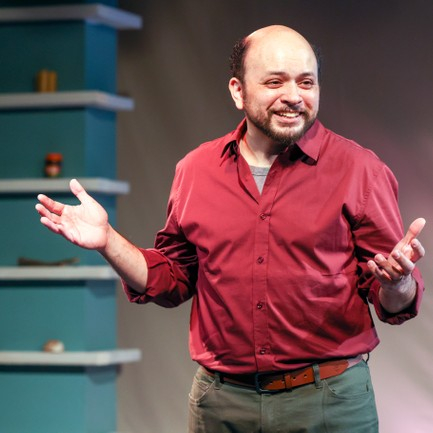 The Catastrophist is the story of virologist Nathan Wolfe, who tracks viral pandemics. It's based on the real-life work of Dr. Nathan Daniel Wolfe and was written by his wife, playwright Lauren Gunderson (The Book of Will, Silent Sky, and Miss Bennet: Christmas at Pemberley). Gunderson contrasts the wide world of science with the more personal story of confronting one's own mortality. Commissioned by Marin Theatre Company in 2020, the play premiered as a digital theatrical experience in January 2021. Austin Playhouse's production is the first live theatrical performance.
Though it's extremely timely, the story is not directly about COVID-19. Hauntingly, after research in Africa and Southeast Asia, Wolfe first warned the world in 2008 that it was not ready for this type of pandemic. That's when he invited journalist Anderson Cooper and CNN's Chief Medical Correspondent Dr. Sanjay Gupta to Cameroon to show them how the increasing intersection of humans and animals might result in a global pandemic. Wolfe's findings were duly reported but his warnings were unheeded.
In the interview with Cooper, Wolfe stated "They just didn't get that an ounce of prevention is worth a pound of cure. It is as simple as that." In 2020, Wolfe went on to work with the German insurance firm Munich Re to craft pandemic insuirance for major corporations. Again, his warnings were unheeded. No one bought them.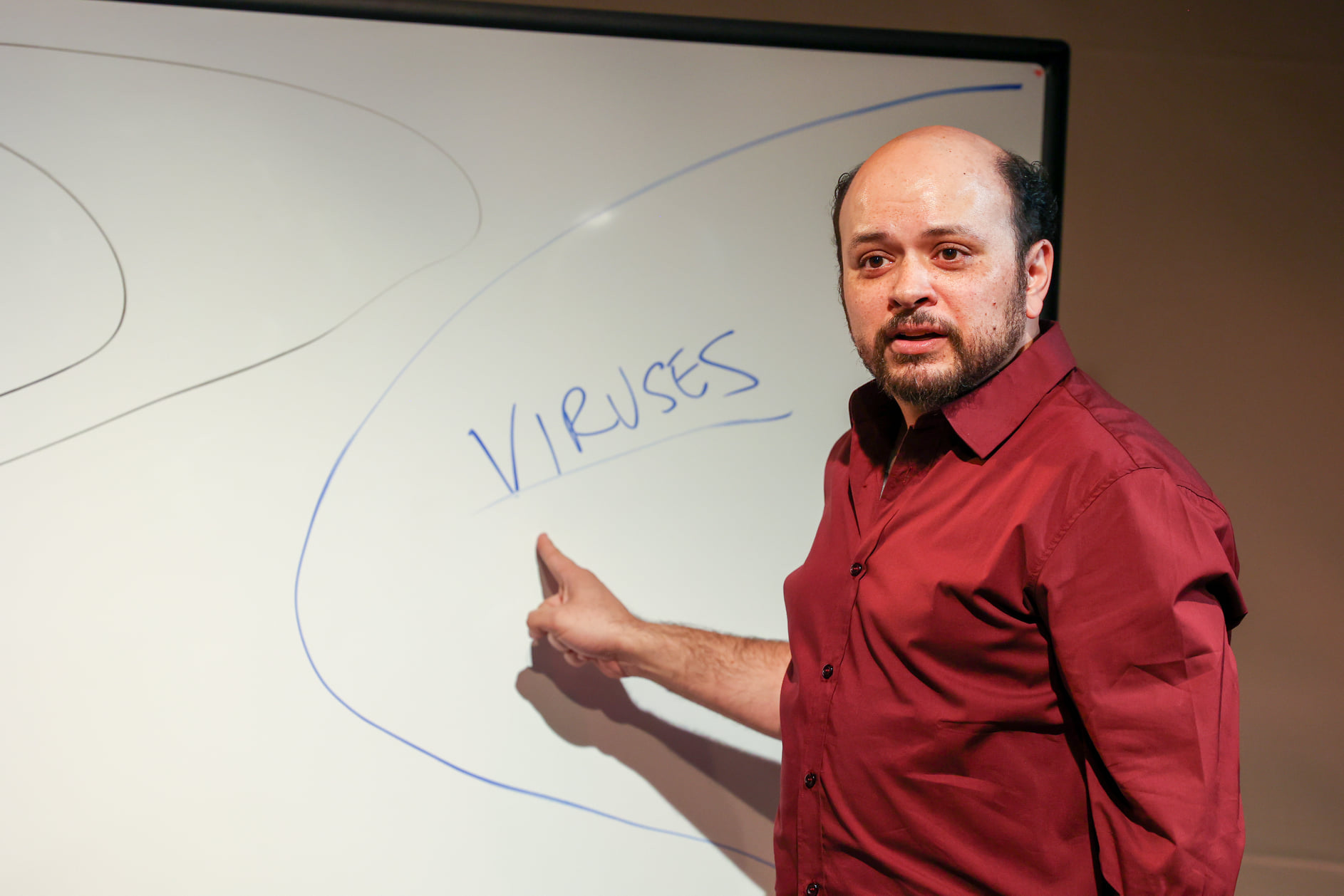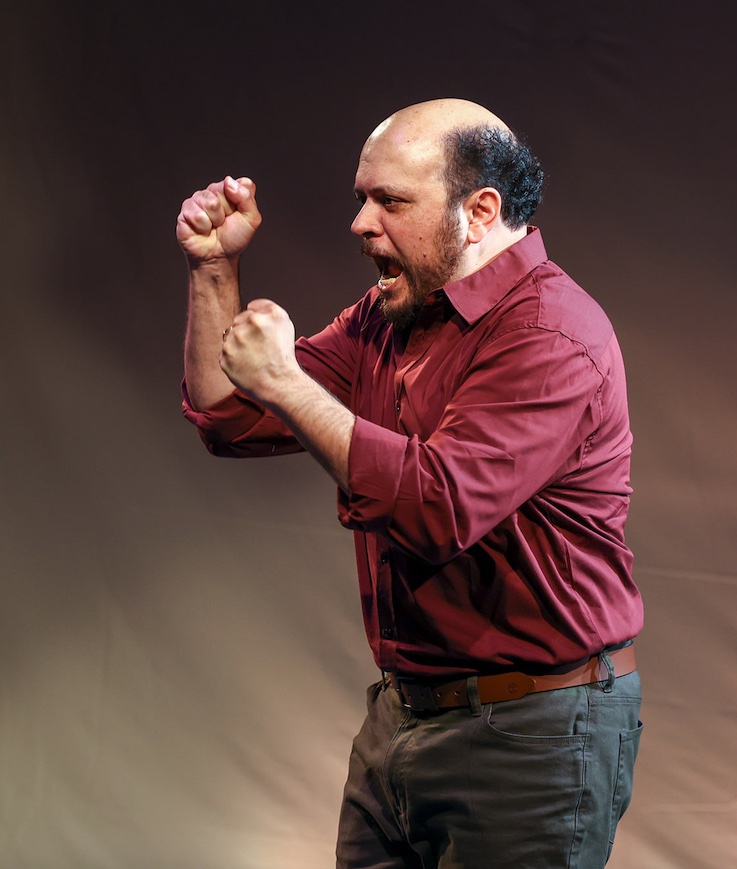 This solo piece starring Ben Wolfe was directed by Don Toner. Toner's retirement is imminent; Wolfe was recently named an associate artistic director of the company.
Ben Wolfe is a natural for the role of Nathan Wolfe and captivates the audience throughout the performance. His body language is key to creating a sense of time passing as the virologist tells the tale of his life's work before segueing into the tale of his life. These two separate stories cleave this one-act play into distinct parts—the first one an explication of the wonders of science and his passion for elucidating the infinitely fascinating (and infinitely microscopic) world of viruses, the second part suddenly an account of his relationship with his father, his health, and his wife. The translation is anything but seamless. After Wolfe (as Wolfe) spent so much timetalking about various viruses and their potential for pandemic breakout, I was convinced that Gunderson the playwright would return to those themes at some point, but alas that never came to be.
The plotline was moved along, meta-fashion, each time the virologist character stopped to confer with his wife the playwright about what to discuss next or why he should he keep talking at all. Fortunately, this subplot was resolved by the end of the play.
There's a moment near the beginning when Dr. Wolfe the character becomes aware he's in a play of his wife's making. He responds, "Theatre is not science; it is the opposite." He elaborates with the clever query, "Isn't that what theater is? A well-lit fraud?" He begrudgingly continues his story ("I thought I was done with theater"). He livens up when he digs into his favorite topic: saving the world. Considering the adage whoever saves one life, saves the world, he reflects, "Maybe I could do better?"
Aiming to heal the world, he studies the neglected world of viruses, specifically simian foamy viruses (SFVs) capable of moving from non-human primate species to humans. He models pandemics on computers at the Centers for Disease Control and Prevention (CDC). He describes harsh reality: "The death toll is an incomplete measure of a pandemic's influence." Loss of life is harrowing, but loss of livelihood is profound. In short, while viruses are not completely understood, their negative effects are all too evident.
This is the point at which Wolfe's presentation shifts away from his life work to his own life. He explores his relationship with his father, his new son, his own physical and mental health, elements not so easily evaluated with the cold focus of the scientific eye. They're baffling, elusive, and parts of a constant struggle. He cannot compartmentalize them. He cannot predict them. He has worked his whole life to be able to predict the world's future, but his own future eludes him.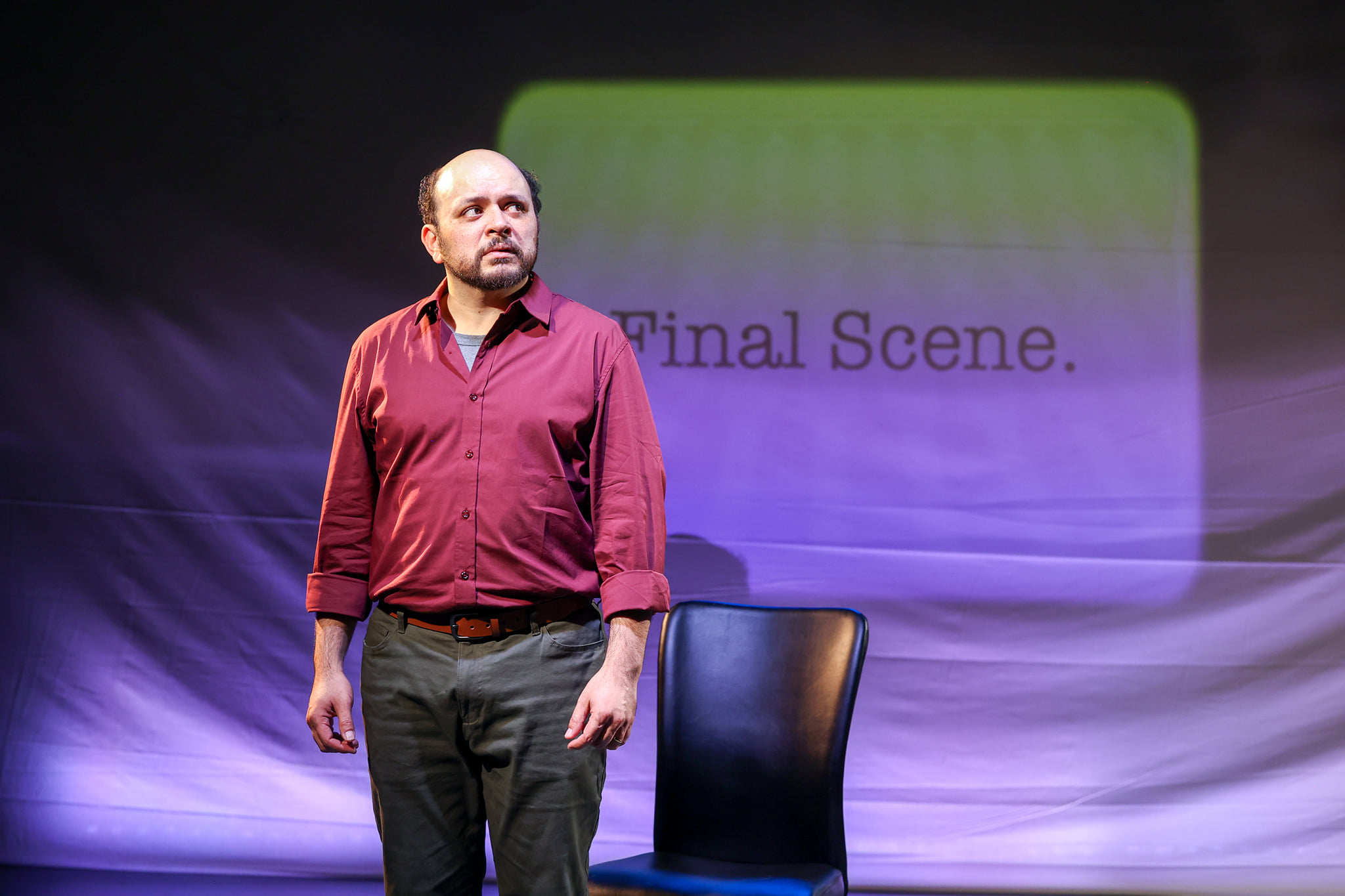 At this point the audience is fully invested in his journey and wonders how it will turn out.
"How does the futurist not see his own future?"
The conclusions, if any, are left for you to draw.
---
The Catastrophist
by Lauren Gunderson
Austin Playhouse
Thursdays-Sundays,
March 25 - April 09, 2022
Trinity Street Players
Black Box Theatre, 4th floor, First Baptist Church
901 Trinity Street
Austin, TX, 78701
March 25–April 9, 2022
Thursdays thru Saturday sat 8:00 p.m.; Sunday at 5:00 p.m.
Directed by Don Toner | Performed by Ben Wolfe
In-person performances will take place at the Trinity Street Playhouse located inside downtown Austin's First Baptist Church at 901 Trinity Street. Paid parking (garage) is conveniently located adjacent to First Baptist Church at 9th and Trinity.
Tickets start at $27
austinplayhouse.com/the-catastrophist
Health & Safety: Full vaccination record or negative COVID test (PCR within 72 hours of performance) required to attend in-person performances. Concessions will be available in the lobby. Drinks are not permitted inside the theatre.