Review: K ! : D D: Ö by Frank Wo/Men Collective
by David Glen Robinson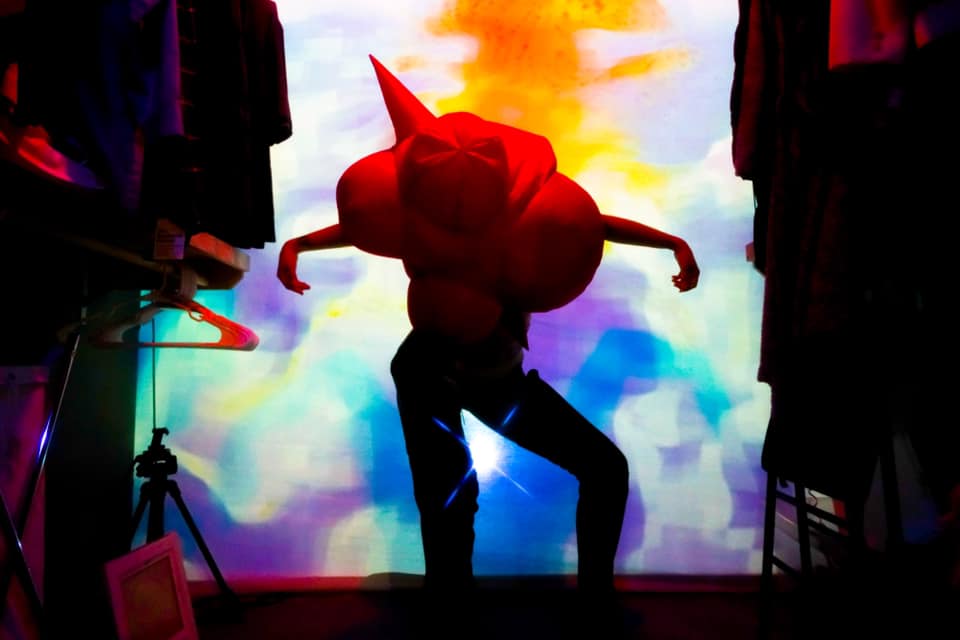 Over several performances the Frank Wo/Men Collective (the Frankies for short) has shown the community of dance fans three essential qualities of the group:
(1) their creative vision is more than a little absurdist,
(2) they are committed to the perfection of technique, and
(3) they don't repeat themselves.
Number 3 on non-repeition was uppermost in my mind as I clicked on the hyperlink to join K.!.D.D.O., their new show livestreamed from their website. The Frankies received a large commission and residency from Texas Performing Arts in partnership with the Fusebox Festival. K.!.D.D.O. was the first fruit of that impressive award.
Its physical manifestation came to life as a house of five rooms on the McCullough Theatre stage on the UT-Austin campus. Then the technical crew lit it, dressed it, and wired it up for multimedia performance.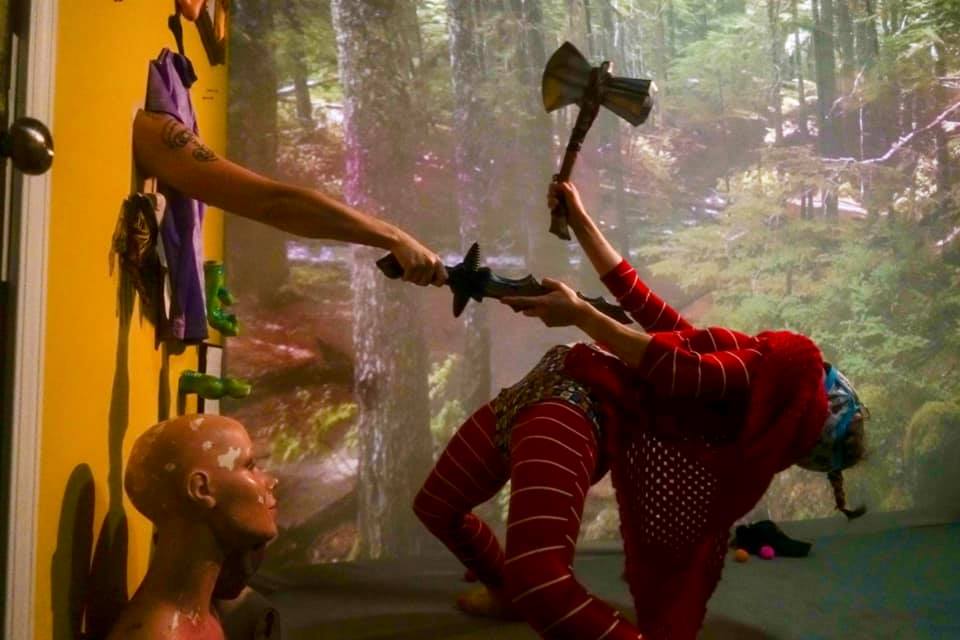 K.!.D.D.O. was not a Zoom meeting, although the show employed the at-home computer cameras on spectators' laptops to project our images back to the producers. That feed and additional software enabled audience interaction in choosing "voting" decision points so the audience defiined alternative pathways through the performance.
The technical designers achieved a well-designed and smooth-running cyber structure for the show. Kudos to them, but as an audience member I spent 'way too much time learning what to click and what to leave alone. As a result, I didn't manage to visit all five rooms of the performance over the course of the livestream. But this is the plague-cursed 21st century after all, and a significant degree of computer savvy on the part of audiences was a reasonable expectation on the part of livestreaming producers, so my own "clickosis" ultimately caused no major ding.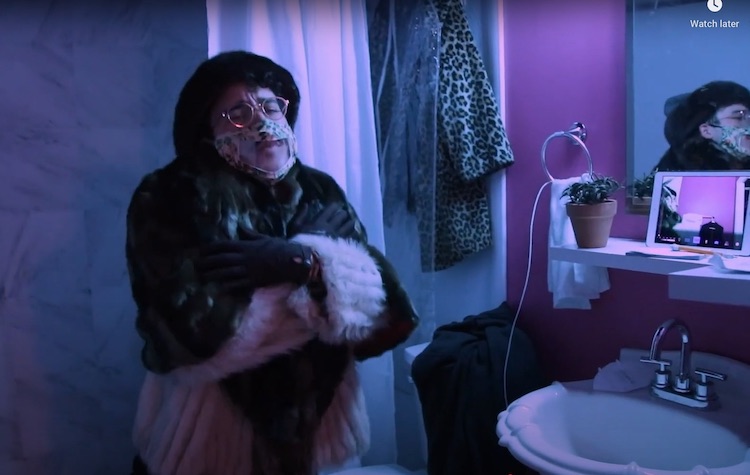 The stuff of K.!.D.D.O., its meat, was a prop- and costume-heavy psychological evocation of childhood. The rooms of the house each described the childhood space of a principal performer, with gamelike activities offered to the audience on their computer screens. Performers took objects and materials and transformed it all into imaginative surfaces for storytelling and abstract and descriptive imagery.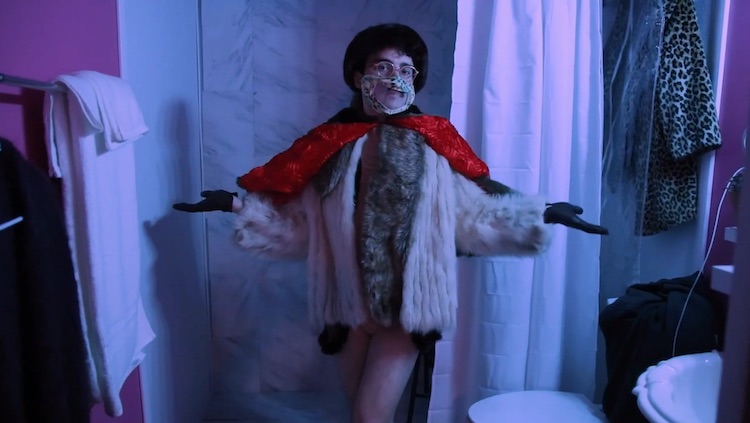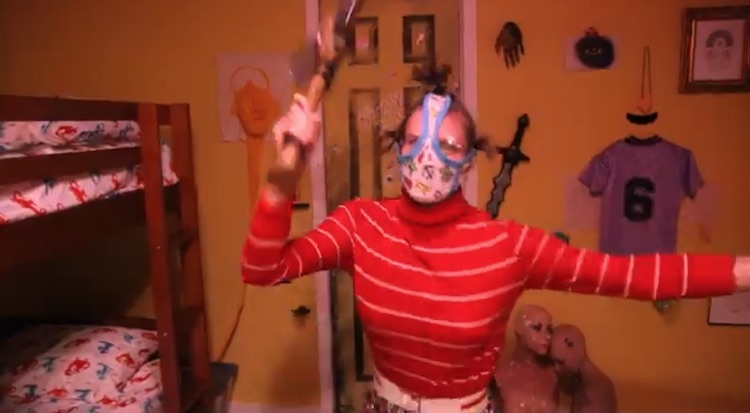 The performances revealed the absurdist liberty of all children and pointed out the surprising harmony with the Frankies' Number 1 (absurdism). The performers revealed their ability to access childhood magic, something lost to many adults.
But this is not Christopher Robin's closet full of forgotten toys, pixillated Winnie-the-Pooh in stasis. The performers were cyber companions with whom we were invited to play using the language of point-and-click. Their efforts were seductive, and after melding my brain and my loyal trackpad into a single instrument, I pitched forward in that long dreamlike fall into the kaleidoscopic menagerie of a child's imagination.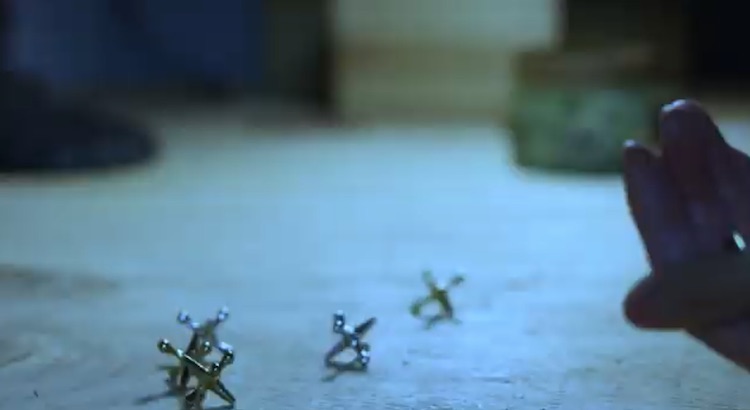 The producers were loving and kind when I arrived there, inviting me to share that kernel of the universe I had held so close and dear since I ruled my bedroom full of toys and launched quests in the gullied fields down our street, tricycling home in time for supper.
Doubtless the Frankies know nothing of my personal discoveries, but by sharing their own they granted time and llicense for all adults to relive childhood creative play. And those are the play memories that all grown-ups have locked away deep, deep within—the true location of Neverland.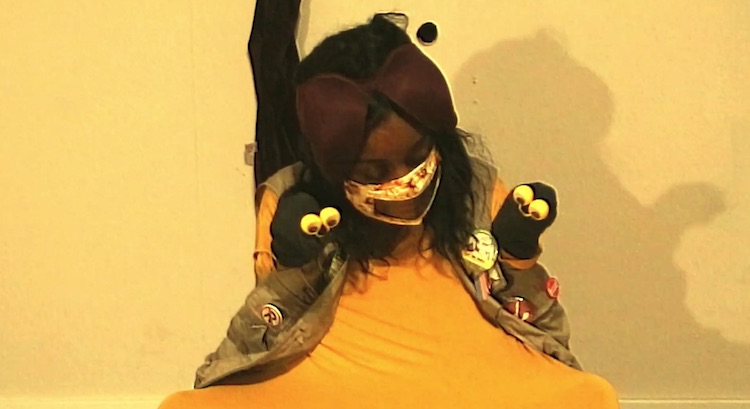 K.!.D.D.O. has gone away to Neverland, but the Frank Wo/Men Collective can be followed on their website and Facebook.
---
K ! : D D: Ö
by Frank Wo/Men Collective
Frank Wo/Men Collective
Saturday-Sunday,
December 12 - December 13, 2020
Streaming
via internet
Everywhere, TX, 78700
Workshop shows: Dec 12 & 13, 2020 (Sat and Sun)
Slots available @ 2p, 4p, 6p, 8p (CST)
*ASL interpreted show: Dec 13 @ 4p
***if you can't make any of those times, there are (secret…shhhhh) other ways to participate in our beta tests of the thing on Dec 5 / 6 / 11 — message us or email frank.wo.men.collective@gmail.com***
You'll need a device (desktop or laptop or tablet or mobile phone) that connects to the internet (and internet!)
An email will be sent to you the day before with your pre-show prep manual for the best
K ! : D D: Ö experience….
Accessibility:
-ASL interpreted show: Dec 13 @ 4p. We will email you a separate zoom link 24 hours before the show.
-Want private transcription services? Give us at least 48 hours notice and we'll connect you! (email frank.wo.men.collective@gmail.com)
-Any other accessibility requests? Give us at least 48 hours notice, and we'll do our best to accommodate! (email frank.wo.men.collective@gmail.com)
Please note: This piece has grown-up moments and some mature themes -- if you have kiddos of your own, please join us at your discretion.
This project is commissioned by Texas Performing Arts at the University of Texas at Austin and developed through a residency partnership with Fusebox Festival.
K ! : D D: Ö Collaborators:
Kelsey Oliver - co-producer/co-director/performer/co-costume curator/collaborator
Roberto Di Donato - co-producer/co-director/performer/collaborator
Alexa Capareda - co-producer/PR/creative copy director/performer/collaborator
Chris Conard - co-producer/technical director/scenic & lighting designer/integrated media co-designer/collaborator
Michael Bruner - integrated media co-designer + engineer/web developer/collaborator
Schivona "Schi the God" Johnson - musician/sound engineer/collaborator
Aaron Flynn - costume designer/co-costume curator/collaborator
Tori Reynolds - videographer+editor/camera movement + installation/collaborator
Erica Saucedo - performer/collaborator
Khali Sykes - performer/collaborator

Frank Wo/Men Collective, based out of Austin, TX, is an ever-evolving group of interdisciplinary artists and multi-interested embodiers. Frankie collaborators co-produce a multitude of maximalist, highly physical pieces which are often fervid, contemplative, or idiosyncratic. Our work is underpinned with intersectional thinking, queerness, Freudian curiosities, body positivity, and absurdist exploration.