Jul. 28 - Jul. 30, 2017

Tiskettasket, an interactive physical theatre show centered around multi-purposing food. In a series of overlapping vignettes, this performance channels absurdity in many forms, allowing the audience to engage head-deep in fruitful, full-bodied episodes of goof.
July 2017—Austin, TX— Frank Wo/Men Collective presents its second physical theatre project, Tiskettasket, July 28-30 at 8 pm, at a converted garage shop in South Austin.
Frank Wo/Men Collective is a group of fresh, multitalented, emerging, and established artists based in Austin and New York City. The collective evolves project to project, crossbreeding different assemblages of talent and enthusiasm with each collaborative new work, producing a multitude of forward-thinking pieces which are at times fervid, humorous, or idiosyncratic. The Frank Wo/Men ensemble was nominated for an Austin Critics Table Award for its 2017 debut performance, Loose Gravel, hailed by Fjord Review's Jonelle Seitz as "contemplative, skilled, inventive, and often hilarious," as well as "raw, edgy, and occasionally brilliant" by Frank Benge of Broadway World.
Tiskettasket, a one-act, full-sensory production, invites the audience to choose aspects of their experience by giving them each a basket, and allowing them to select which compostable foods they would like to fill their baskets with. These foods will be used in every vignette, engaging the audience in directives that encourage them to create the soundscape for one scene, hurl fistfuls of mush in the next, and experience crafty, 4D interactive companionship with the performers throughout the evening.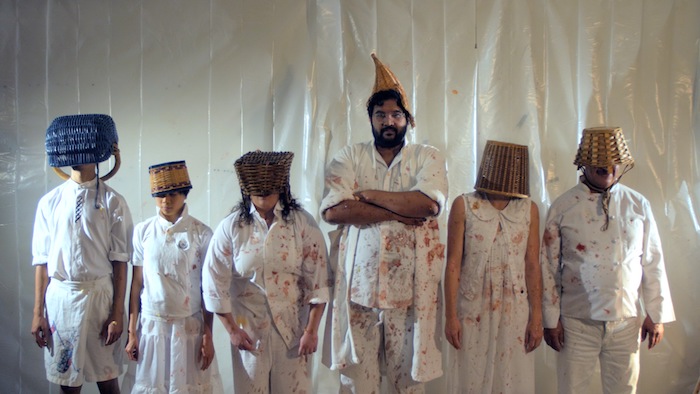 Tiskettasket takes place in a backyard workshop in South Austin, a creatively repurposed space—designed by 2017 Austin Critics Table Winner (Set Design) Chris Conard—covered ceiling to toe in plastic, allowing for many people to feel comfortable and stimulated to engage with their food in non-traditional ways. The show involves a combination of choreographed, technically virtuosic physical theatre vignettes along with pieces that leave room for improvisation and impulse-taking, complemented and influenced by the audience's choices.
For this project, Frank Wo/Men Collective welcomes impressive and multitalented performers to the ensemble, including opera singer and former chemist Joe Davis, comedian/actress Kim Stacy, multi-media movement artist Panda Landa, and devising theatre artist, crafter, and food art instagrammer Derek Kolluri. Returning performers include dancer and Chicano activist Mario Ramirez, Frank Wo/Men artistic director Kelsey Oliver, and 2017 Austin Critics Table winner (Dancer) Alexa Capareda. Frank Wo/Men assistant artistic director Robert Di Donato calls in frequently from NYC to provide artistic direction, and costume designers Kelsey Vidic and E.L. Hohn, film artist Joe Cornelison, and stage manager and emerging playwright Josh Secor collaborate dynamically in the shaping of the production.
Frank Wo/Men Collective
Artistic Collaborators: Kelsey Oliver, Alexa Capareda, Derek Kolluri, Kim Stacy, Joe Davis, Mario Ramirez, Panda Landa, Robert di Donato
Technical Director/Set & Graphic Designer: Chris Conard
Costume Curators/Designers: Kelsey Vidic, E.L. Hohn
Stage Manager: Joshua Secor
Assistant Stage Manager: Jacob Caire
Frank Wo/Men Collective also connects with diverse communities—various performance groups, permaculture groups, civil rights activists, freelancing cross-discipline artists, and artistic co-ops. For Tiskettasket, the collective approaches particularly such groups as Festival Beach Food Forest (a collective of permaculture designers and educators) to help us shape Tiskettasket in a way that is eco-friendly, accessible, and amidst a space that values diversity, the cultivation of creativity, and constant reimagining. Each show will be followed by an after-party including work from other mixed-discipline artists throughout Austin, Texas.
---
Tiskettasket
by Frank Wo/Man Collective ensemble
Frank Wo/Men Collective
July 28 - July 30, 2017
4902 Gladeview Drive
4902 Gladeview Drive
back yard
Austin, TX, 78745
July 28-30 at 8 pm
4902 Gladeview Dr., Austin, TX, 78745
Admission is sliding scale $10-20, available online HERE.