Jan. 05 - Jan. 07, 2017
Thursday-Saturday
An evening of edgy and offbeat vignettes, Loose Gravel collects the explorations of a multi-racial, multi-gender, and multi-sexually oriented group of individuals. The work is underpinned with the collective's shared values of social awareness, intersectional feminism, androgyny, body positivity, and life choice acceptances. From a clowning and Butoh-infused solo exploration and a squeaky toy band to poignant duets, ballet, and opera, the collective puts forward risky work, no-holds-barred.
Frank Wo/Men Collective is a group of fresh, multitalented emerging artists based in Austin and New York City. The artists co-produce a multitude of forward-thinking pieces which are at times fervid, humorous, or idiosyncratic.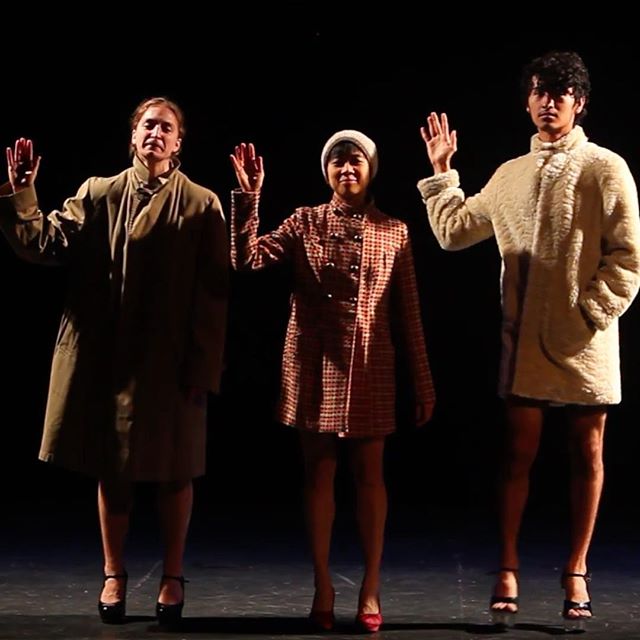 Austin native and dance artist Kelsey Oliver, who received her B.F.A. in Dance from UT Austin in 2015 and studied at Le Centre National de Danse Contemporaine in Angers, France, spearheads the project, bringing together artists of various backgrounds and interests through connections made at UT Austin and beyond.
The Austin-based members of the team are: Philippine-born Alexa Capareda, a dance artist with ARCOS, who has also worked with Magdalena Jarkowiec and Jennifer Hart, and whose personal work is centered on virtuosity and playfulness; Mario Ramirez, a dance artist passionate about his culture and heritage, who is engaged in local and traveling advocacy for Chicano and indigenous movements; and expressive artist Cimone, who has a passion for word, rhythm, and movement, and currently serves as a member of the Afro-Caribbean Soul Collective, a community ensemble that promotes cultural arts of the Afro Diaspora and its modern-day evolution.
The New York-based artists are: Erica Saucedo, who collaborates with New York choreographers Johnnie Cruise MercerThe RED project, Indah Walsh Dance Company, and Boink! Dance and Film; dance artist Dannon O'Brien, who experiments with irreverent, nonsensical material in his choreography and is currently with NYC's J. Chen Project; and Robert Di Donato, a physical theatre artist who explores physical theatre as well as gender in performance in New York. Rounding out the production team are technical director Chris Conard, costume curator E.L. Hohn, and stage manager Joshua Secor.
The performance will be followed by an aftershow including artistic work from other feminist, multicultural, and mixed-ability communities throughout Austin, Texas.

---
Loose Gravel
by Frank Wo/Men Collective
Frank Wo/Men Collective
Thursday-Saturday,
January 05 - January 07, 2017
Topology
1805 E 6th Street
Austin, TX, 78702
Frank Wo/Men Collective presents its first physical theatre project, Loose Gravel, January 5-7 at 7:30 pm, at Topology in East Austin. Thursday - Saturday at 7:30 p.m.
Admission is sliding scale $5-20: Click to purchase via TicketLeap.
Donations can be made to: www.paypal.me/loosegravel