Review: Tiny Beautiful Things by Austin Playhouse
by Michael Meigs
The premise is simple, almost anodyne, and celebrated in the publicity and the program: what if we put together a play based on real letters from real people to an anonymous advice columnist? Counsel dispensed by newspaper column is an entertaiment that dates back centuries but really proliferated in the early twentieth century. Back then it was "Dear Abby" or "Hints from Heloise" or similar lesser lights; now, ageing millenials can get an occasional tittle from "Savage Love." The format is a smörgåsbord of dilemmas, confusions, bewilderment and pain; not for nothing did early Brits label such columnists "agony aunts."
There's certainly no lack of material, but converting that deeply felt dross into gold requires a lot of ingenuity. For one, there's the traditional anonymity of the inquirers; one could conceivably put the advisor up at a lectern all alone to respond to projected plaints or vocal inquiries. In converting the real letters in Cheryl Strayed's account of her adventures as an anonymous agony aunt, playwright Nia Vardalos chose to put the pleas into the mouths of actors physically onstage with the counselor. And then there's the necessarily episodic, unconnected nature of the correspondence: how do playwright, director and cast establish a plot, an arc, a through-line to this stuff?
Curiously, the transformation of written text exchanges becomes unexpectedly fascinating; in each case, lending corporality to the complaints and doubts gives the audience a person with whom to identify. Moving an advice column from the newspaper onto the stage parallels in many ways what we've seen occuring via the internet: individuals we know only casually or not at all materialize in our imaginations. Austin stage stalwarts Lowell Bartholomee, Crystal Bird Caviel, and John Christopher linger, longing, at the periphery of advice-giver Barbara Chisholm's consciousness, remaining in view throughout this lengthy one-act presentation.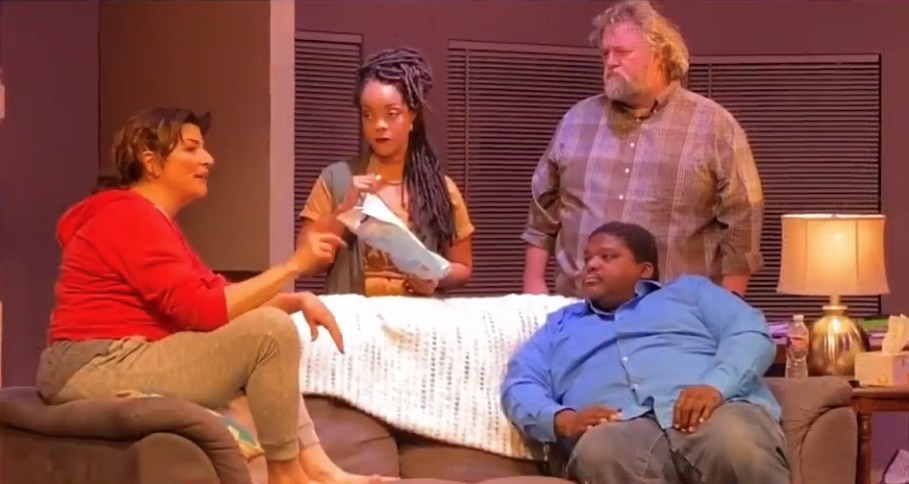 And it's the anonymity that provides the through-line, as tenuous as it is. The inquirers identify themselves only by their problems and pseudonyms; the counselor identifies herself only as "Sugar." Her psychological wards, in their various avatars, repeatedly ask for her real name, as if that would resolve the question of their mutual relationship, and eventually she supplies it.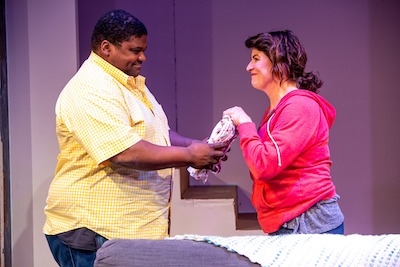 Tiny Beautiful Things is essentially Barbara Chisholm in an assisted one-woman show. That in itself should be enough to entice you to attend. Chisholm is, as ever, forthright, clear, and vivid. Playwright Vardalos carefully selected responses from "Sugar" that supply the arc of implied action, for as Chisholm deals openheartedly with the confused, her character reveals more and more about herself, particularly about the regrets of her relationship with her own mother. The depth of emotion projected by Chisholm right down front and center was heart-catching.
Director Rosalind Faires guides this stage magic with a careful hand and light touch. Once the premise is established, with Chisholm seated on the sofa with her laptop, her correspondents step forward at some remove in Mike Toner's appropriately scruffy urban apartment set to make their appeals or state their problems. "Sugar" takes them all seriously. Gradually the worlds of questioners and answerer penetrate, easily and naturally, until we see Chisholm and John Christopher folding laundry together, for example, or the whole quartet sharing a bag of corn chips around the sofa.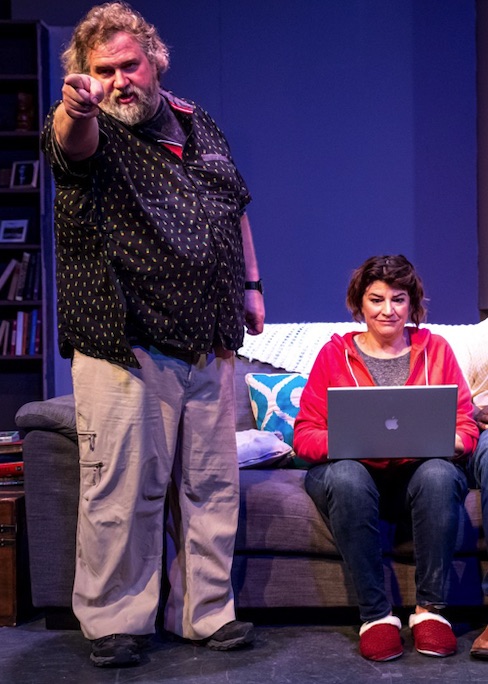 Director Faires moves and motivates her people appropriately, using stage business and minimal gesture to hold our attention, careful never to allow it to appear contrived. Caviel keeps a stone face much of the time, despite the pain of her words; John Christopher's energetically confused; and Lowell Bartholomee, in recognizable Bartholomee style, is at his obscene best as the repeat correspondent who declares his signature as "WTF!"
This piece has vivid nuances that may not be immediately apparent to most of the audience. For one, like some celestial phenomenon, it is the rare conjunction of the two first families of Austin theatre: the Toners, especially Don, daughter Lara, and son Mike, who are the sustaining spirits of the Austin Playhouse, and the Chisholm-Faires clan, adept at all things onstage: Barbara, our protagonist, her daughter Rosalind, director of Tiny Beautiful Things; and of course, Robert Faires, arts editor of the Austin Chronicle, actor, and doyen of the Austin Critics' Table. And second, one must admire the initiative and courage of director Rosalind Faires, who has directed her own mother in the difficult role of an eloquent character regreting lost connection with an invisible mother. It's an accomplishment of grace and bravura on both sides of the non-existent footlights at the Austin Playhouse.
EXTRAS
Click to view excerpts from the Austin Playhouse program of Tiny Beautiful Things
Click to go to five-minute interview of lead actor Barbara Chisholm and Artistic Director Lara Toner at We Are Austin
---
Tiny Beautiful Things
by adapted by Nia Vardalos from the book by Cheryl Strayed
Austin Playhouse
Thursdays-Sundays,
January 10 - February 02, 2020
January 10th-February 2nd, 2020
Thurs.-Sat. at 8 pm, Sun. at 5 pm, with matinees on Jan. 25 & Feb. 1st at 2 pm
Austin Playhouse at ACC's Highland Campus
6001 Airport Blvd., Austin, TX 78752
WEB: austinplayhouse.com
TICKETS: Tickets range from $34-$38
BOX OFFICE: 512.476.0084
DISCOUNTS: All student tickets are half-price. $3 discount for Seniors 65 and up. Group rates available.