Review: Macbeth by Something for Nothing Theatre
by Michael Meigs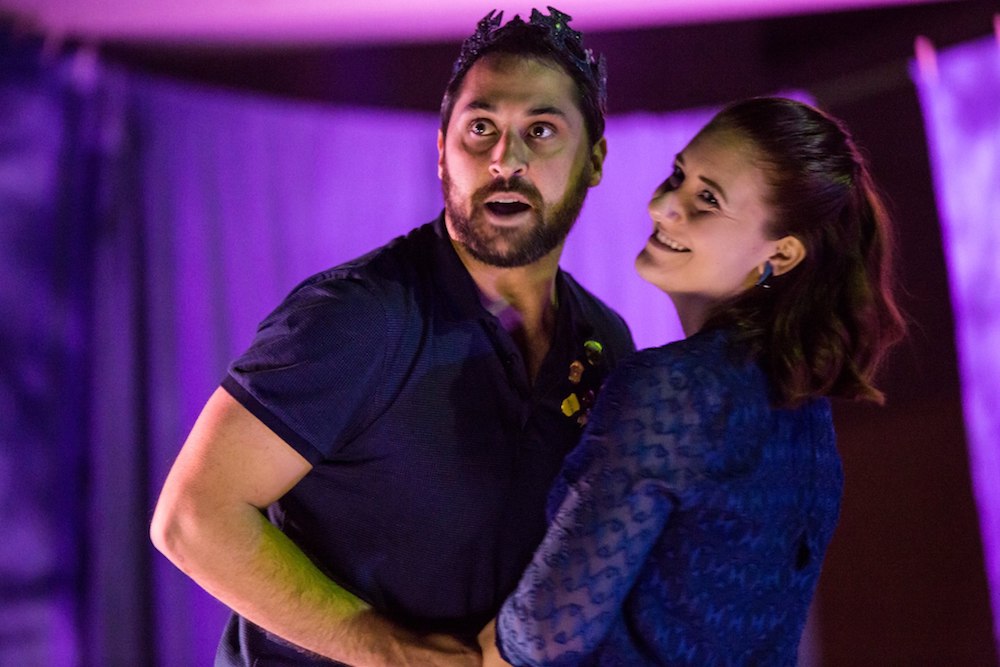 That full moon rose gradually at far stage right as Something for Nothing Theater began their opening performance of the Scottish play in Austin's Ramsey Park last week. The moon's inexorable climb and gathering luminescence might have been arranged by a director with greater powers than Mary Amelia Beyer, for they accorded with the ascent in blood and mystery of the Thane of Fife, played by Patrick David Wheeler. Eerily, Austin rains the previous week had delayed the opening until that chill late October evening.

The devotees of these free Shakespeare performances in Austin's Rosedale neighborhood have been at it for years, and they've extended their season from the amiable summer evenings to those of Texas autumn. The park pavilion is a bare expanse of concrete backed by a roof and breezeway, fronting a stubby grassy hill where an array of poured-concrete benches offer perching places. This is Shakespeare done bare, a production with little more decoration or equipment than cast and crew can carry in before evening. The lighting is dim, often projected in blues or reds, and the backdrop for the playing area is a raggle-taggle succession of house curtains. The production is presented in unapologetic modern dress, with costumes that for the most part are those you might see worn by visitors to the Vortex's Butterfly Bar.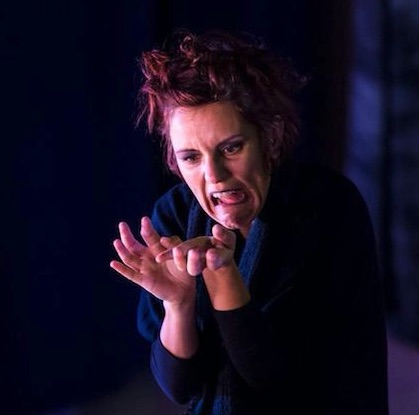 Witches twitching and writhing the week before Halloween -- yes, of course. Shrieks and cackles resound, accompanied by the Caliban-like movements of Anna Carvalho, Chelsea Manasseri, and Alaithia Velez.
Macbeth is Shakespeare's shortest tragedy, but he packed a lot in it, certainly more than enough to fill the two hours' traffic on this humble stage. And the stalwart band of the cast -- ten by announced count -- needed no masquerades or fancy garb to evoke the story. All except for the titular leads played double or triple roles, differentiated by costumes or accessories.

Wheeler as Macbeth has the stature of a warrior noble, and he was fluent in the complexities of Macbeth's iambic pentameter. His was a glittering but notably cold performance; there's little reflection or hesitation in this Macbeth, and he seemed to want little urging to wade forward in blood. Wheeler's swift delivery of the "dagger before me" monologue suggested he was not in the least intimidated by portents; instead of viewing a threatening vision, he might as well have been glancing at an iPad. Balancing such heedless masculinity, the memorable Regan Goins is intensely alert at every moment. Lady Macbeth is often seen as a scold or a wanton, but not here. Because she's a well of contained, vigilant emotion, Goins is the vulnerable center of this production.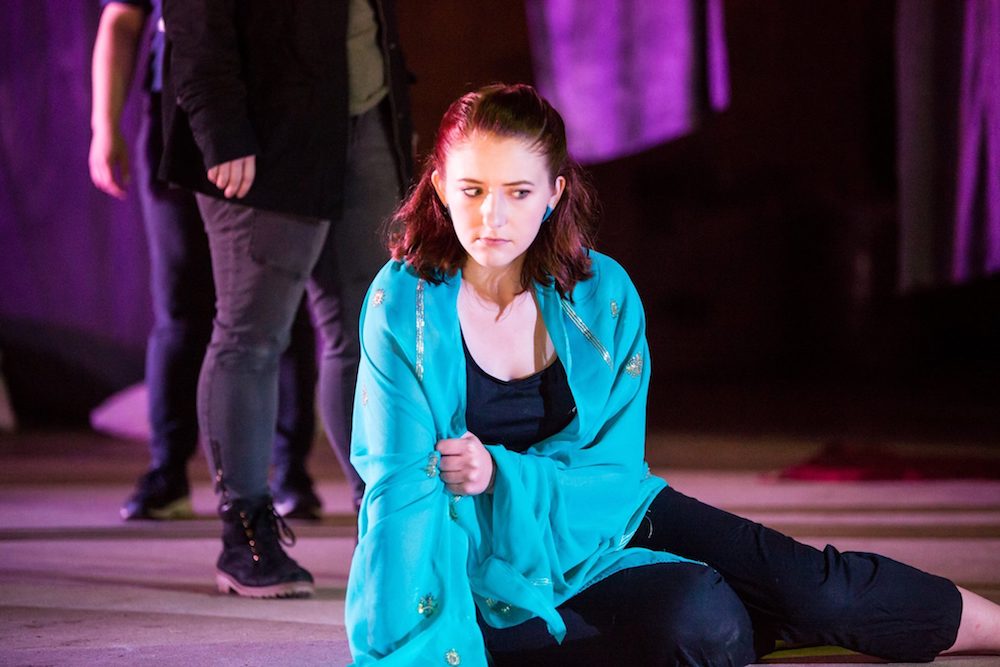 Out of conviction and perhaps out of necessity, Something for Nothing Theater regularly uses gender-blind casting. Corinna Browning is Banquo, open hearted when alive and mutely reproachful when dead. The banquet scene and haunting are played at the top of the hillock, behind most of those attending, with Browning hidden at times behind one of those concrete benches. Deb Streusand is the forthright Ross.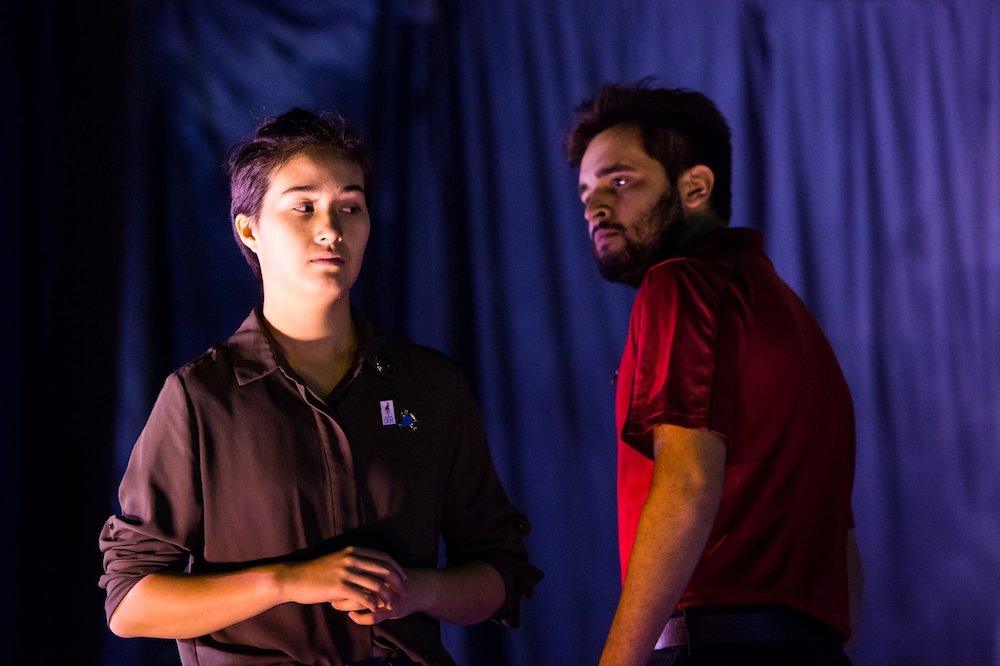 Cynthia Turner's Malcolm is too glib by half, in behavior something of a shadow of the offending usurper. In the scene with the fugitive, bereaved MacDuff, she piles her false self-accusations so swiftly that the audience does not sense the intentional tests to which Malcolm is submitting MacDuff; without appropriate pacing spectators scarcely see MacDuff's gathering dismay or understand his condemnation of the prince as "not fit to live!" Malcolm's turn and revelation are equally blithe and without import.
MacDuff in the red polo shirt (and, earlier, the assassinated King Duncan) is John Anthony Gonzalez, an apt foe. Gonzalez has the determination and demeanor of a dogged hero. He and Wheeler thrust and slash convincingly in the fight at the finale, choregographed by Toby Minor.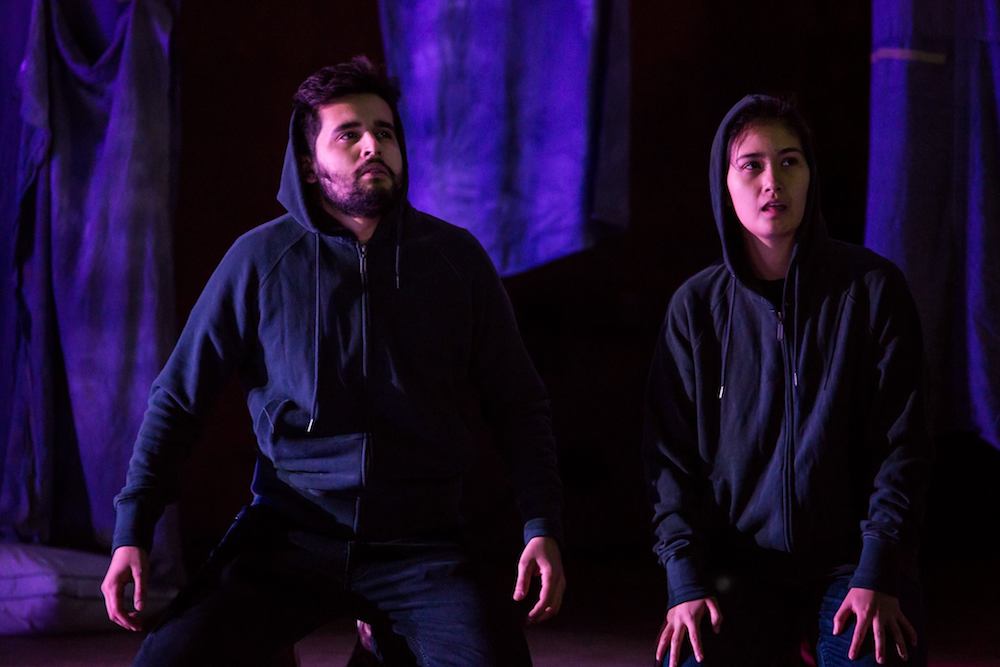 One special surprise was the character work of Nick Ivons. He's the drunken porter, ranting atop the hillock as someone hammers backstage on the bathroom doors, and he's one of the murderers hired by Macbeth. Ivons projects, both with that strong, distinctive voice and with his stage presence. Macbeth's interview with the murders is a little gem of comic stagecraft. Director and actors parsed Ivons' speeches so that the murderer is a dim knave, forgetting how or when to address the king excerpt when prompted or jabbed by Turner as the fellow ruffian.
Macbeth is free and runs Thursdays - Saturdays until November 10. It is not, strictly speaking, something for nothing, for it requires your attention, warm clothing and a spare bill or five or ten to drop in the hats at intermission. But the company will take you someplace weirder than our Austin ever really was, and you may well understand why this play has such a grip on our dark imaginations.
EXTRAS
Click to view credits for Something for Nothing Theater's Macbeth
Click to view performance photos by Errich Petersen
Video by Taylor Flanagan, published on closing day, November 10, 2018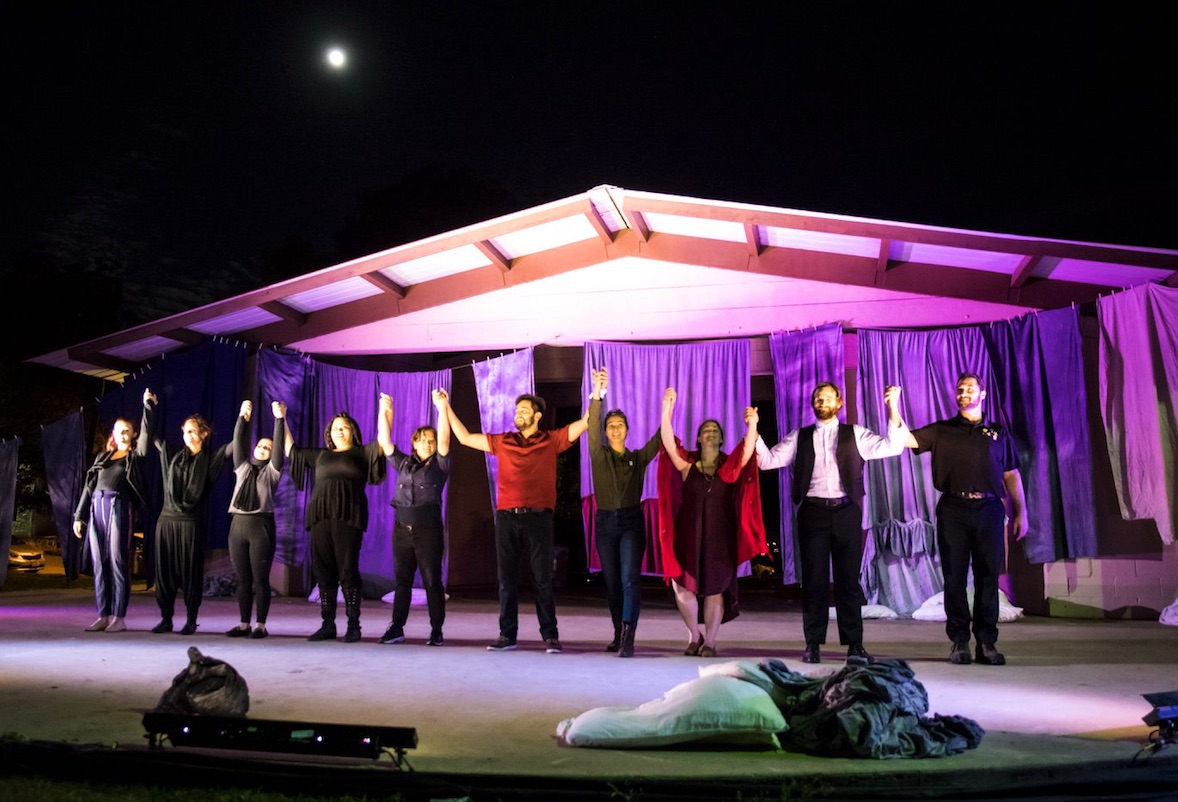 ---
Macbeth
by William Shakespeare
Rosedale Shakespeare
Wednesdays-Saturdays,
October 25 - November 10, 2018
Thursdays - Saturdays at 8 p.m., with ONE Wednesday performance at 8 p.m. for Halloween, Ramsey Park Pavilion (4301 N. Rosedale Ave Austin TX 78756) an open-air, picnic-friendly venue
Unlike the three witches, neither our team nor our patrons are supernatural beings, and it's not safe for you or us to be out in thunder, lightning, nor the heavy rain that Austin's been having lately. Our audience has always been incredibly dedicated, which we deeply appreciate, but we are not going to ask you to sit in a park and watch us in this kind of weather.
Therefore, we are pushing back the run of our Macbeth by one week: that is, we will open next Thursday, the 25th, and close on November 10th. As usual, we run Thursdays - Saturdays. (This year we have an additional show on Wednesday, October 31, for Halloween!) We appreciate your patience and understanding as we make this change.
Also, we have updates as to who will be playing whom when:

Malcolm: Played by Cynthia Turner October 25-27; played by Ronan Melomo October 31 – November 10
Banquo/Lady MacDuff: Played by Corinna Browning October 25 – November 3; played by Cynthia Turner November 8-10
TICKETS: Free to the public, no reservation required, donations accepted at intermission
More info at s4ntheater@gmail.com, www.S4N.org, or www.facebook.com/SomethingForNothingTheater