Review: Your Mother's Copy of the Kama Sutra by Present Company Theatre
by David Glen Robinson
Present Company has just mounted the regional premiere of the latest play by the Rude Mechs' Kirk Lynn, Your Mother's Copy of the Kama Sutra. Alexandra Bassiakou Shaw directs. The show is up currently at The Museum of Human Achievement (MoHA) on the east side. The play is an adults-only exploration of generational change in sex and sexuality in the millennial world, but one restricted to the urban upper middle class. Anyone expecting a universalizing look at pure sex with tableaux of Kama Sutra positions in every scene will be sorely disappointed. More richly, the play starts with sex as communication and then deep dives into sex as self-discovery, ultimately declaring that self-discovery requires an entire lifetime to accomplish. And sex offers only some of the milestones along the way.
The play starts with Reggie (Judd Farris) onstage, dressed office casual and blindfolded. A voice gives him orders, which he obeys with a louche leer. Reggie without a doubt is pursuing the raw flavors of sex. The voice becomes embodied, but at first we don't know—is she a plain vanilla prostitute, a high-craft dominatrix, or a questing soul playing along with Reggie's kink to get to know him? The apparition is played by Yamina Khouane (?—the program postcard did not match actors with characters, so one guesses), and Reggie only describes his relationship with her later to his lover-become-friend Tony (Amber Quick). In these few scenes, the themes and entanglements are stirred thickly together.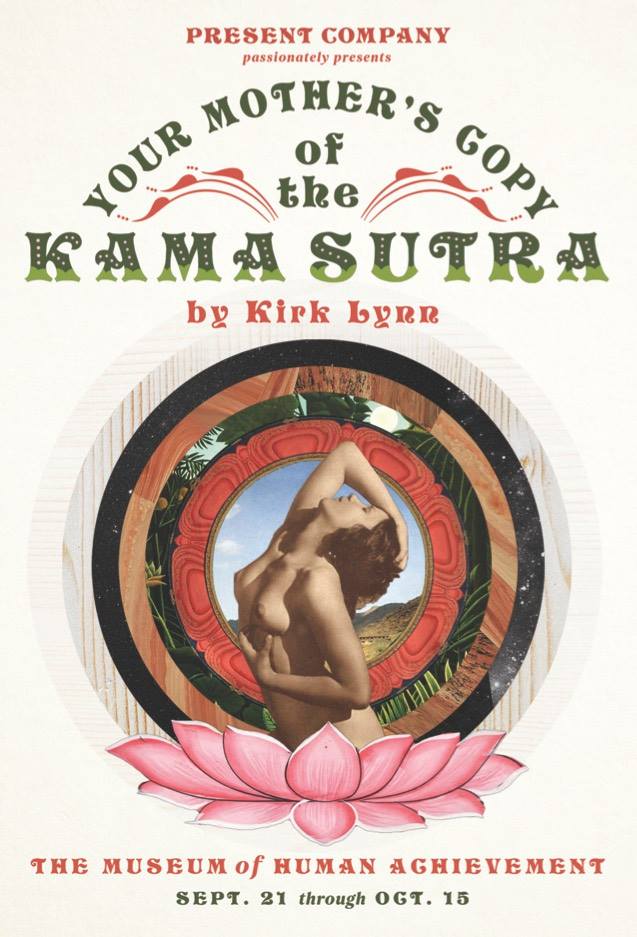 Across town, it seems, teenagers at the beginnings of their sexual histories plot dating and parties and dealing with their incomprehensible attractions and desires. Blake Robbins plays a character already well down the road toward prison. He enhances dating requests with illegal drugs. Teenagers Nash Ferguson and Sophia Isabel Quiroga (?—guessing again) get started that time-honored way—getting looped and doing what comes naturally. These characters play out their sexual lives authentically under Kirk Lynn's keen eye for reality and even keener ear for language. Robbins' character fades later in the play; we would have loved to see more of his struggles.
The play's unusual structure that reveals itself slowly, unlike the fast start of its plot. The exact nature of it is too delicious to disclose in any way. Add to that the fact that most modern plays, including Lynn's, seem not at all fond of symmetry. But in Your Mother's Copy of the Kama Sutra, symmetry, or balance, forms the largest pattern in the play. The back half of the pattern builds up several metaphoric levels until the end, when we leave the theatre running the cycles in our own minds, peering out from under the edges of our own blindfolds.
The vast strength of Present Company's production is the well matched acting of Judd Farris as Reggie and Amber Quick as Tony. Present Company wisely casts them against each other in the central relationship of the play, dueling welding torches of rage, fear, despair, lust, and grains of wisdom. As actors, Farris and Quick make imagination real and words come alive. They are paladins of stage performance, no exaggeration; Farris' performance as the unconquerable Hotspur in Hidden Room's Henry IV was emblematic of Farris' real life artistic powers. Correspondingly, Quick brings to Tony the intensity she displayed in Kyle John Schmidt's The Secretary, when her character Lorie held the other characters, the play, and the audience on the knife-edge of life and death in the shattering final scene.
The drawback to all this quality is that these two actors vastly overshadow the rest of the cast. Others are competent and can stay on the stage with the generous and sharing Quick and Farris, but they seem constantly to be performing in shadow. This is hardly a slap; it is difficult to achieve stellar quality completely across any cast in the comparatively small Austin acting pool.
The design fields make the creative best of the bad situation known as MoHA. The stage is an L with long arms extended into exposed wings. Lighting Designer Natalie George smartly adapts to the situation by bringing up lighting sets at various points, and Director Shaw sends actors running into the light to perform their scenes. Occasionally the actors are in place when the lights fade up, as at the bistro table. Huge credit goes to Shaw and George for fashioning quick transitions that maintain a rapid pace. This design style is better suited to outdoor productions where lights create varied landscapes and interiors that actors run into to tell their stories. Outdoor Shakespeare plays are especially delightful in numerous Austin garden settings.
In the Museum of Human Achievement, actors do run into the light to tell their stories. When they get there, they are yet backed house right by unfinished plasterboard panels. Gaps above the panels recede into rodent-gnawed darkness. Looking house left, the backing is the corrugated metal of the warehouse shell and a large metal truck door. Much of Amanda Perry's set design was created to hide the corrugation. Overall, there was too much of the raw industrial aesthetic. Any claim that this achieves supreme value would be an attempt to gull upper-level intellectuals into thinking they are in the midst of avant-garde art. The rest of us just want a show that looks good, in a safe venue. This reviewer has detailed numerous issues in the MoHA, sufficient to prove that the fire marshal doesn't read theatre reviews; at least not mine. Laments about the space in Austin's dark night of venue and funding constraints are not unkind considering that MoHA receives thousands of dollars from the City's Cultural Arts Division. One simply asks that MoHA realistically join the upward struggle with the rest of the Austin arts community.
Your Mother's Copy of the Kama Sutra is a bold new play by Kirk Lynn. Its message transcends generations and puts us in touch with our authentic selves. The play deserves much wider exposure, heightened support from Present Company, and a better venue. It is for mature adults only.
Your Mother's Copy of the Kama Sutra plays at the Museum of Human Achievement in east Austin at Springdale Road and Lyons (next door to the Canopy), from September 21 to October 15, 2018.
EXTRA
Click to view Present Company's program sheet for Your Mother's Copy of the Kama Sutra
---
Your Mother's Copy of the Kama Sutra
by Kirk Lynn
Present Company Theatre
Fridays-Mondays,
September 21 - October 15, 2018

September 21 - October 15, 2018
at the Museum of Human Achievement, Austin
Friday, Sept 21st - Sunday, Sept 23rd
Thursday, Sept 27th - Monday, Oct 1st
Wednesday, Oct 3rd, Thursday, Oct 4th, FRIDAY OFF, Saturday, Oct 6th - Monday, Oct 8th
Thursday, Oct 11th - Monday, Oct 15th
Suggested donation of $25; RSVPs required, donations appreciated. RSVP via
AS ALWAYS...
Promoting the philosophy of Accessible Art, admission is free, RSVPs required.
The suggested donation of $25 supports the artists and event.
Tiered donation levels are available to accommodate every budget. Pay it forward for those who cannot afford, and everyone wins. Viva Accessible Art!