Review: Henry IV by Hidden Room Theatre
by David Glen Robinson
At the end of The Hidden Room's Henry the Fourth by William Shakespeare, the audience pauses to catch its breath. What have we just seen? The many people there on dates may have been expecting a dry reading of a play they read in college. People closer to the theatre scene may have expected a painstaking period drama in exquisite costumes.
What all of us got was a rollicking, loud, action-adventure tale performed in live: Shakespeare amped, glorious, and compelling down to the last tear and blood splat. The plot, Henry IV putting down treacherous factions in a dynastic dispute, may seem five hundred years on to be no more than pack in-fighting with the purpose of adjusting the dominant hierarchy. That may indeed be the ultimate universalizing reduction of the tale and the key to Shakespeare's uncanny habit of leaping into the collective unconscious and showing us things.
What things? All kinds of things.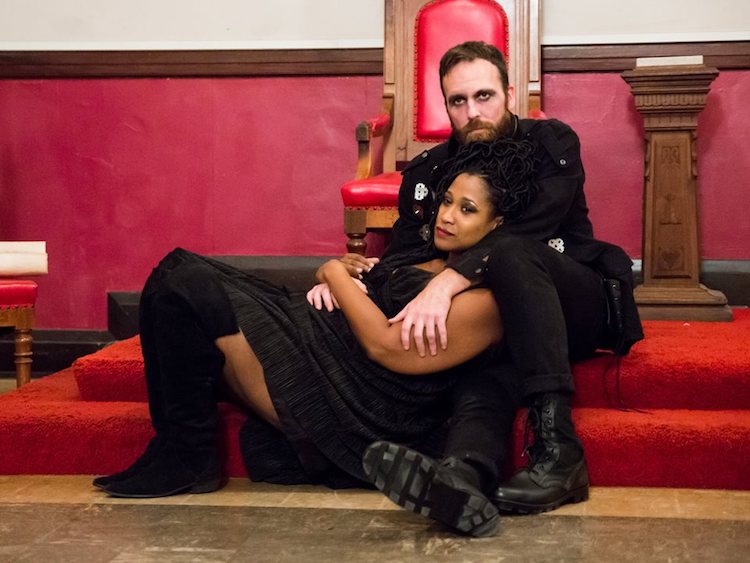 But folks can look too deeply into works of art, and Henry the Fourth is probably best enjoyed when left within its cultural context.There, we see a display of the art of the Western World—poetry, song, comedy, and drama—mixed together to create the historical story (in Shakespeare's version) of Henry IV.
The theatre has house seating on the two long sides of the room in the York Rite Masonic Lodge. The actors play everywhere in the room, in raised platforms at either end of the room, and on thronelike chairs in the audience. They point and gesture to audience members all through the play; they shake hands with acquaintances. They play so much like this that one asks: "Fourth Wall? What Fourth Wall?" This production is all-involving, but it is not metatheatrical. Characters stay strictly in character. The effect is to suck the audience into a time-warp to a deathless tragedy and comedy first staged five hundred years ago.
Henry the Fourth brings together two characters that live in literature, the first being Prince Hal, AKA Henry Prince of Wales, son of King Henry IV, someday to become Henry the Fifth. He is the epitome of the wastrel son who achieves greatness. Prince Hal in his youth exploits his royal privilege for meaningless debauchery, pleasure-seeking, and outright crime. In his first scene, he enters with his pants down around his ankles, drunk, roaring, anything but royal, and almost attired in colorful prints.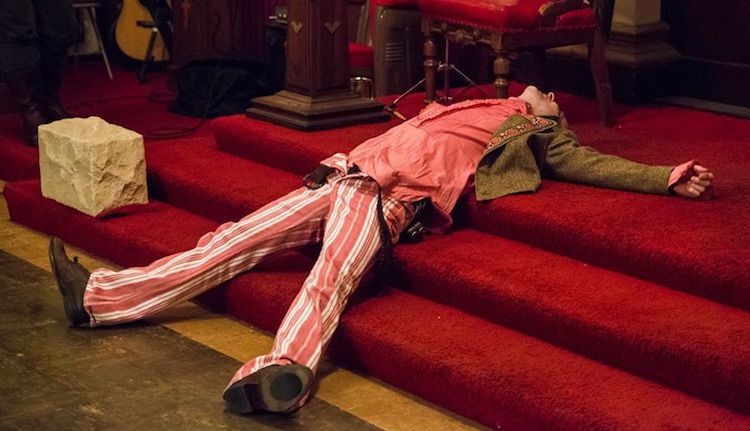 The costuming is excellent, as Brock England plays Hal as a young rooster in his libertinage, and when the war drums call he becomes a chastened and sober grown-up bearing the height of frightening responsibilities on his shoulders .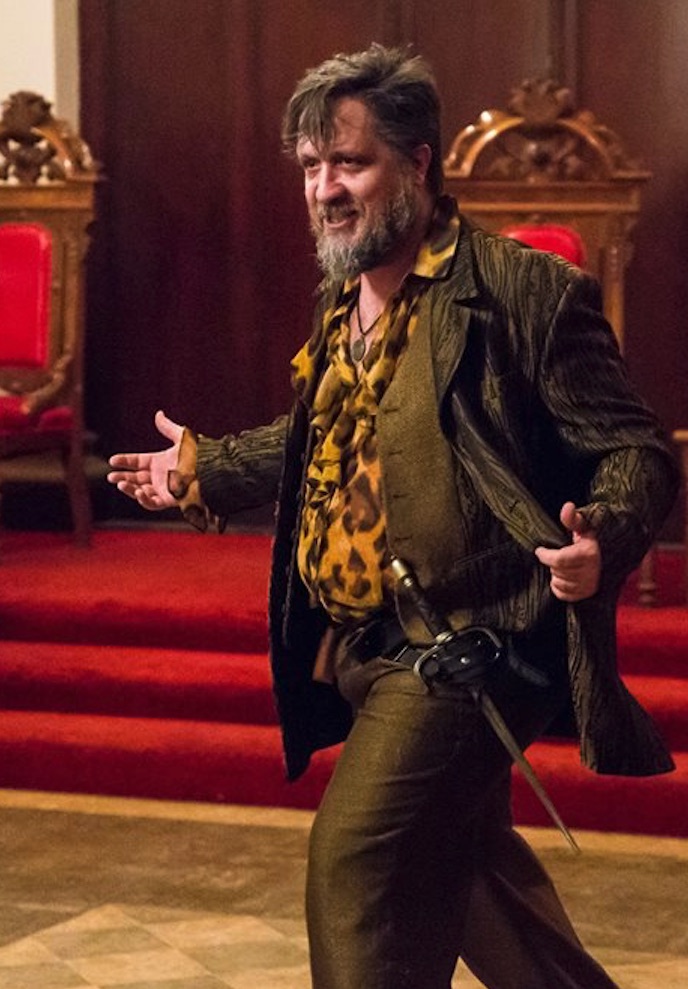 The second immortal character is Sir John Falstaff, signed, sealed, and delivered by Robert Matney. Matney seems to show us the entire Elizabethan world in the character of Falstaff. He constantly calls for mugs of sack, and tells anyone that his probity and wisdom always move him in the direction of an egg and butter. He lies his way out of trouble with more imagination than Walt Disney, thereby telling many stories within the story. He is a delightful rogue, unashamed by his lack of character, illuminated best in his soliloquy on the emptiness of honor.
Shakespeare doubtlessly knew sociopaths, and Falstaff was certainly one. Falstaff leads a small company of naifs and drunkards into the battle of Shrewsbury, loses all but two of them, and ponders how he can turn the "victory" into a promotion within the nobility. Falstaff finds the fallen body of Hotspur (Judd Farris) on the field of battle, then claims falsely and insistently to Prince Hal that Falstaff had dispatched him. Hal actually killed Hotspur in a horrifying sword duel, but by that time the world-weary Prince Henry could only look on his old roistering buddy with bemusement.
Robert Matney reveals Falstaff to perfection. Matney is a marvelous physical actor who finds the key moment in every phrase uttered by Falstaff. He is beyond doubt an actor in full.
As is Rommel Sulit as Henry IV, as is Judd Farris as Henry Percy, son of the Earl of Northumberland, surnamed Hotspur. Farris as Hotspur in particular drives the action of the tragic drama. He embodies an intense and passionate English nobleman with ambitions to kingship and desire for revenge for a family done wrong. He is also on the wrong side of history. But we feel for him, and it is part of the Bard's genius that characters on both sides of the moral issue justify themselves fully to all. We ponder them and the outcomes Shakespeare gives them.
The list of talented actors in the cast and sterling performances given by them goes on and on, to include Lowell Bartholomee, Zac Crofford, Rachel Steed, Valoneecia Tolbert, and Kriston Woodreaux. Isto Barton plays double roles as the foppish Poins, companion to Prince Hal, and the fiery Scottish warrior Earl of Douglas. He also sings in the Eastcheap band, CD out soon.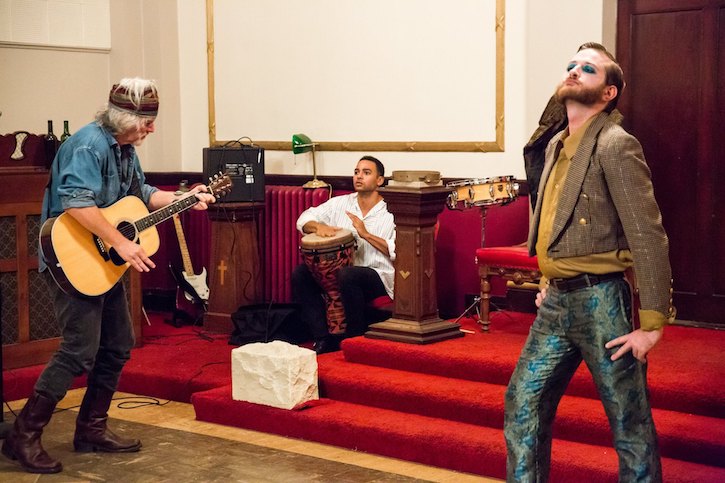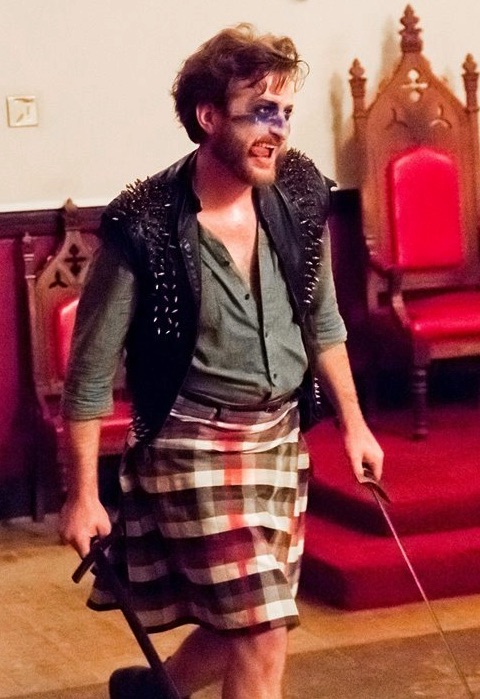 Similarly, Jill Swanson perfects two strongly contrasting roles, one as the Earl of Westmoreland, an adherent of the king, and the other as Mistress Quickly, tipsy hostess of an Eastcheap tavern (ah, Shakespeare! We all aspire to amnesiac nights in Eastcheap).
Relative newcomers performed well, including Andrew Rodriguez as John of Lancaster; he never lost focus and delivered his few lines with crystal clarity. Rounding out the cast are Jay Fraley, Nash Ferguson, Kenneth Williams, and Todd Kassens.
Kassens, guitarist of the band Shoulders, is the heart of the glam rock group, the Eastcheap band. The band lays down the sound track of the play, giving the adventure an electric vibe very much to the modern taste, performed live at every performance. Zac Crofford and Isto Barton give guest vocal performances pre-show and at intermission.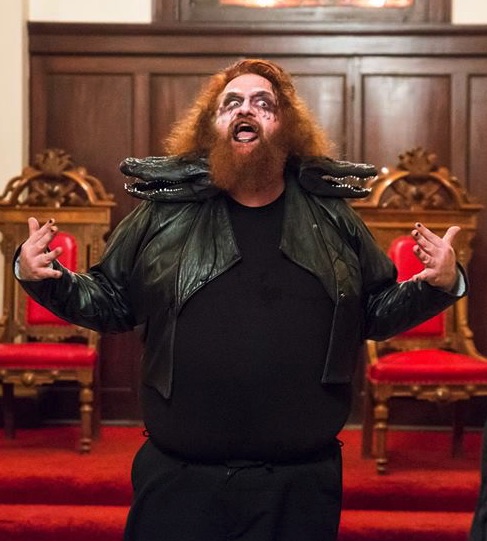 Aaron Flynn designed the costumes for this huge cast in all its changes. The concept is period-abstract. The royals wear modern suits with, of course, a crown for the king, and gold insignia to indicate characters' ranks. Armor is suggested by closely spaced medallions on leather jackets or fetish spiked leather shoulder pieces and boots. The broad shoulders of Lowell Bartholomee sport epaulets in black fabric fashioned to resemble the jaws of crocodiles. Swords and daggers are mandatory. Women wear flowing robes suitable to any time period. Commoners are attired in rags. Altogether, the costume group hold together well, and the designs are deserving of continuing recognition.
This reviewer seemed to be the only audience member with any energy in the Friday night audience of which he was a part. This brought to mind the theme of what Shakespeare means to the modern world. Certainly to many he is a literary artifact, and productions of his plays are novelties. But modern research in dramaturgy, ethnomusicology, and archeology seat Shakespeare (along with Kidd, Marlow et alii) and plays of the early modern period firmly in the realm of popular art. Attendees at the Globe Theater and other Elizabethan venues expected to be entertained for about six hours on Sunday afternoons as they quaffed ale and enjoyed roast turkey legs. Turkey leg bones made perfect batons to throw at the villains, and booing and hissing and cheering were deafening. Rowdiness was accepted if not encouraged. The pith and moment of new plays were discussed widely on the streets of London.
And so the glam rock updating of Henry the Fourth by The Hidden Room is a faithful rendition for our times. Producing artistic director Beth Burns is surefooted in her choices of high talent and the best theatrical material for presentation. Her production of Henry the Fourth is highly recommended for anyone with the slightest interest in Shakespeare or curiosity about his works. The play runs until October 1, 2017 at the York Rite Masonic Lodge, 311 W. 7th St,. Downtown Austin.
---
Henry IV
by William Shakespeare, adapted by Dr. Ralph Alan Cohen
Hidden Room Theatre
Thursdays-Sundays,
September 08 - October 01, 2017
Sept 8-10, 14-17, 22-24, 28-30, Oct 1st, 2017
Thurs, Fri, Sat shows at 8 pm
Sunday shows at 5 pm
Running time: 2 hours 30 minutes
Recommended for 12 +

York Rite Masonic Hall, 311 w 7th Street, Austin 78701


** Thursday September 14th is a RELAXED PERFORMANCE with ASSISTED LISTENING NARRATION available. A relaxed performance is open to everyone, but intended specifically to be sensitive to and accepting of audience members who may benefit from a more relaxed environment. This means that there is a more casual-than-usual approach to audience etiquette as we support a more inclusive experience for all patrons. This includes but is not limited to: autism, add, add, dementia, and sensory sensitivities. This show will also have Assisted Listening to help our patrons with limited sight. Assisted listening narration begins at 7:45PM.
Upon purchase of tickets, please let us know how we may best accommodate your experience. Have fun, enjoy the show, and relax!
Tickets sliding scale $15 - $30 plus service fee
(310) 243-6426
in a Hidden Room somewhere within the York Rite Masonic Hall
311 W. 7th Street, Austin TX 78701