Review #1 of 3: THE SECRETARY by Theatre en Bloc
by David Glen Robinson
Trigger. The word, both noun and verb, releases the catch on varied symbolism and events of heat, pith, moment, chaos, and consequence. Theatre en Bloc's production of The Secretary by Kyle John Schmidt, now playing at the Rollins Studio Theatre at the Long Center, explores the trigger on many levels, including that of weaponry that triggers itself seemingly without human agency.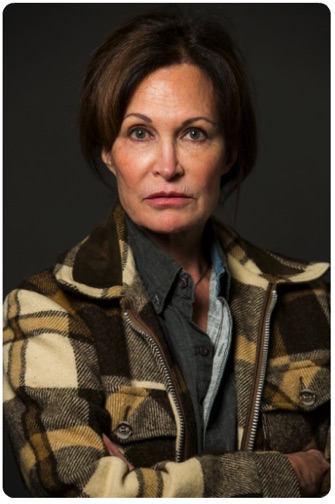 The timeliness of The Secretary is nearly perfect. The all-female cast heightens the issue of gun violence versus self-protection with firearms. The action of the play drives forward from a mortal gun incident at the local high school sometime earlier and its aftermath of grief, confusion, anger, and, above all, fear. The characters all relate stories of gun crime and family suicides, stories told in the most forceful detail by Ruby (Babs George), the owner of a small-town gun factory. She argues that gun protection is life protection, and that when there is no man or law enforcement around a gun is a woman's last resort. And that is what she named her easily concealed handgun, The Last Resort, one of her company's best sellers. Oh, and the play is also a hilarious comedy. Seriously.
The school incident receives no stage time; that is all reserved for Ruby's office at the factory, where firearms are designed, manufactured, and marketed. The walls bear blueprints of some of Ruby's creations. They look like knock-offs of AR-15s and .45 caliber semiautomatic handguns. The office is under high pressure at all times, with arguments over who gets to keep an assault rifle at her desk, and applicants for another secretarial job dropping by without an appointment, including the school secretary who did all the firing in the school incident. The new office-appropriate assault rifle is named in her honor, The Secretary. Designed, manufactured, and marketed a touch too quickly, sales are not good at all, perhaps because the weapon has a propensity for firing without being "triggered."
The audience has a lot of work to do keeping track of the high stress interactions and conflict among the cast of characters, so here's a précis:
Ruby versus April (Regan Goins)
Ruby versus Janelle (Susan Myburgh)
Janelle versus Lorie (Amber Quick)
Lorie versus Shirley (Elise Ogden)
Shirley versus Brandy (Liz Beckham)
Brandy versus Ruby
Lorie versus Ruby.
No doubt other combinations play out on a sub-textual basis. What the audience learns quickly is that more than one of these characters is certifiable, and the play has plot twists and turns as dementia is revealed and concealed, leaving the audience to think and twist on its own regarding who will drive the play to its unavoidably tragic end.
The program states simply: "Place: Rural America." But urban America is not let off the hook by holding up this road sign. Credit goes to the playwright and Theatre en Bloc for elevating the action and meanings of the story to the universal case. The elevated sweep allows a deeper strike into the minds of audience members. This is hardly one's expectation of a satirical dramedy with undertones of black comedy.
The play does not take an entirely one-sided approach to gun violence or advocacy of gun control. Ruby's story of being unarmed when family members were suffering great harm was never refuted. But this position was shaded a bit by others' stories of trying to use firearms when merely annoyed or in the midst of an irrational fit. The play makes the case that one's psychological armament and fitness is superior to the advantage of holding ultimate power over the lives of those all around one. And holding some instrumentality of life and death, whatever it may be, does not guarantee results.
The Secretary makes a parallel case for lying, mendacity, as a tool for self-protection. The examples add sharpness to the play's wild humor, but it becomes quickly apparent that the lies told for self-protection are as unavailing as the guns toted for self-protection.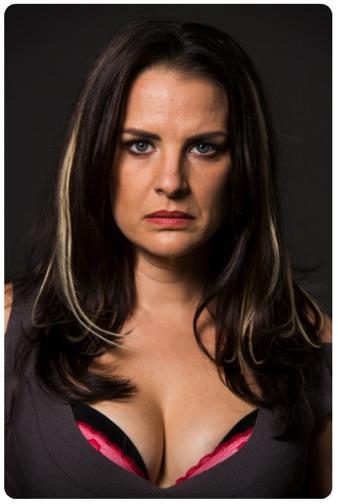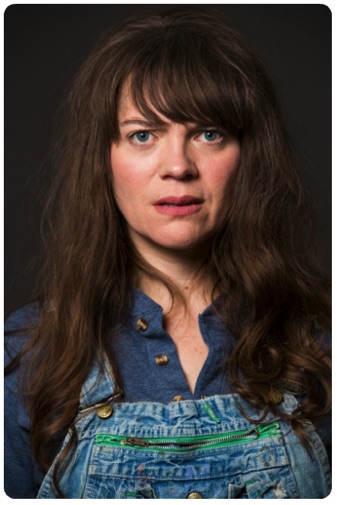 The performances are exceptional, led by the redoubtable Babs George as Ruby. The timing and voice work of both Amber Quick and Liz Beckham is satisfyingly threatening (I hope that makes some sense), and the credit is to be shared with dialect coach Kate Glasheen. The production management of Blake Addyson once again brings the magic to a Theatre en Bloc production.
The Secretary takes a final successful swipe at brilliance in its quiet address of the theme of sacrifice, the best use of sacrifice this reviewer has seen on stage in years. Its fullness is only revealed at play's end, which many in the audience found perplexing. But Theatre en Bloc played true to its protocols of (1) no gunshots to be heard during the play, and (2) no depictions of firearms being fired onstage. Gunshots at the end would have been relieving, actually, but the producers chose to leave us at an incredibly high state of tension, carrying some characters and all of us witnesses to the very edge of life and death, where, of course, we've always been.
The Secretary is recommended for all human beings. It runs from March 23 to April 8, 2018 at the Rollins Studio Theatre at the Long Center.
---
The Secretary
by Kyle John Schmidt
Theatre en Bloc
Fridays-Sundays,
March 23 - April 08, 2018
Rollins Theatre
Long Center
701 Riverside at South First,
Austin, TX, 78704
Performances Thursdays - Sundays at 8 pm
The Secretary will be presented in Rollins Studio Theatre for a three-week run of eleven performances, beginning March 23 and ending April 8.
Pre-sale tickets are available for Long Center Members starting Wednesday, February 14, and single tickets will go on sale Friday, February 16 at 10 a.m.
Tickets for The Secretary will be available at TheLongCenter.org or by calling (512) 474.LONG (5664). Also available at the Long Center's 3M Box Office located at 701 West Riverside Drive at South First Street. For groups of 10 and more, please call 512-457-5150 or groupsales@thelongcenter.org.
[photo by Errich Petersen]