Once again, Austin is privileged to host a world premiere play, Monroe by Lisa B. Thompson. The Monroe of the title is Monroe, in northeastern Louisiana. At the time of the play, 1946, Monroe and its surrounding parish held the dubious distinction for the period 1877-1950 of suffering the fifth highest number of lynchings in the United States And yes, this play is about that.
As Playwright Thompson writes in the program notes: "…my mind did not linger on the vicious white mobs that brutalized black people. Instead I imagined the family and friends of the victims who were also terrorized by these heinous crimes.How did they survive, love and dream in the aftermath of such agony?" Thompson's play is about people living, not dying, in that humid, sultry, Southern dome of terror.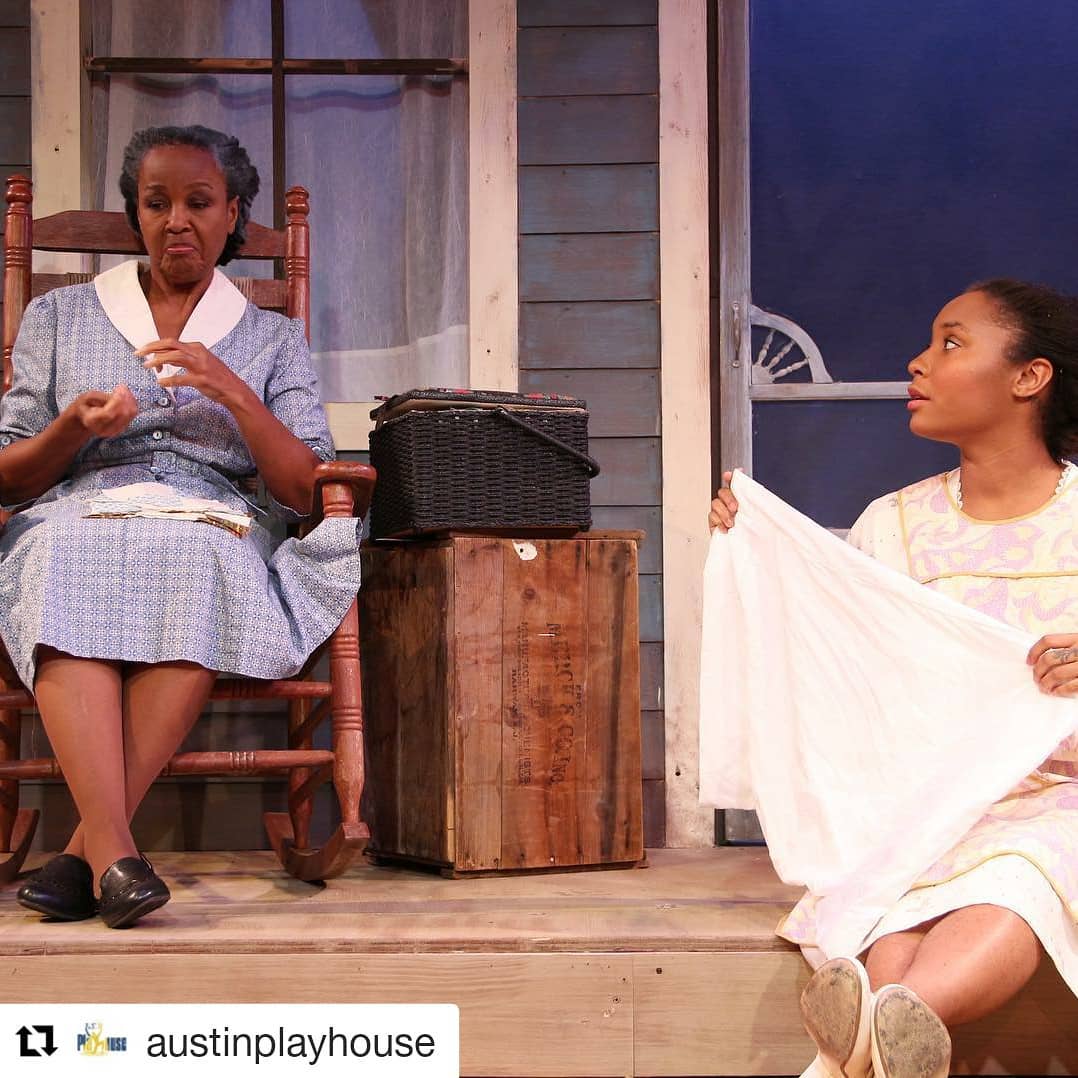 The play gives a slice of rural African American life in that setting. The small cabin, central to the set, is of the board-and-batten, shotgun style with a shaded front porch. Grandmother, Ma Henry, played by Carla Nickerson, sits on the porch at the beginning of the play. Stylized tall trees, evocative of swamp cypresses, line the upstage scrim. Their aspect is threatening, reminding all that they are ready to hang more victims. Set designer Mike Toner and lighting designer Chris Conard set this atmosphere to near-perfection, including Toner's painting the stage floor to resemble wooden planking, similar to the set artistry displayed in Paper Chairs' The Audience, the previous show at the venue.
Food is a sub-theme in the play--cooking it, serving it, and eating it. Food seems to be a symbol of life going on, defiance of a larger world that wants to enforce the poverty and hunger of the circumscribed world of Black Louisianans. For that reason baking and serving delicious pies is what Cherry Henry, Played by Deja Morgan, does best.
The direct plot deals with the recent lynching of Jefferson, one of the Henry's young relatives. The body was found and cut down by Jefferson's best friend, Clyde James, played by Kriston Woodreaux. As though any other motivation was necessary, Clyde's actions thenceforth are impelled by the commitment to leave Monroe. His plans are complicated on one hand by his drinking problem abuilding, and on the other hand by his feelings for Cherry and her refusal to go with him.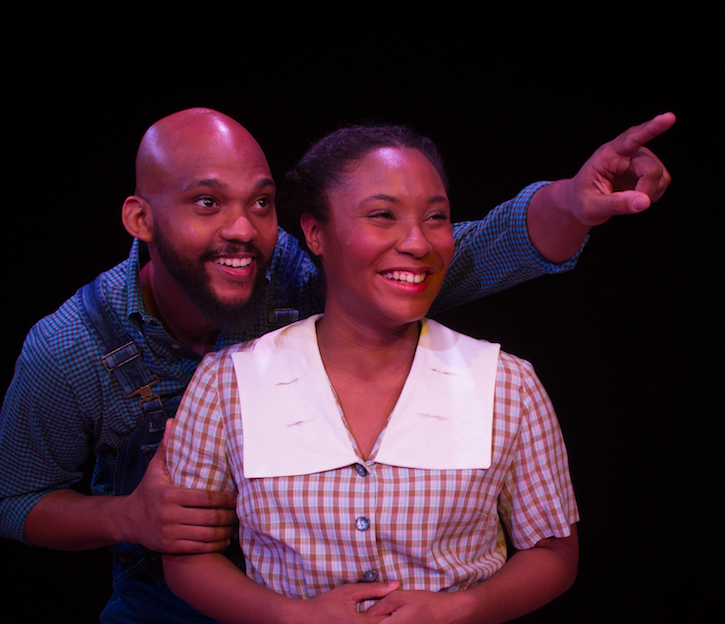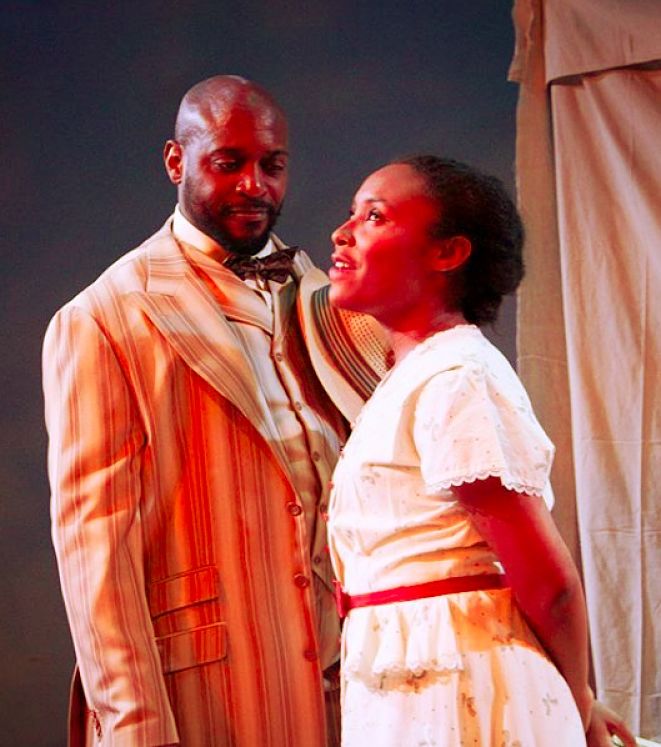 Monroe is filled with bright snapshots of Black Louisianans living under Jim Crow. Tender, rocking-chair living Ma Henry is actually an iron pillar of faith who opposes any connection between Cherry and Clyde. The people are full of prayer, church, and tent revival meetings. In counterpoint stands bartender Seymour Jones, played by Marc Pouhé. Seymour dresses and moves flashily at the tent revival and stays outside the meetings making skeptical comments. His image and character are reminiscent of the character of Sportin' Life from Porgy and Bess
Reflecting different life trajectories, Cousin Viola Henry comes home from Chicago to visit Ma and Cherry. A participant in the Great Migration, she speaks approvingly of the south side of Chicago. Viola is finding creative work as a blues singer in clubs, up from church singing in Monroe. Her life decisions are entirely different from those of the faithful Cherry. For the first weekend Viola was played by Taji Senior-Gipson, a last-minute substitute and spectacular talent soon to leave for graduate work at UCLA. After the first weekend, Crystal Bird Caviel will play the role of Viola.
The only white character in the play is Dr. Wyland, played by Huck Huckaby.He gives the dominant culture a three-dimensional quality in the play, indicating that segregation in Monroe was not lock-tight. White supremacists pursuing Clyde James are heard in voiceover shouts and evoked with sound and light effects.
Director Lara Toner Haddock has done lapidary work in mounting Monroe, the winner of the 2018 Austin Playhouse Festival of New Texas Plays. Director Haddock gives careful attention to scene transitions, small things that make all the difference.
The play, with its sharp script, gives life to a dark period in our recent history, filling it with hope, struggle, drama, and humor. Monroe gives us a privileged, authentic look at lives hitherto unrevealed. Playwright Lisa B. Thompson is sure to receive further recognition for this dramatic gem.
Monroe runs until September 30, 2018 at Austin Playhouse at the Highland campus of Austin Community College in central Austin.
---
Monroe
by Lisa B. Thompson
Austin Playhouse
Thursdays-Sundays,
September 07 - September 30, 2018
Thursdays - Saturdays at 8 p.m. and Sundays at 5 p.m.
Austin Playhouse at ACC's Highland Campusm, 6001 Airport Blvd., Austin, TX 78752
TICKETS: Tickets range from $16 - $36
BOX OFFICE: Call 512.476.0084 or email boxoffice@austinplayhouse.com
DISCOUNTS: All student tickets are half-price. $3 discount for Seniors 65 and up. Group rates available.
WEB: austinplayhouse.com
[poster design by Five and Four]