Review: The Giver by TILT Performance Group
by Michael Meigs
Adam Roberts' staging of The Giver, a 2006 adaptation by Eric Coble of Lowis Lowry's famous YA novel, is a gentle, extended exercise in complicit irony. It's a clever pivot for the four-year-old TILT Performance Group, founded by Roberts and others to open the world of theatrical performance to actors, principally young, afflicted by physical disadvantages. TILT showed their families and the rest of us that those participants are just as capable as any of inhabiting imagination, mimesis and story telling.
United Methodist Church's Murchison Capel, a warm traditional sanctuary, is carefully draped in neutral colors, and the audience -- or congregation -- is divided into two facing rows three deep. The reassurance of that space is masked. Looming on walls at either hand is a filmed sequence of enormous white-gloved hands going through cryptic gestures, either in loop or repeated insistently. If real and in flesh, the actor would be at least fifty feet tall. This doesn't seem to be American Sign Language. There is mystery, unrevealed and urgent. Jeff Miller's sound design merely deepens the enigma.
Lowry's novel, in case you didn't read it for yourself or read it alongside your own children as we did, establishes a society in some future time where differences and imperfections are carefully eliminated. The aim is to avoid suffering and grief. The reader learns of this arrangement through Jonas and his friends, about to turn twelve, the age at which they receive assignments of their life-long duties or jobs. In a scene that almost prefigures the announcements of Hogwart's sorting hat, the candidates (and some audience members) are informed by the solemn chief elder (Nano Boye Nagle) of those decisions: Fiona (Emiy Newman) is to be a caretaker of the old, Asher (Ryan Honza) will coordinate recreation, and my wife Karen, selected from the audiencee as 'Helga,' will be a birth mother, fulfilling the unpleasant and short-lived task of breeder for children who'll be taken away as soon as they emerge. Jonas, played by Javier Garcia, is skipped over in the announcements but is brought forward at the end of the ceremony for special distinction. The elder makes him apprentice to The Giver, the mysterious custodian of memories.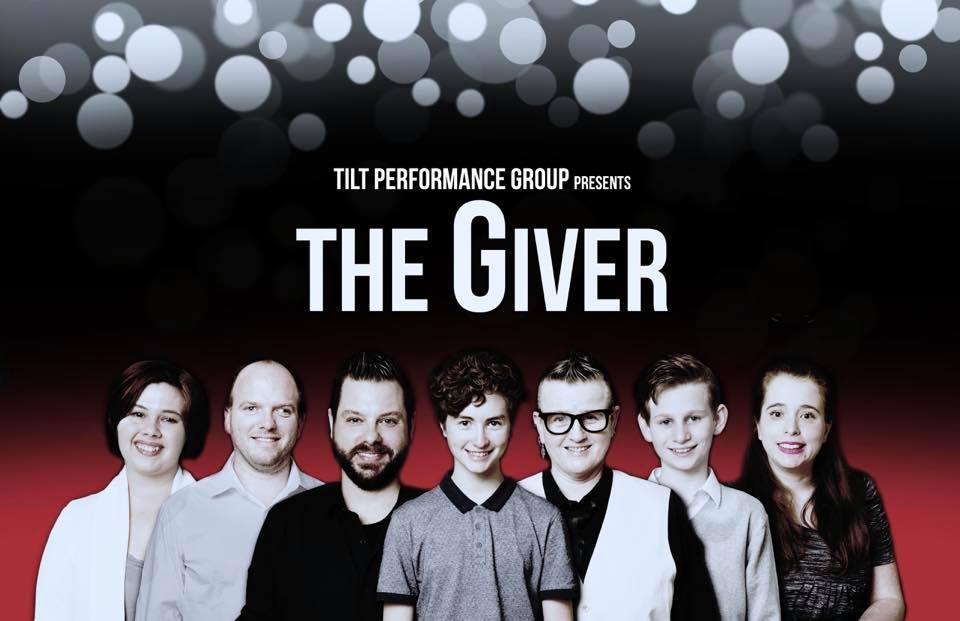 Brian Cheslik, buttoned in a black cassock, is the quietly joyless Giver. We witness significant moments of Joshua's training, during which the Giver endows him in telepathic fashion with key memories and experiences of past times, good and bad. And it's here that those mysterious gestures occur. The Giver stands behind Jonas. He concentrates, he gestures, and those unexpected images and sensations flood into Jonas's consciousness.
Two journeys occur. The first is our own, as we learn progressively but indirectly that no one in this world knows want, feels longing, is taxed with difficult tasks or adverse physical circumstances; further, they don't see color, experience changes of weather or temperature, or know love. The audience moves into comprehension of the awful comfort of the society's existence just as -- and because -- Jonas is moving in the opposite direction, delighting in some new sensations and experiences, eventually buffeted and tormented by others. That's one level of irony; operating subtly with it is another, embodied by TILT's use of actors, some whole-bodied and others differently abled, to bring us contemplate the complexity of difference.
Inevitably, given Lowry's plot and the faithfulness of Eric Coble's adaptation, The Giver is essentially a two-person script. The supporting cast is fine: Dailan Cooper who was a late but effective substitute as Jonas's cheerful father, a caretaker of infants who has no notion that submitting the unfit to euthanasia -- "releasing" them -- has any moral significance; Emily Newman who doubles as friend Fiona and Jonas's briskly professional mother, monitoring his behavior; Kristin Gooch as sister Lily; Ryan Honza as the blithely enthusiastic Asher. But they are adjuncts to the apprenticeship, learning and enlightment of protagonist Jonas , administered by the world-weary and grieving Giver.
Javier Garcia in that protagonist role is alert, enthusiastic and confident in his portrayal, apt throughout in delivering an enormous number of lines and suggesting Jonas's gradual transformation. Cheslik as The Giver is restrained and conversational; in a space any larger than this chapel he would have been hard to hear. There's no sense of affection or attachment between them, nor should there be, for Garcia as Jonas is awakening to possibility, while Cheslik as the Giver is divesting himself of pain and approaching "release." In the finale Jonas plunges into the wild, walking away from that curious utopia and carrying a condemned infant with him. TILT delivers the subtle message of Lowry's fable, which I take to be "Face what's given; embrace difference and difficulty with courage."
And, in the context of this group of the differently abled -- where for example an unsighted actor pretends to guide a wheelchair carrying a slim, attractive occupant who's in fact directing his steps -- "Count on companions and community."
EXTRA
Click to view TILT's program for The Giver
---
The Giver
by Eric Coble, Lois Lowry
TILT Performance Group
Fridays-Sundays,
January 18 - January 28, 2018
January 18, 19, 20, 26, & 27, 2018 at 7:30 pm
January 28 at 2:00 pm
in the John R. Murchison Memorial Chapel