Review: Troilus and Cressida by Something for Nothing Theatre
by Michael Meigs
"Neighbor, this is a gift very grateful, I am sure of it."
The quotation's from a different Shakespeare work currently onstage in Austin, but it captures my appreciation of Something for Nothing (S4N) Theatre's Troilus and Cressida, playing outdoors and freebies at Ramsey Park in Rosedale, just south of 45th Street and Medical Parkway/Burnet Road.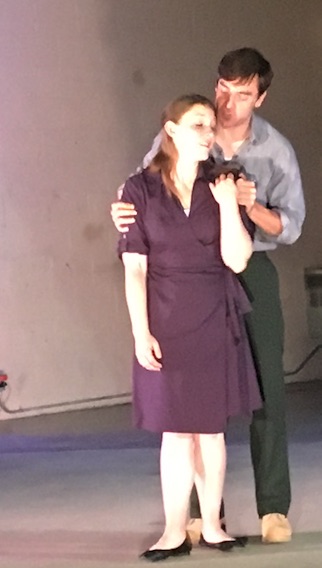 Troilus and Cressida isn't often performed; you might say that it's out of the Bard's back catalog. The CTX Live Theatre back pages record a single staging of it here by the Young Shakespeare troupe in 2011.
S4N's speedy and accomplished staging helps the spectator understand both the reasons for the play's obscurity and the loss to us because of the neglect of the text.
First is the context. Elizabethan audiences were more familiar with the back story of the Trojan War. For example, are you uncertain of the differences between Priam and Agamemnon? If so, you might get lost when you see the regal and abundantly bearded David Boss playing the leader of both sides. Though to be fair, the costuming for the kings and the several other doubled roles does a lot to help.
And then there's the love pair of the title. Face it: Trojans Troilus and Cressida are bit players in the great story of The Iliad. Shakespeare has old pandering Uncle Pandarus bring them together in Act II, but boy loses girl by Act III, i when she's traded back to the Greek camp where her father, a renegade Trojan, is staying. The youthful purity of their emotion is expressed in touching verse, and one wants to see their love develop. Becca Musser as Cressida and Joseph Clingan as Troilus carry these scenes gracefully and with conviction — but the playwright cuts their story short. Clingan modulates convincingly from loving and beloved to bitter and betrayed; Cressida's not granted an equivalent character arc, for we must observe her from a distance through Troilus's angry frustration.
The major characters from Homer's tale all have their moments, and it's Shakespeare's verse that saves the text from being a Classics Comic Book version. I keep reaching for my Arden Shakespeare to renew those words in my head, but I've had nary a moment to do so. Perhaps when vacation eventually rolls around? In the meantime, other more general observations:
Director Deb Streusand and the cast make the most of the stark concrete pad and overhang in Ramsey Park, and they don't worry too much about the costuming. Shakespeare's companies were ready to perform anywhere, at times literally at the drop of a hat. The action, movement and the words transcend the agreeable informality of the Austin park setting.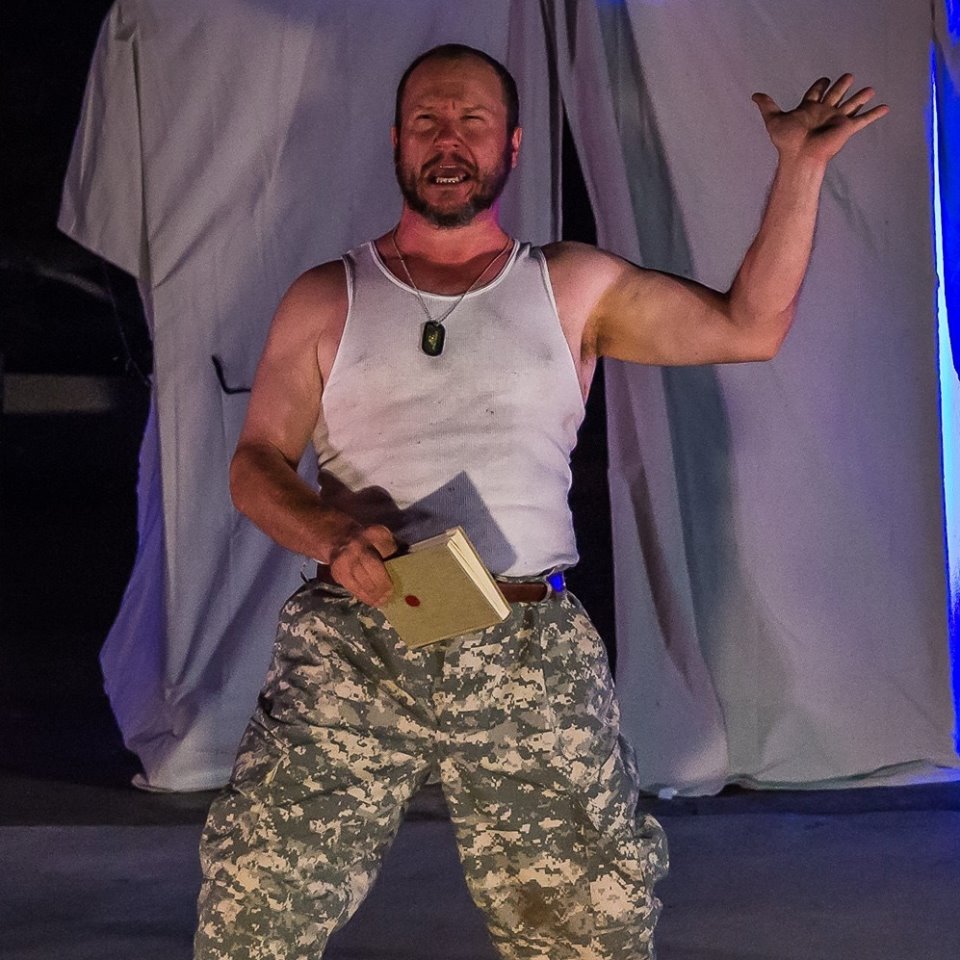 This is no band of amateurs. The cast is uniformly confident, knowledgeable and articulate. Any of you Shakespeare groupies are going to recognize faces and voices. In the juicy role of Ulysses Robert Deike is the voice of reason, bordering on wisdom; his character surveys the madnesses of war, ambition, rivalry and love, serving as an embedded commentator on all of them. As always, his delivery is vigorous and motivated, and his diction is crystal clear. Ulysses is one fixed point; triangulating with him about the lovers are Andy Bond as the gleeful old Uncle Pandarus, eager to introduce these ingenues to the joys of the flesh, and Taylor Flanagan as Thersites, the equally gleeful but cynical and malevolent camp follower who embodies the exact opposite of everything heroic.
Kevin Moxley is back with S4N in the wildly contrasting roles of Paris for the Trojans and crotchety old Nestor for the Greeks.
Other faces relatively new to me carry the action forward with similar grace. The lovely Corinna Browning is almost typecast as Helen, comely and alluring; Sanjay Rao's brooding Achilles is convincingly surly and muscular, while Jonathan Vineyard as his sidekick Patroclus runs about the warrior as chipper as a puppy. Nell McKeown also does a fine job of straddling -- in the Greek camp as slightly goofy muscleman Ajax and on the Trojan side as Andromache, distressed to see her husband Hector (John Gonzalez) stride out to face what we know will be his death of indignilty at the hands of Achilles.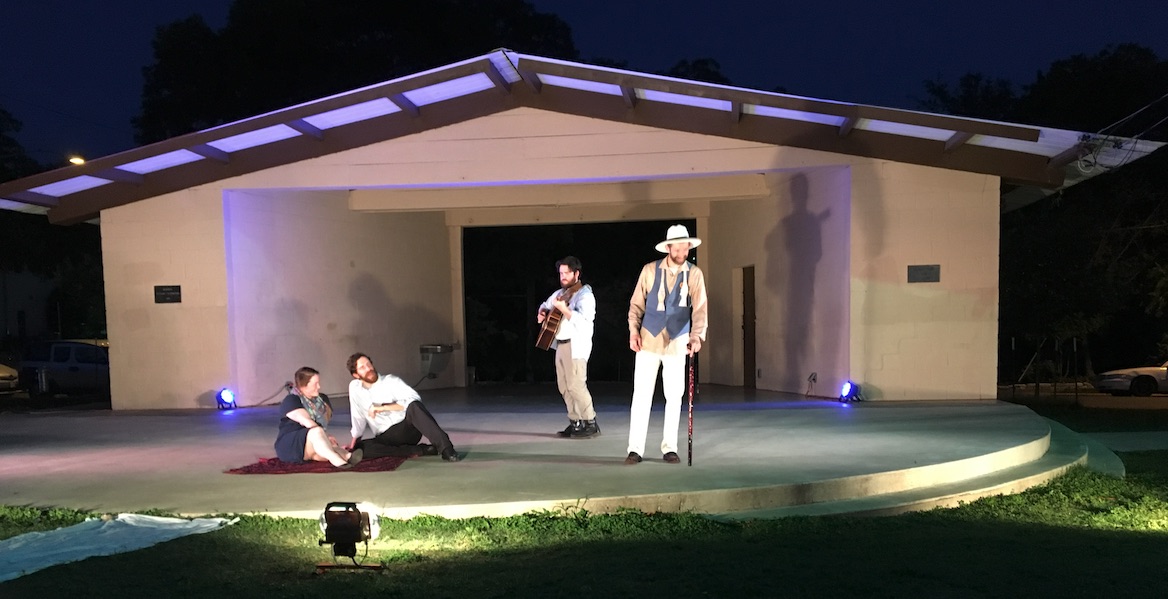 The play dates from about 1602, but if one looks beyond the Trojan War setting both structure and viewpoint make it disturbingly modern. The heroic elements of Homer's Iliad are consistently undercut, not only by Pandarus's cheery veniality and Thersites's mockery and cowardice, but also by the demeaning of women. Cressida protests but cannot resist being sent to the Greek camp; when she arrives she is handed from warrior to warrior for some distinctly unfamily kisses. Troilus blames her and renounces her as unfaithful, though she is essentially a prisoner of war with a status only slightly higher than that of a trophy concubine. There's a good deal of military ceremony but very little heroism on display.
The staging would have benefited from better guidance on stage combat, although summer audiences ready for a Trojan interlude are certainly forgiving. Those mockingbirds at twilight do insist on being heard, but their musical intervention lasts only until the sun's below the horizon.
Bring a cooler, a blanket, a picnic and a willingness to encounter a Shakespeare with whom you're unlikely to be familiar. Something for Nothing's Troilus and Cressida provides ample measures of lovers, heroes, rascals, ceremony and combat. Go with their swift flow, and you'll enjoy Austin's Thursday through Saturday nights.
---
Troilus and Cressida
by William Shakespeare
Rosedale Shakespeare
Thursdays-Saturdays,
June 08 - June 24, 2017