Review: As You Like It by Baron's Men
by Michael Meigs
The Baron's Men's staging of As You Like It is indeed just as Shakespeare aficionados like it. Of course there's the timbered Curtain Theatre, a tidy recreation of the half "O" of Elizabethan theatre, and there's the costume eye candy from Liegh Hegedus aided by Dawn Allee and her busy stitchery fairies. But more than anything there's the play itself, Shakespeare's whimsical tale of two aristocratic maidens running off to the magical forest of Arden where almost everyone eventually finds true love.
This is the one where young and untutored Orlando, scorned by his older inheriting brother Oliver, flees into the same leafy glades where Rosalind and her buddy Ceiia took refuge from Cecilia's wicked parent (in this staging the Duchess). It's a story of hope and learning that culminates with no fewer than four weddings onstage and the departure of the elegantly melancholy Jaques, driven away by this excess of foolish human happiness.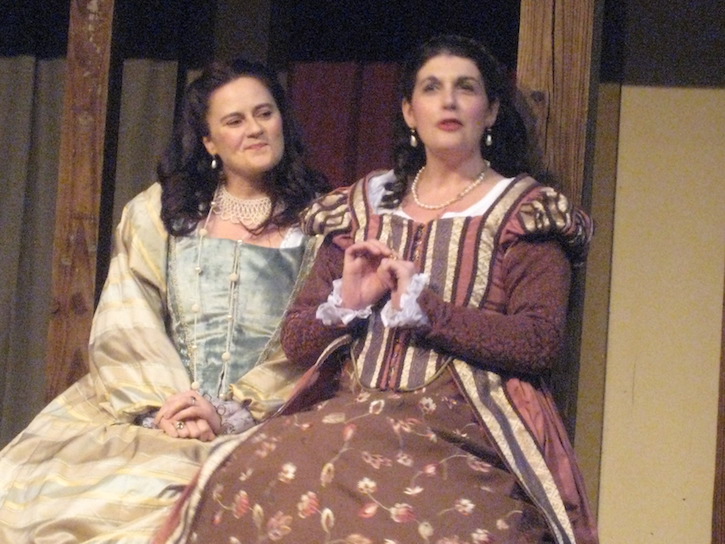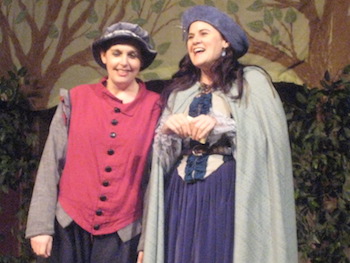 Under the direction of Michael Osborn the happy intrigues spin along at a great rate. Leading young ladies Kate Clark as Rosalind later yclept Ganymede and Jacquelyn Lies as Celia later self-dubbed Aliena are an appealing matched pair of female protagonists. Clark is devoted and sincere at court, tickled with infatuation for mystery wrestler Orlando (Harry Conner), then upset and vulnerable when expelled from the duchy; she works to preserve her masculine disguise in the forest but sometimes can't help letting girlish excitement get hold of her. Lies makes no secret of her feminine identity and is vastly amused at Rosalind as a male page pretending to be the very woman who she really is. If that sounds complicated, you surely haven't seen the play; Rosalind promises her adored Orlando she'll cure him of the disease of love by pretending to be -- herself!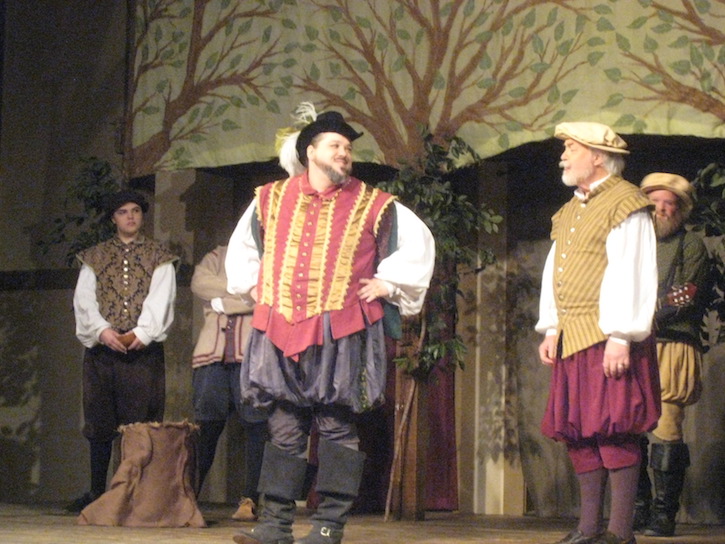 Themes touched here are court/town vs. country, the irrational attactions of young love, and -- above all -- learning. There's a lot of teaching going on. Rosalind is schooling Orlando, who at court couldn't even find the words to say 'thank you'; she schools herself by mocking her own sex as emotional and as changeable as the wind. Jimmy Bragdon as Touchstone quizzes and lectures the shepherd and intimidates milkmaid Audrey's swain with his courtly manners, while Robert Deike's meditations as melancholy Jacques show Touchstone to be a true fool, shallow and lascivious. The joyous life in Arden contrasts with the constrained and menacing existence in court, where Duchess Frédérique (Samantha Smith) gets thoroughly hissed by the audience whenever she lays down the law. In the happy ending every one of the bad guys gets religion, either metaphorically or literally, and Jacques departs, intrigued, to study holy writ with the newly penitent Duchess.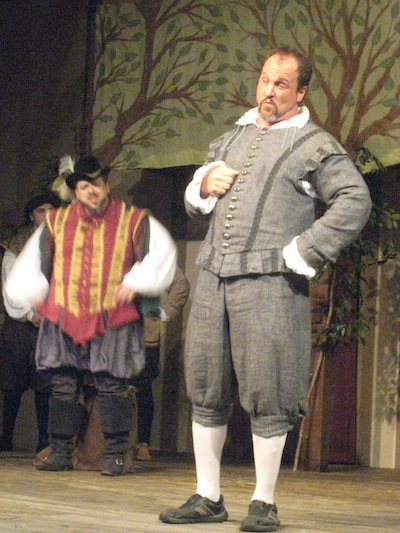 Robert Deike is Austin's polyvalent Shakespearean. His energy and great big presence are welcome wherever Shakespeare is played, but I think this portrayal of the cerebral pessimistic Jacques may be the role most suited for him. His big voice is fine for Jaques' mockery, but he delivers a beautifully modulated performance. Deike swings through the famous 'Seven Ages of Man' speech as if it were completely extemporaneous, striding about the stage, miming actions and interacting with the rest of the company so that it's a lively exchange rather than the more typical 'stop-and-listen-to-these-profound-words' monologue. Deike and director Osborn work a such a swift segue into the subsequent action that even though many of us wanted to applaud his mastery, only a few tried to break the moment and do so.
I won't wail yet about the prospective sale of the Garriott estate that may sweep away the magical world of the Curtain Theatre. The venue has certainly fostered the Baron's Men Company and its remarkable devotion to stagings that approach original practice but happily scorn Elizabethan avoidance of real women onstage. Talent has flourished here, only tangentially appreciated by the theatre public, and the Baron's men and women have enriched their lives and ours. I'll be entirely satisfied if real estate agents fail in their sale of the place, for after all how can one put a crass valuation on the priceless?
In the meantime if you sluggards haven't made it out to the forest of Arden on the banks of the Colorado just twenty minutes from downtown, you should do penance. Or, better, get thee hence and hie thee thither. There's nothing remotely like it elsewhere in Central Texas.
EXTRA
Click to view the program sheet for the Baron's Men's As You Like It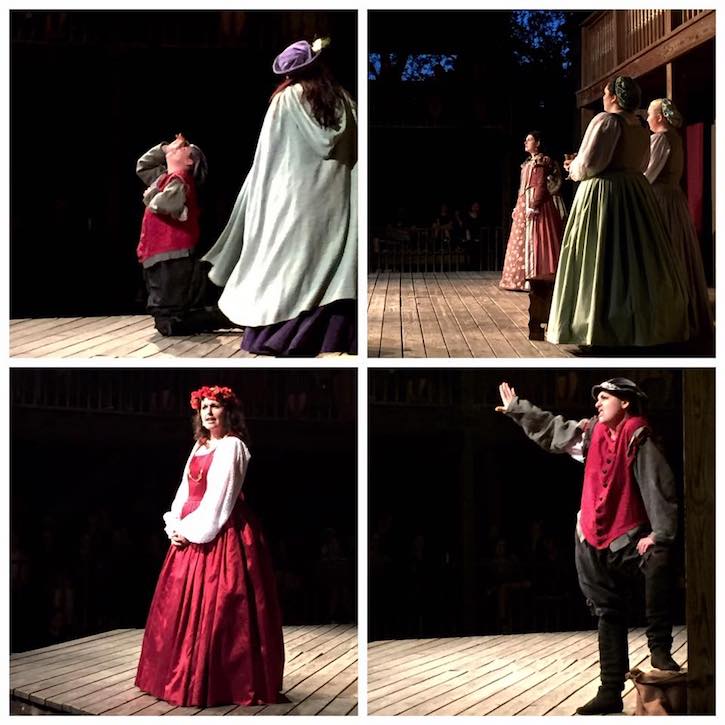 ---
As You Like It
by William Shakespeare
The Baron's Men
Thursdays-Saturdays,
March 31 - April 22, 2017
William Shakespeare's As You Like It
Show Dates
Weekend 1 – March 31 & April 1, 2017
Weekend 2 – April 7 & April 8, 2017
Weekend 3 – April 13, 14, 15, 2017
Weekend 4 – April 20, 21, 22, 2017
Tickets are $15 for Friday and Saturday nights, $10 for Thursday performances
Purchase tickets & extras HERE