Review #2 of 2: Dead Man's Cell Phone by Sara Ruhl, En Route Productions
by David Glen Robinson
The set is a café. The décor is generally rectilinear, with many sharp lines and planes. Let's call it Finnish Modern, because it is designed by Ia Ensterä, Finland's design gift to Austin. Ms Ensterä is currently dividing her time between Finland in pursuit of an advanced degree and Austin for many creative design projects. Her set here is dominated by a wall installation of small brown and white boxes. Some of them have cut-outs like tiny windows, lit from within. The look is of a global village of apartments suspended from a cliff or a favela on a hillside in Rio.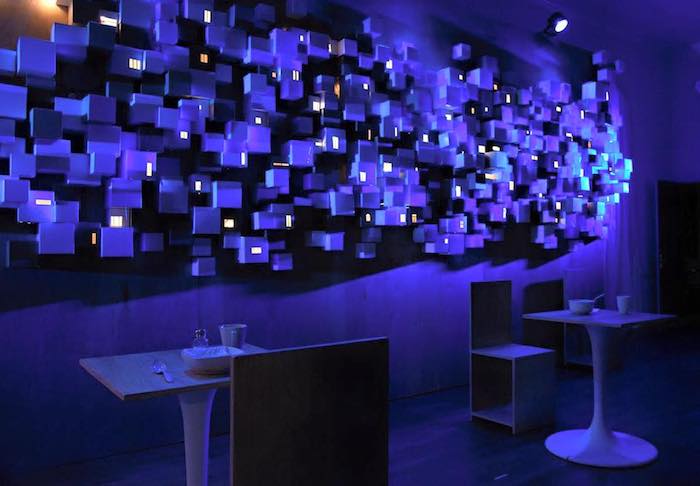 Dead Man's Cell Phone begins and we are on for a wild ride. In short, a naïve young woman discovers a dead man in a café when she is annoyed by his insistently ringing but unanswered cell phone. She keeps the phone, answering every call, but not exactly telling the truth of the situation to the callers. In sympathy, she feels that the voices coming in from the ether allow the man to retain some life as he keeps the attention of mother, wife, mistress and others. The plot drives forward with the young woman, Jean, played by Bridget Farr, meeting the other characters and telling increasingly elaborate whoppers, at first to comfort the grieving, but eventually to save her hide in dicey situations.
The cast is talented across the board, and they catch all their lines and cues and accomplish their stage tasks. Director Lindsay Doleshal has a comedic gift and is a director to watch in Austin. She runs a tight ship. Every scene is sure, but the scenes transcend the feel of the acting studio. No, these characters drift in the great, cold world. Meason Wiley plays Gordon Gottlieb, the dead man, with a surprising number of lines. His bio says this is his first full-scale theatre performance, and it is well done. Austin stage veteran Lara Wright plays the ice-cold Hermia (rhymes with hypothermia), widow of Gordon, with no remorse at all for him. This creates a startling, mystery-creating contrast with the affect displayed by Gordon's mother Harriett, played by Anne Hulsman. Emily Rankin is double cast as The Stranger and Carlotta. Rankin mines both of them for their bizarre and funny nuggets. Horny Dwight is played by Dan Dalbout, who seems odd for a romantic character, given the background of his character's family. He plays his story well.
The lead character, Jean, is entrusted to the capable hands of Bridget Farr, late of The Drowning Girls, the latest award-winning production from Theatre en Bloc. Farr shows us a powerful comedic talent, compounded in part of impeccable timing and expressive eyes and face. Talent lies apart from skill, however, and Farr clearly shows that innate talent called "funny" by comedians such as Bruce Bruce. It's said by some to be a core, somewhat rare, quality, equal to musical composition and writing. Not to overstate it, Bridget Farr has funny.
Anne Hulsman shows immense character depth in her portrayal of Harriett Gottlieb, the deceased man's mother. Her emotional range within the realm of grief is huge, and her feckless tampering with her family members is unending. Gottlieb is another gem in Hulsman's treasure chest of characters.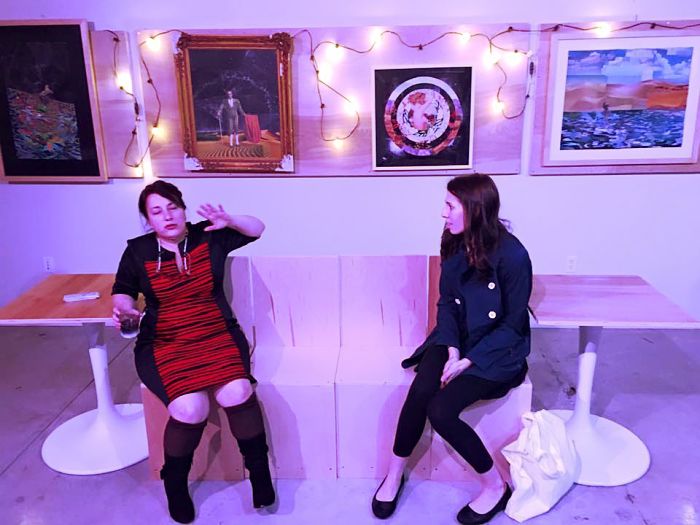 Ruhl's play is an extraordinary example of postmodern comedic absurdism. It proceeds from urban experience in our mobile device-ridden age and has East Coast sensibilities and accents. The character of Jean is an interesting writer's choice. She's in the publishing industry but not well-educated person; she is withdrawn, extremely naïve, and curious about the world. Jean has interior resources bit she has to grope around inside to find them when she gets into trouble.
Jean feels that all her little lies to phone voices are justified. Thereafter, she is the type of liar (and it is a recognized type) who lies to make the world a better place, the way it ought to be, not how it is now. Like most such liars, when Jean launches into her narratives, she has no anticipation of the consequences. And the lies get bigger and bigger. She slides ever deeper into the life of a man whose profession was one the Mafia touches only while wearing latex gloves. Jean consoles Hermia (not that she needs it) with a glowing narrative of Gordon's and Hermia's perfect marriage driven by Gordon's love for Hermia. Jean has never had a marriage of her own, but she does a great job of making one up whole cloth. And Hermia believes it, even after confiding bitterly to Jean that she could climax with Gordon only by imagining herself as one of his cheating partners -- it's a kind of astral adultery projection. Thereafter, Jean's survival strategy is connivance, and the last shred of naïveté has sloughed off. By the end of the play we are not quite sure whether the strategy has worked. The one thing sure is that trouble is funny. It is a branch of humor going back to Laurel and Hardy, Abbott and Costello, and beyond them to the commedia dell' arte.
The flaw in Dead Man's Cell Phone lies in Ruhl's metaphysics. Dead Man's Cell Phone establishes a kind of secular afterlife, one in which the dead can speak back to the living. This is a familiar device in contemporary plays. Ruhl's dead characters explain the afterlife as spending eternity on one's own planet with the one one has loved best. This takes script pages to set up, all so one character can find a sort of redemption or rescue. By contrast, Christopher Durang simply has characters start talking from whatever plane, orbit, horizon, bardo, or tree branch on which he has placed them. Ruhl feels compelled to connect a lot of dots before having Gordon actually tread her celestial landscape. In theatre parlance, the damn thing could have been ten to fifteen minutes shorter by ditching Gordon's afterlife entirely; the play needed that much relief, and with it could have achieved Durang's level of absurdist frenzy anyway.
En Route Productions (ominously and portentously named), has done an excellent job producing Dead Man's Cell Phone. Ia Ensterä's tasteful and innovative set design has already been mentioned, and the playing space is lit innovatively by Steven Pruitt. There is one trending annoying aggravation that stems from Austin's accelerating loss of dedicated theatre venues. Vibrant independent theatre companies are obliged to seek more alt- and alt-alt- performance spaces. Few have proscenium stages or adequate backstage space for performances with numerous scene changes. Springdale Station is one of these. The crew and actors change scenes in full view of the audience. Dead Man's Cell Phone is full of scene changes by actors in costume but not in character. Furniture-moving actors leave the stage as the actors in character for the next scene enter. When exactly does the scene begin? The light board operator doesn't apply worklights consistently. En Route shows a laudable commitment to rapid scene changes, but using the actors for the technical work is distracting. En Route could apply a fraction of their deep creative resources to training a running crew to resolve scene-changing issues.
Another idea not yet seen locally is to recruit every night's audience to make the scene changes. This is the era of immersive performance experiences with audience participation throughout. Think Sleep No More in NYC and Katie Green and Twin Alchemy Collective locally. Producers could call for volunteers to arrive early for a ten-minute training with the props and stage furniture that need to be changed. The audience stage work could be rewarded with deep ticket discounts and open access to concessions. With planning, this idea could be workable in future productions.
Dead Man's Cell Phone by Sarah Ruhl plays two more Sundays at Link and Pin Gallery on the east side, with all other dates at Springdale Station, 979 Springdale Road, east Austin, immediately west of the giant warehouse fitness and sports factory. It's all over January 29th, 2017. The show is recommended for all thoughtful adults who like to laugh and who enjoy excellent comedic acting.
---
Dead Man's Cell Phone
by Sarah Ruhl
En Route Productions
Thursdays-Mondays,
January 07 - January 29, 2017
En Route Productions joyfully presents "Dead Man's Cell Phone," a dark-edged romantic comedy by Sarah Ruhl this January at Link and Pin Art Gallery (2235 E. 6th St. #102) and Springdale Station (979 Springdale Rd) for En Route's inaugural event, The Winter Modern, which places moving, theatrical art in gallery spaces throughout Austin. The Winter Modern is a beautiful combination of installation and theatrical art, which Ruhl's intelligent, absurd, comedy lends itself to perfectly.
The Winter Modern opens January 7th and 8th at 8pm at the lovely, very intimate Link and Pin Art Gallery. In this space, we will exhibit local artists, Sarah Presson, Nick Schnitzer, and Stephen Pruitt's visual art on the walls surrounding the intimate performance of "Dead Man's Cell Phone," by Sarah Ruhl. The production will be minimal and every word tangible. This unique, intimate opportunity seats 25 guests. There will be an artist talk (with visual artists and performance artists) and an Opening Reception on the 8th from 5-7 pm before the show. On January 15th and 22nd, we will have two, intimate, MANHATTAN MATINEEs at 2 pm at Link and Pin as well, and the art will be hung in the space until the 23rd. Hot Steeping Room Tea, Live Oak Beer, and wine will be available for free during reception and for donation during the event.
From January 13th-15th, 19-22nd, and the 26th-29th at 8 pm, we will be exhibiting our dark, absurd theatrical installation at the lovely Springdale Station, which allows for a different, unique Austin experience. The production design, created by Ia Enstera, Stephen Pruitt, Meason Wiley, Jason Farmer, Haley Powell, and Taylor Harrison will be the art installation in this old, train station, which seats 120 guests. There will be a donation bar with Hot Tea from The Steeping Room, Live Oak beer, and Whiskey, and plenty of parking.
Please join En Route at one or both of these unique spaces in Austin and get your ART on!
website: www.enrouteproductions.com
Tickets $20 general admission, $30 and $50 supporter tickets available, plus fees, via